Is your New Year resolution to get healthy, but you don't want to give up life's guilty pleasures? Try this healthier version of a cinnamon roll! Gluten-free and filled with whole grains, these rolls are made with brown rice and oat flours, and then topped with an orange honey glaze. These guilt-free cinnamon rolls will satisfy your fiber needs and your sweet tooth at the same time.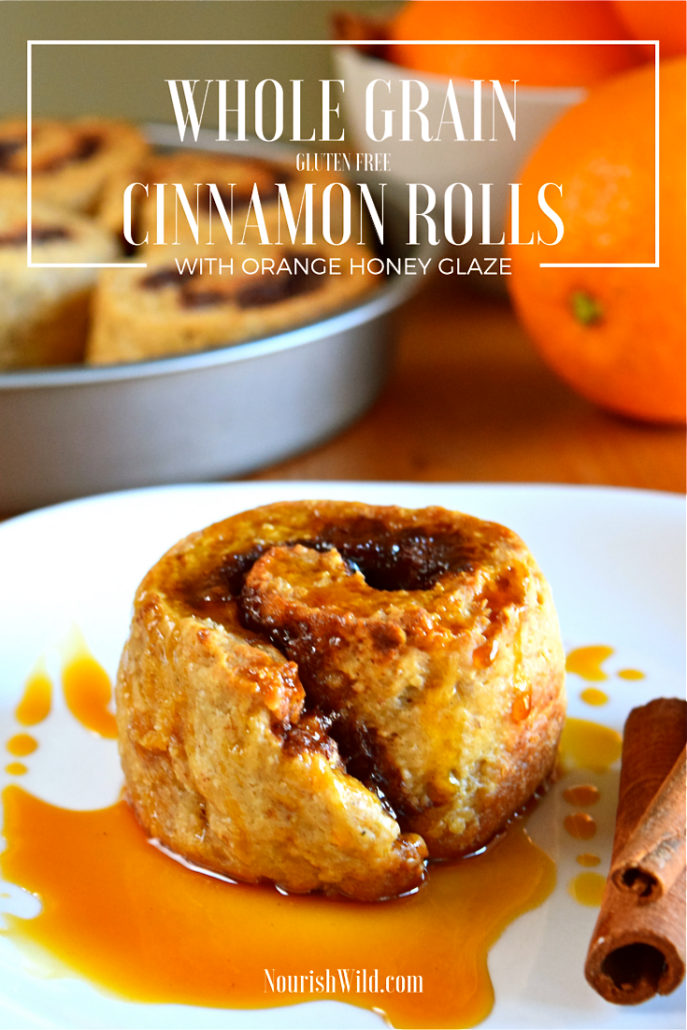 Happy 2016! It just feels like it's going to be a good year, doesn't it? I don't know about you, but I absolutely love the beginning of a new year. Something about the freshness of it all. It's like hitting the reset button. You can do and be anything!
Speaking of which, if you're interested in hitting the reset button on your health, check out our Free 7 Day Challenge! It's totally and completely free, and can be customized to any level of current health. With topics like real food, posture, hydration, sleep, meditation, screen time and more, you're sure to learn something and get your health in check in the process. The next challenge starts on Monday, January 11th, and you can find out more and sign up here.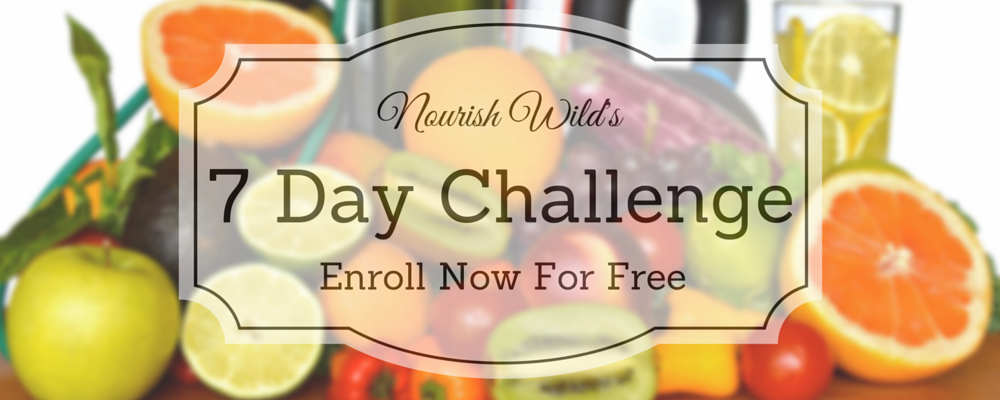 Now, onto the goodness that is this delicious cinnamon roll. Cinnamon rolls are an interesting thing to take on at home. They aren't exactly speedy, but they aren't particularly difficult either. I would certainly start this process about 2 hours before you want to eat though, as they require an hour to rise in addition to putting them together and baking them. Or make the dough ahead of time, store in the fridge, then allow to rise in the morning before baking them.
But can we talk about how they're totally worth it? Because they are. Especially if you are trying to eat healthier, and find yourself drooling in front of Cinna-Bon. They are chewy, hold together perfectly, and have that cinnamon/butter goodness oozing out of the center like any self-respecting cinnamon roll should. However! They also have 2 types of whole grains, no white flour, no gluten, no white sugar, and noooo junk.
Oh yeah, we're busting into 2016 (but not busting out of our jeans).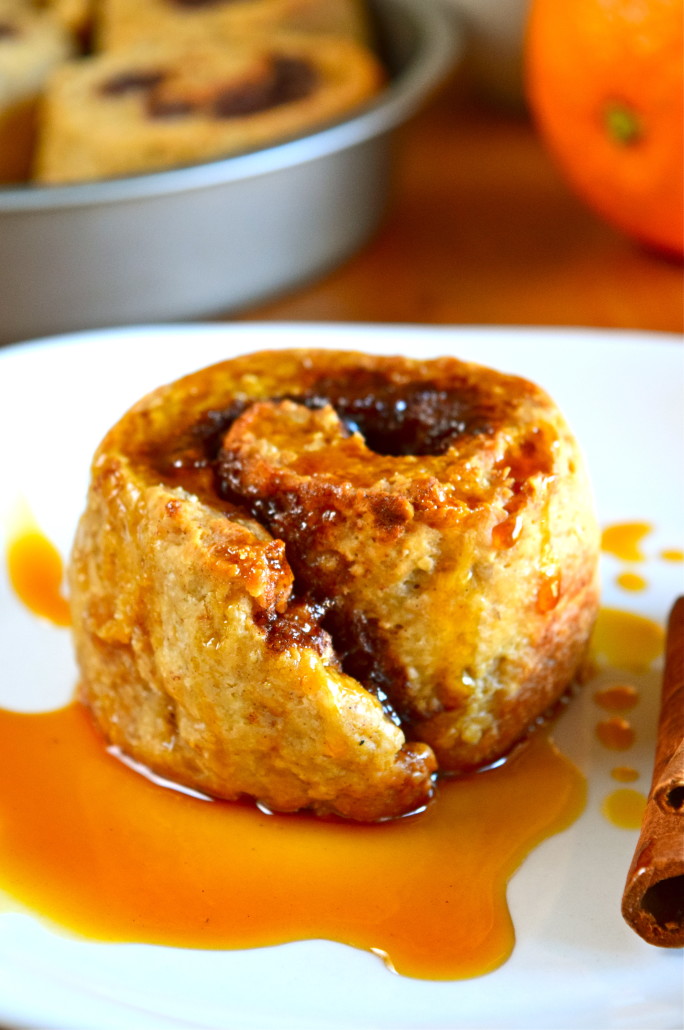 The dough of this roll has very little sugar in it, so the sweetness has to come from the cinnamon sugar center, and the orange honey glaze. Thankfully, the only types of sugar used are coconut palm sugar and honey, and the overall sugar content is significantly reduced from your standard cinnamon roll.
I mean, can we talk about the texture of these things? It's really exactly what it should be: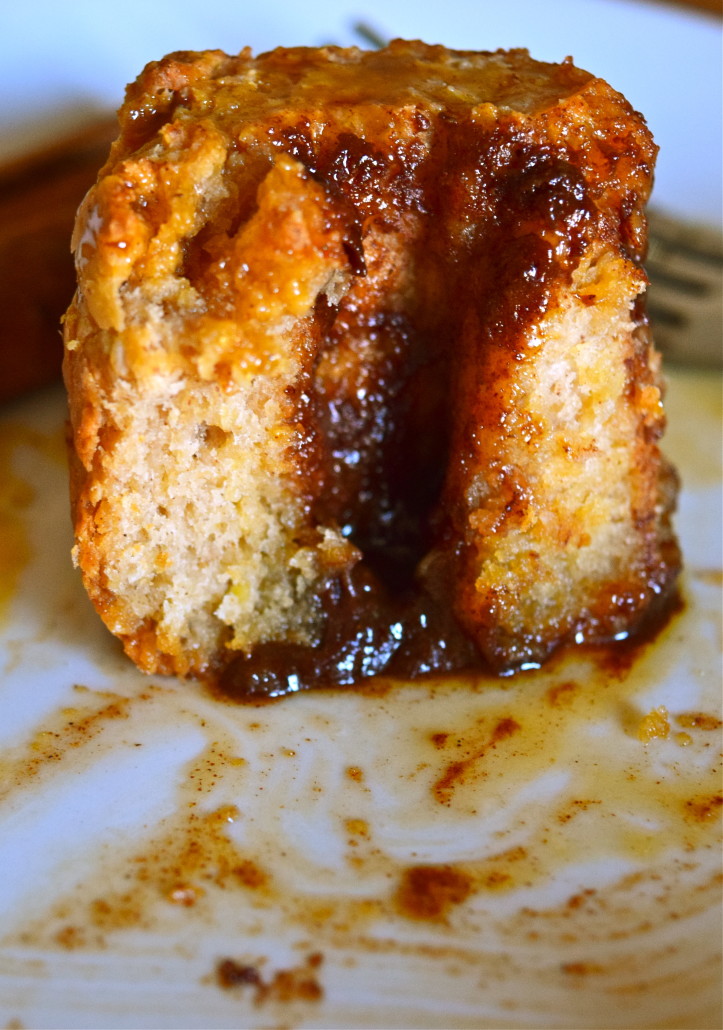 In other exciting news, Andrew wrote a book! Nourish Wild's very first eBook in fact! The Groundwork Guide: A Beginner's Guide To Basic Human Nutrition and Movement For Every Day Life. And it's going to be released for sale right here on NourishWild.com in the next couple of weeks. Want to learn more about it? Click here to check it out.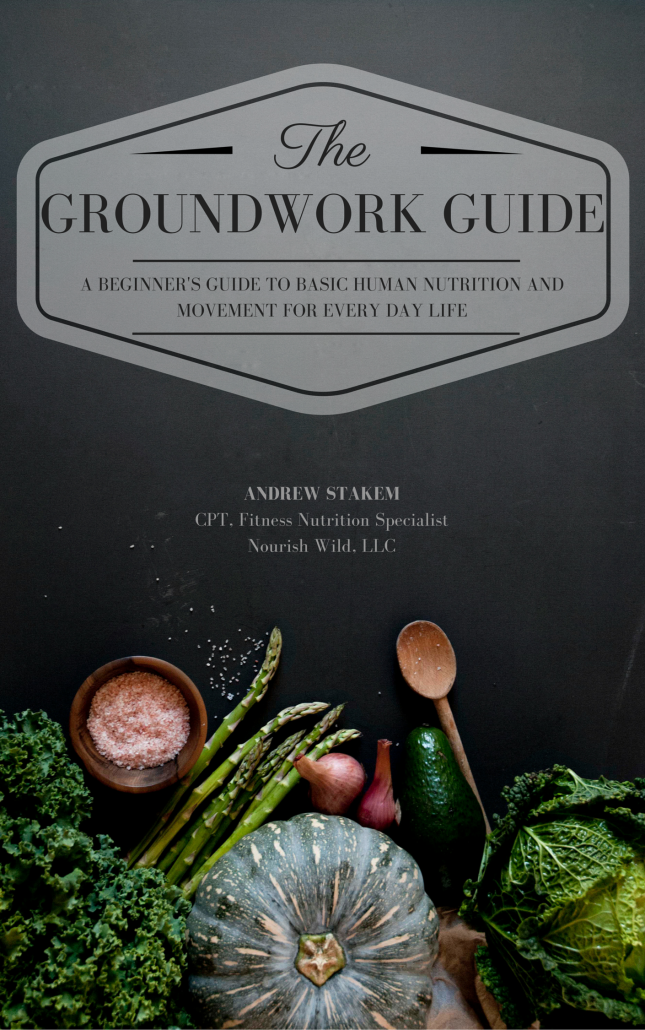 Whole Grain Cinnamon Rolls with Orange Honey Glaze
Dough:
1 2/3 cup tapioca starch
1 cup oat flour (I grind rolled oats to make my own)
1/2 cup brown rice flour
3 Tbsp coconut palm sugar
1 packet of yeast
2 tsp baking powder
1/4 tsp baking soda
1 Tbsp xanthan gum
1/4 cup warm water
1/4 cup avocado oil
1/4 cup coconut milk (from a can)
2 eggs
1 tsp honey
1/4 tsp salt
Filling:
6 Tbsp room temp softened grass-fed butter (I use Kerrygold)
1/4 cup coconut palm sugar
1 Tbsp ground cinnamon
pinch of salt
Orange Honey Glaze:
1/4 cup honey
2 Tbsp orange juice
Makes 8 cinnamon rolls
Grease a 9″ round pan (I prefer coconut oil for greasing).
In a large mixing bowl, dissolve the 1 tsp of honey in the 1/4 cup of warm water. Once dissolved, add the yeast packet to the mixture, and proof while putting together your other ingredients (the mixture should start to foam as the yeast activates).
In a small mixing bowl combine your dry dough ingredients (tapioca starch, oat flour, brown rice flour, 3 Tbsp coconut sugar, baking powder, baking soda, xanthan gum, salt).
In the large mixing bowl with the yeast mixture, add and mix together your remaining wet dough ingredients (avocado oil, coconut milk, eggs).
Slowly add your dry ingredient mixture to the wet ingredient mixture, mixing constantly. Toward the end of adding the dry ingredients, the mixture will become very thick, and you may need to finish mixing/kneading with your hands. Once completely combined, the dough should hold together well and you should be able to form a big ball with your dough.
Create your filling by mixing the softened butter, coconut sugar, cinnamon and salt in a small bowl.
Using a rolling pin, roll out your dough ball between two pieces of parchment paper. You should roll the dough until it is in a long rectangle, about 14 inches long, 8 inches wide, and between 1/4″ and 1/2″ thick.
Spread your filling mixture evenly over the rolled out dough.
Using the bottom sheet of parchment paper, roll your dough into a tight log.
Check out this video if you need more assistance with steps 7-9 (Rolling starts at the time 9:10 in the video)
Cut the dough log into 8 equal pieces. Tip: I use a piece of sewing thread to cut the dough; it's a much cleaner process than trying to use a knife!
Distribute the 8 rolls into your greased round pan, with the swirl side facing up.
Cover the pan with a cloth and place in a warm, dry area to rise.
Allow the rolls to rise for 1 hour.
Preheat the over to 375 degrees F. Once risen, bake the rolls for 18-22 min, until they no longer have any give, and are golden brown.
While the rolls are baking, make the glaze by gently heating the 1/4 cup of honey with the 2 Tbsp of orange juice. Mix until combined.
Let the rolls cool, then pour the honey glaze all over! Enjoy!
http://nourishwild.com/cms/wp-content/uploads/2016/02/Logo-Only-Large-300x212.png
0
0
Morgan Carr
http://nourishwild.com/cms/wp-content/uploads/2016/02/Logo-Only-Large-300x212.png
Morgan Carr
2016-01-03 21:31:52
2016-02-24 03:04:04
Whole Grain Cinnamon Rolls with Orange Honey Glaze (Gluten-Free)