This bacon and leek rice is the perfect grown-up stunner that can serve as an entree or side dish. With a decadent white wine and butter sauce, plus veggies and brown rice, this comforting bowl of goodness can be easily cooked up with relatively minimal hands-on cook time, and is a good blend of healthier choices and holiday cheer.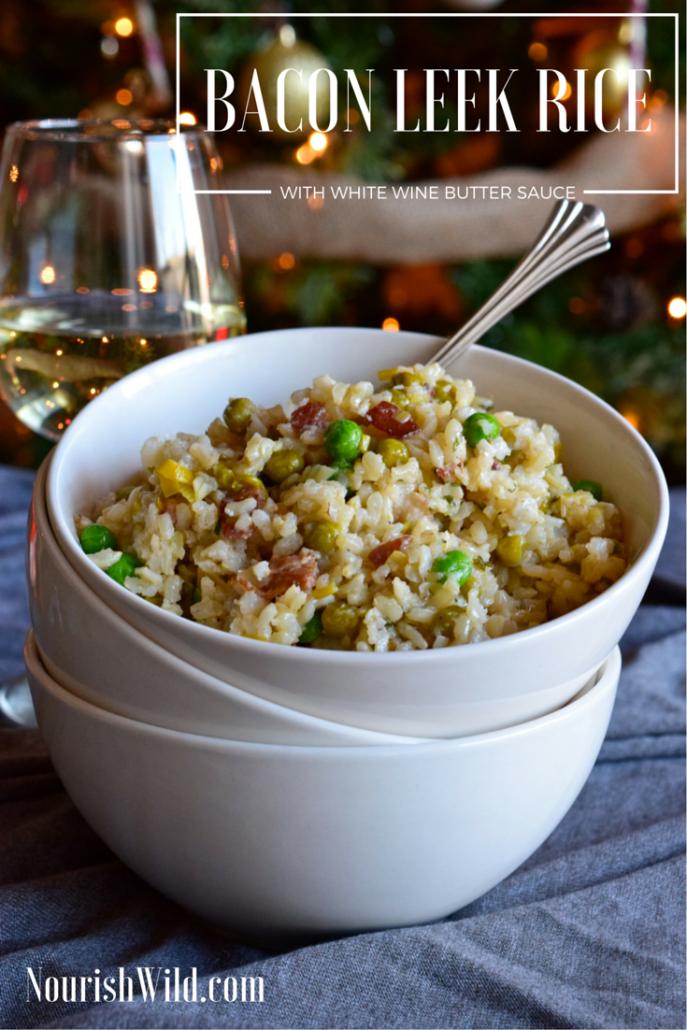 If your family is anything like mine, Christmas and the holiday season brings on several pot-luck dinner events. My strategy is to always bring something that I know I want to eat a lot of, just in case the other options are not quite agreeable to my little tummy (people tend to like cheese in everything, and I ain't about dat lactose yo). So this past weekend when I heard the main side was going to be mac-n-cheese, I knew I needed to bring something that I could pile high on my plate and be a happy (not hangry) camper for the rest of the day.
I've made a similar dish with pasta a few times for dinner, but I wanted to change it up and make it a little more refined, so I took the bacon and leek combo to the next level. I also know that my palate is a little different than the majority of everyone else in my family, so I wanted to up the decadence points in hopes that it wouldn't taste too "healthy." Enter wine and butter. If that doesn't say "happy holidays!" I don't know what does. Wine, butter, and bacon… Close your mouth, you're drooling. Don't worry, there are some peas in there for good measure.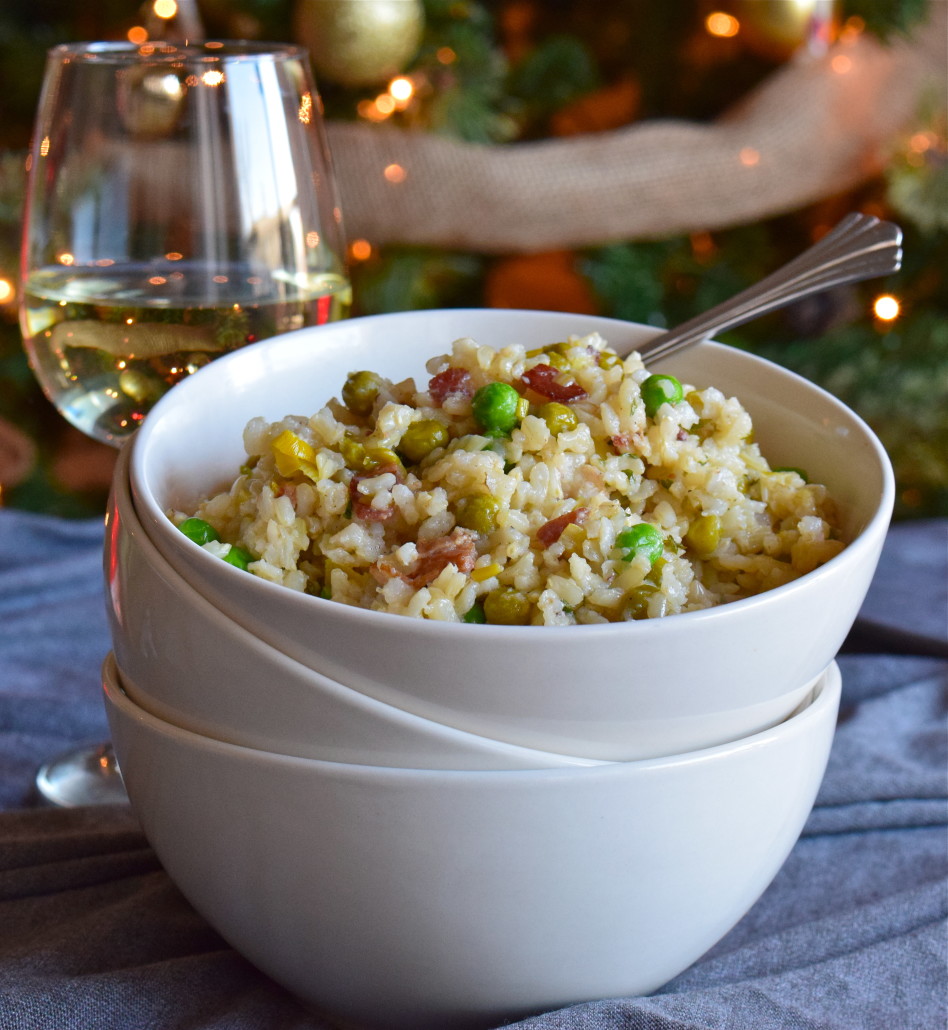 This recipe is meant to be shared, so it makes a pretty decent amount of food. If you're making it for 2-4 people, I would cut this recipe in half.
The rice I used is brown rice, and I always try to get sprouted grains for more easy digestion, but you can use any kind of rice you prefer. If I were making this for just the two of us, I would have used wild rice, but I thought that may have been a little too "out there" for a pot luck event. Do your thang, whatever that may be.
With Christmas coming up this week, the New Year is right around the corner! And we have lots of exciting things coming that you should check back for in the New Year including:
The Groundwork Guide ebook: We are really excited about this and Andrew has been hard at work putting the finishing touches on his shiny new project. If you feel like you just need a good starting point to begin your journey of living healthier, and you want tips of how to incorporate healthier choices (both nutritionally and activity-wise) into your every day life, this ebook is the perfect beginner guide.
Free 7 Day Challenge: Don't feel ready to make a monitary commitment to a new lifestyle, but instead just want to try it out for a few days? Our 7 Day Challenge is a great choice! The first one will be coming in early January 🙂
Want to stay updated on when these exciting new projects will be released? Sign up for our free newsletter!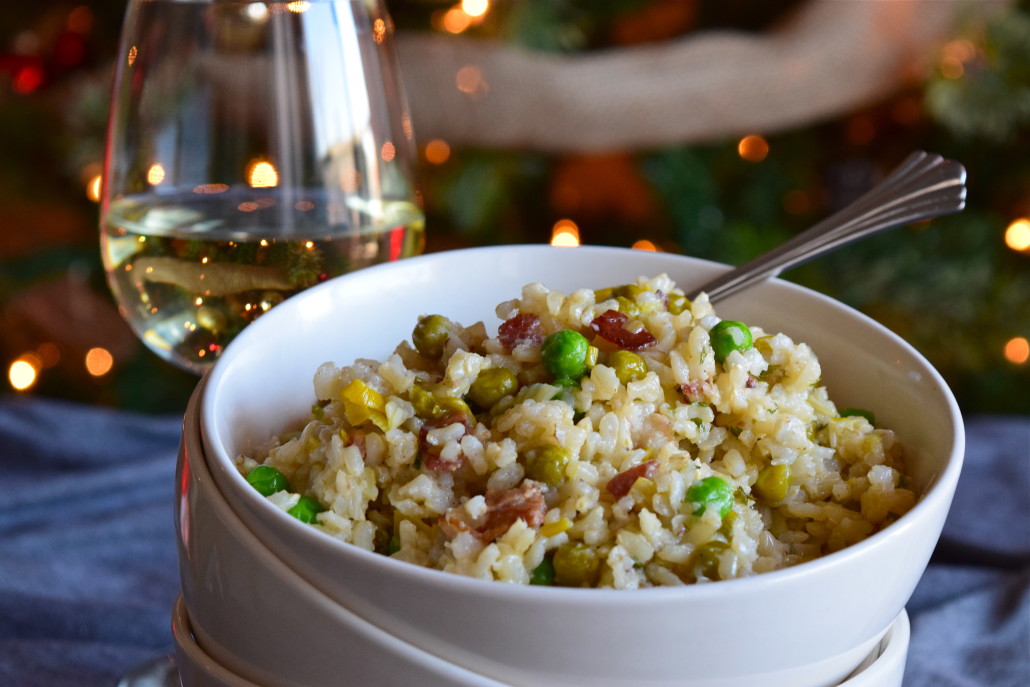 Bacon Leek Rice with White Wine Butter Sauce
2 cups uncooked rice of choice (I prefer brown or wild sprouted rice) + the amount of water recommended on package
5 slices of bacon, cut into 1/4 inch strips
2-3 leeks, chopped into 1/4 inch strips (check out this video for a demo)
1 cup frozen peas
2 cloves of garlic, minced
1/4 cup extra virgin olive oil
6 Tbsp grass-fed butter
1/4 cup stock (I used chicken stock)
1/3 cup white wine (I used sauv. blanc)
1 Tbsp lemon juice
salt and pepper to taste
Cook the rice according to the package. Note: you will add in the following sauce the last 10 minutes of cooking.
Start making your sauce by first cooking your bacon in a medium sauce pan. Cook until the bacon is crispy.
Once the bacon is crispy, add the olive oil, butter, leeks, garlic, wine, lemon juice and stock to the sauce pan with the bacon, and bring to a simmer. Let this sauce simmer until the leeks are soft and cooked down.
When the rice has 10 minutes remaining to cook, add the prepared sauce and the frozen peas to the rice. Mix together, and allow to cook all together for the remaining 10 minutes. Add salt and pepper to taste. Enjoy!
http://nourishwild.com/cms/wp-content/uploads/2016/02/Logo-Only-Large-300x212.png
0
0
Morgan Carr
http://nourishwild.com/cms/wp-content/uploads/2016/02/Logo-Only-Large-300x212.png
Morgan Carr
2015-12-20 19:33:28
2016-02-27 21:00:33
Bacon Leek Rice with White Wine Butter Sauce