Mint Chocolate Chip Ice Cream is meant to be refreshing and slightly indulgent, but for people (like me) who are lactose intolerant this dessert can be a sign of tummy troubles. But not with this version! Dairy-free and paleo friendly, this ice cream uses coconut milk as a base, and is a silky, wonderful substitution for the traditional summer treat.
It's been in the 90 degree range here in RVA consistently enough that we can officially call this summertime! And what better way to usher in summer than with the ultimate summer treat: ice cream. Mint chocolate chip has always been my favorite flavor; I enjoy a good chocolate brownie or cookie dough every once in a while, but that's only when I can tear myself away from drooling over the mint chip. Ice cream is definitely my dessert weakness. If pressed, I may have even called it my favorite food once upon a time. (Does dessert count as a favorite food? Or does that just make it sound like I have a problem? Hello, my name is Morgan and I am a recovering sugar addict.) And even after discovering I am lactose intolerant, I still had no restraint. Who needs restraint when you have Lactaid? But somehow needing to take a pill in order to tolerate a food seemed counter-intuitive and I obviously was just fighting my body rather than trying to work with it. So I gave it up. While that sounds simple, it's really not. Oh dairy, why must you haunt me in everything that is delicious and heavenly? Dairy-free alternatives intrigued me, and I set out to recreate my favorite mint chip. We bought an ice cream maker and some coconut milk, and I've been on a roll ever since. This was actually the first ice cream recipe I made, and definitely is a frequent staple in our freezer. In fact, just last night Andrew said, "We should keep a constant supply of this." Yes, yes we should.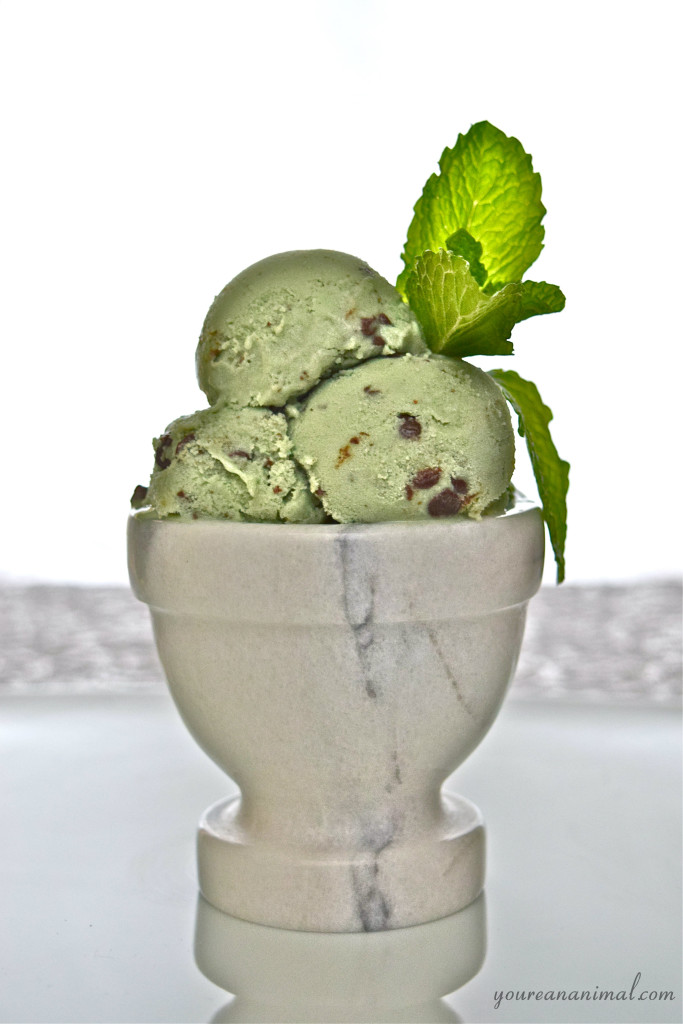 As I mentioned, the base of this ice cream is coconut milk. You get this in cans, and it's usually found in the Asian food section. You want to get full-fat, and the least amount of ingredients you can find. When you shake the can, you shouldn't feel/hear anything. If it's sloshing around inside, then there's usually extra water which can make your ice cream icy rather than creamy. Also, sometimes when you open the can, the cream has separated from the water. This is okay, you're still going to use everything in the can. You will be heating up the mixture, so if the cream and water has separated, they will re-combine once heated. Finally, there is a little starch in this recipe. This makes the ice cream creamier and thus deliciouser, obviously. As with most homemade ice creams, it will be pretty solid after sitting in the freezer, so you may want to let the ice cream sit out on the counter for about 10 minutes so it softens up and you don't break your scooper. But if you're impatient, you can always just chisel away right out of the freezer.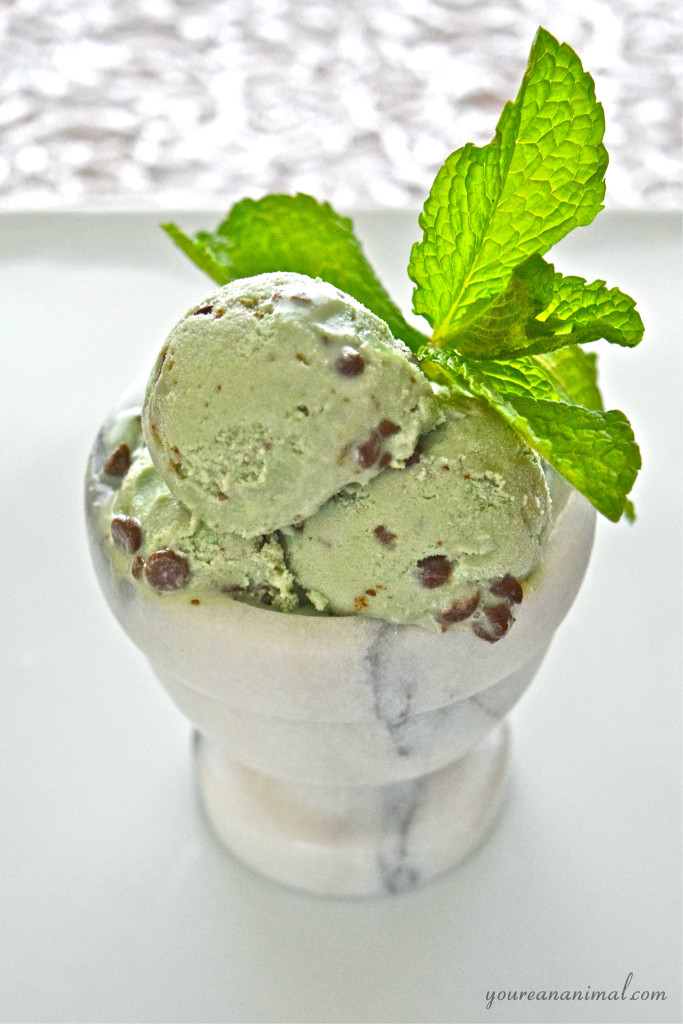 Mint Chocolate Chip Ice Cream
Place all of the ice cream ingredients in a medium saucepan, and stir until completely combined and the egg yolks are broken. Heat over medium-low heat, until the mixture is warm but not hot. Remove from the stove, cover with lid, then place in the fridge to cool for at least 1 hour.
Once the ice cream base is cooled, strain the mixture so there are no lumps, and follow manufacturer instructions for your ice cream maker to make your ice cream. About 5 minutes before the end of the cycle while the machine is still running, add your chopped chocolate chips.
Transfer into a storage container (I like to use a glass loaf pan, it's the perfect size). Store in the freezer. Note that the ice cream will harden, so you may want to let it sit out for about 10 minutes before scooping once it has been sitting in the freezer for a while.

---
 Please note that some of the links in the above post are affiliate links that will take you to an Amazon.com page. If you choose to purchase a product featured in this post using an affiliate link, you will be directly supporting You're An Animal. Thanks!
---
http://nourishwild.com/cms/wp-content/uploads/2015/06/DSC_01831.jpg
3999
2666
Morgan Carr
http://nourishwild.com/cms/wp-content/uploads/2016/02/Logo-Only-Large-300x212.png
Morgan Carr
2015-06-12 11:40:05
2016-02-27 21:13:10
Mint Chocolate Chip Ice Cream (Dairy-Free, Paleo)