These individual blueberry crisps will transform your brunch or dessert into a comforting delight. Sweet blueberries reduce down into a thick, not-too-sinful sauce, while the granola becomes a warm oatmeal cookie waiting for you to dig in. Gluten-free, vegan, and with a paleo option, these treat jars will be a hit with everyone at the table!
I'll be honest, I'm not much of a pie or cobbler kind of girl. It has to be something really very delectable to get me on board. So when I had my first fruit crisp at a bed and breakfast a couple years ago, I was hesitant. But it didn't take long for me to fall in love. The juicy, sweet reduced berries that have become their own jelly-like sauce… the chewy, cookie-like topping made from the sweet oats and butter… I was hooked. But when I found out how much sugar usually goes into those things, I was turned off. Why does fruit need more sugar? Truth be told, it doesn't. So I set out to make my own fruit crisp… one without the added sugar and typical dessert elements that are often used.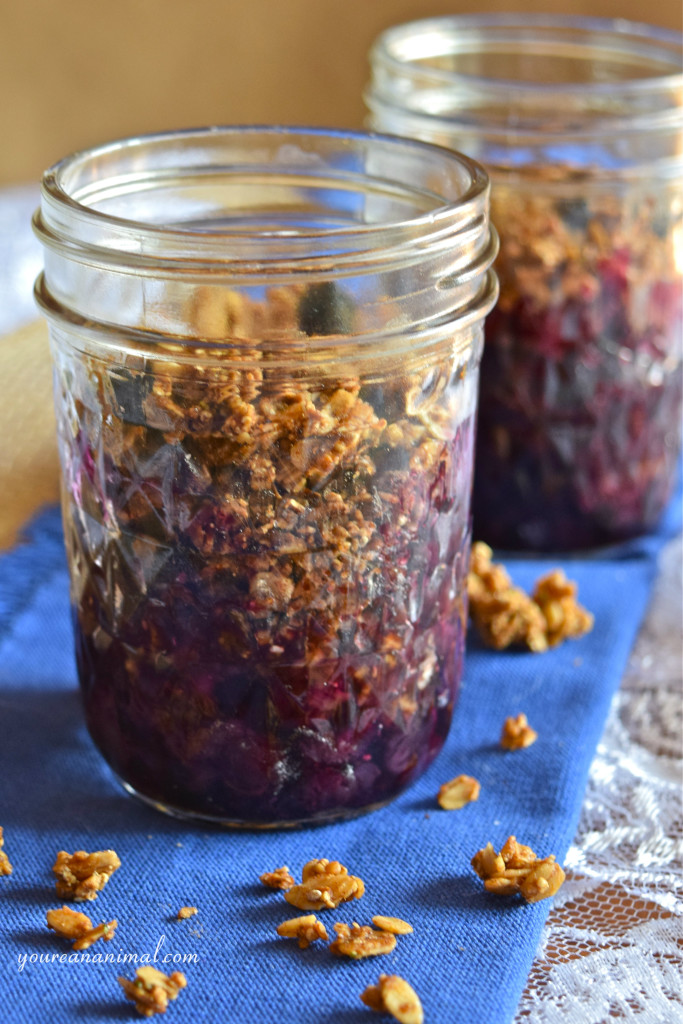 Boy oh boy, do these babies deliver. The blueberries perfectly intertwined with the granola mixture, making them separate but one at the same time. On their own they are delicious, but together, they can take over the world. Or at least the world's taste buds. Though these crisps are long gone (eaten in approximately 45 seconds), I can still smell the tantalizing simmering blueberries mingling mid-air with the cinnamon-infused granola. It's making my mouth water all over again. I should have made more…
Let's talk about the ingredients. This comes together very quickly, as I use pre-made granola. There are a lot of good granola brands out there these days, but Purely Elizabeth is my favorite. No, they aren't paying me to say that or to use their brand in a picture. I just really love it that much, and think it's important to support companies that you agree with. Elizabeth's granola (I get the Blueberry Hemp flavor) is gluten-free and vegan, and made with awesome ingredients like coconut oil, coconut sugar, chia seeds, hemp seeds, quinoa and amaranth. It also has dried blueberries mixed in, which are chewy and delicious. Have I sold you yet? Now, Elizabeth's is a more "traditional" granola in that it uses oats as the base. However, for those of you looking for a Paleo option, you can use Paleo granola in this recipe. One brand that makes many different flavors and styles of Paleo granola is Steve's PaleoGoods. Steve's is true-blue paleo, with all junk-free ingredients and they also use part of their profits to support youth programs. Once again, I'm so excited that companies like Elizabeth's and Steve's exist, because they are the ones who will change our food culture for the better.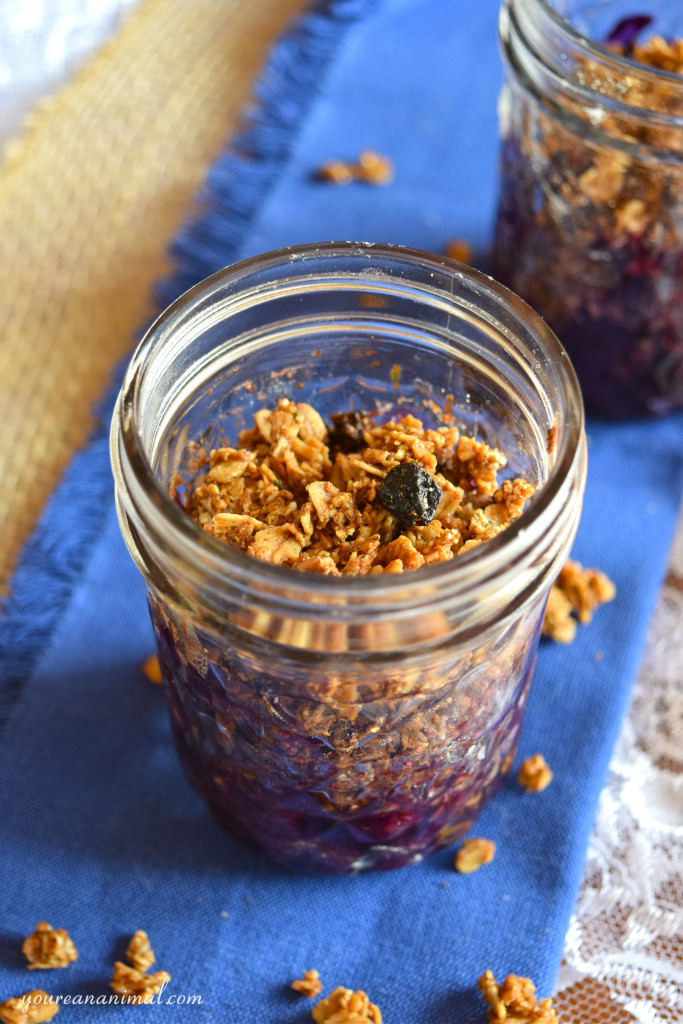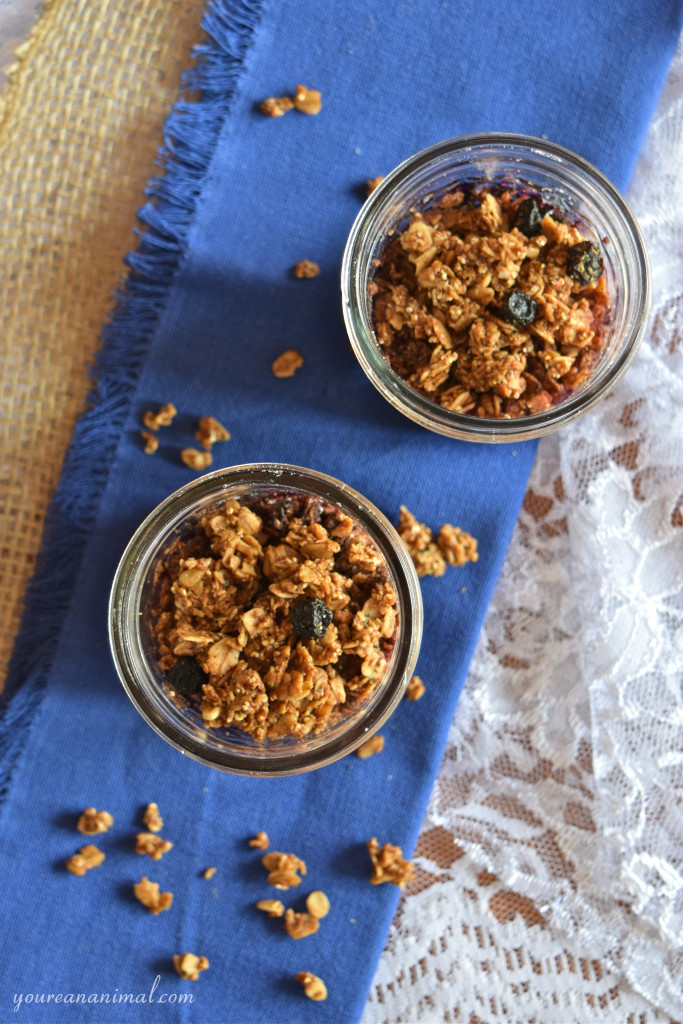 Individual Blueberry Crisp
1 cup granola (pre-made, your choice, I prefer Elizabeth's [vegan] or Steve's [paleo])
1 cup frozen blueberries
1 Tbsp + 1 tsp tapioca starch
1/2 Tbsp coconut flour
1 Tbsp coconut oil (solid, not melted)
1/4 tsp ground cinnamon
pinch of salt
Preheat the oven to 375 degree F, and have two 8 oz mason jars (or one 16 oz mason jar) ready.
In a small mixing bowl, combine the granola, 1 Tbsp tapioca, coconut flour, coconut oil, cinnamon and salt. You may need to use your fingers to thoroughly combine the coconut oil into the mixture.
In a separate small mixing bowl, toss the frozen blueberries with the 1 tsp of tapioca. (This is going to make the blueberries gel a little bit when they reduce, so it's not too liquidy of a sauce at the bottom of the jar.)
Distribute your berries amongst the two jars, half cup in the bottom of one, half cup in the bottom of the other.
Distribute your granola mixture amongst the two jars evenly, on top of the blueberries.
Place the jars in the preheated oven (I like to put them on a cookie sheet so they're easier to put in a take out).
Bake for about 30 minutes, or until the berries have reduced and are simmering in their own juice.
Note: if you're using fresh berries instead of frozen, the bake time will likely be less.

http://nourishwild.com/cms/wp-content/uploads/2015/06/DSC_0077.jpg
3998
2666
Morgan Carr
http://nourishwild.com/cms/wp-content/uploads/2016/02/Logo-Only-Large-300x212.png
Morgan Carr
2015-06-08 09:52:24
2016-02-24 03:06:36
Individual Blueberry Crisp (Gluten-Free, Vegan, Paleo Option)