Panera's Cinnamon Crunch Bagels were once one of my all-time favorite things. But these days, I prefer to make my own treats. This Cinnamon Crunch Flatbread is a perfect little morning or afternoon treat, and is gluten-free, grain-free, nut-free, and Paleo friendly. Plus it's quick and easy to throw together!
It's a gloomy, gloomy day here in the RVA. Luckily, I didn't have to work today and Andrew didn't have to work until the afternoon, so we were able to have a lazy morning. I woke up with an intense need for cinnamon rolls. The sticky, sweet, spicy and steamy combination was calling my name. Unfortunately, I had no time or patience for such process. You know how the best ideas come from necessity, right? Cinnamon Crunch Flatbread was born under such necessity. The necessity to recreate the cinnamon roll flavors, without the process.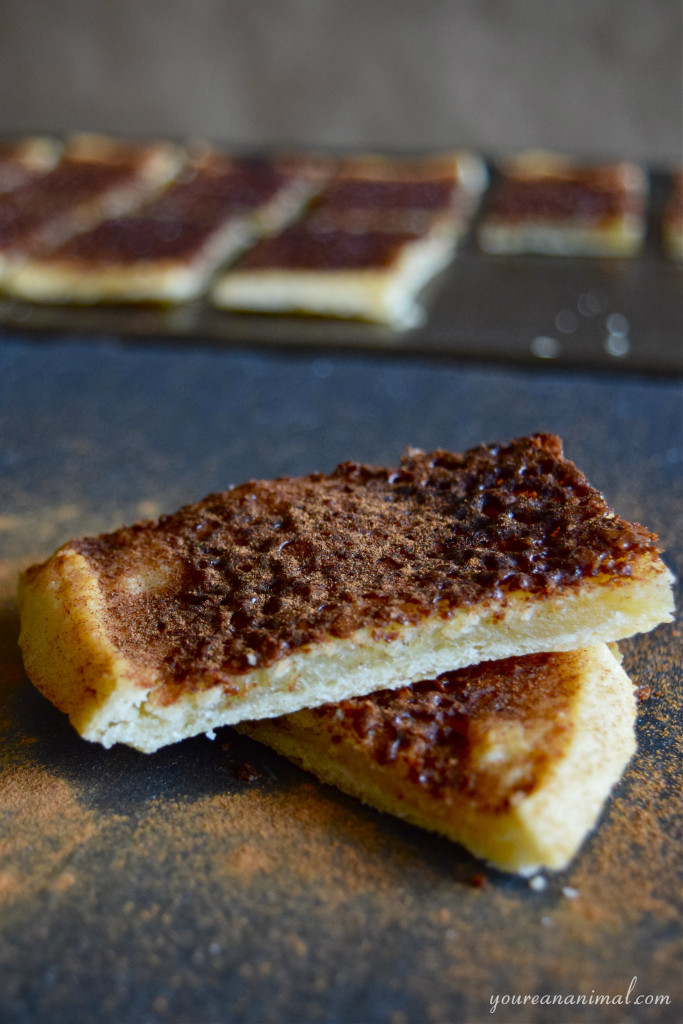 That spicy cinnamon that tickles your nose, that crispy crunch of the caramelized sugar, that chewy, savory flatbread… If this doesn't say, "Good morning, let's enjoy our time together" I don't know what does. The flatbread base is adapted from a recipe by Savory Lotus, and the cinnamon crunch is inspired by those so-darn-delicious Panera bagels. The flatbread comes together in about 2 minutes, and only takes 12 minutes in the oven. A couple minutes under the broiler to caramelize that cinnamon sugar combo, and that's right folks… This could be in your hand in about 15 minutes.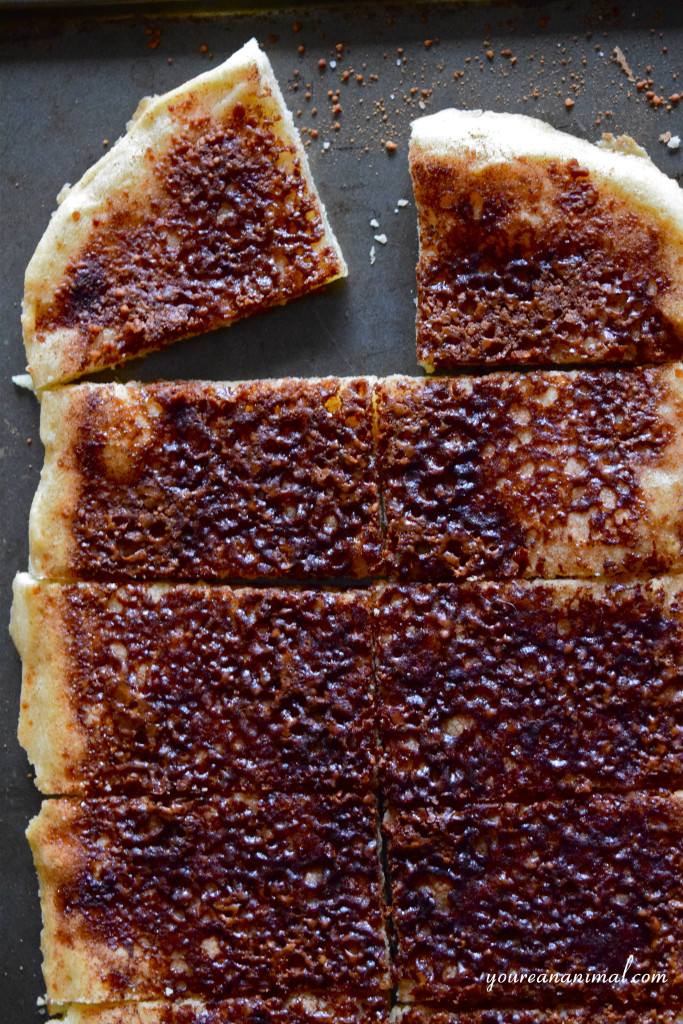 Cinnamon Crunch Flatbread
2/3 cup tapioca starch
1/3 cup potato starch
1/4 cup coconut flour
1/2 cup avocado oil
1/4 cup water
1 (cage-free) egg
2 tsp ground cinnamon
2 Tbsp coconut palm sugar
1/4 tsp sea salt
1 Tbsp (grass-fed) butter, softened
Preheat the oven to 425 degrees F, and line a rectangular cookie sheet with parchment paper.
In a small bowl, combine the cinnamon, coconut palm sugar, and salt. Set aside.
In a large mixing bowl and using a fork to stir, combine the avocado oil, water, and egg.
Sift in the tapioca starch, potato starch, and coconut flour, adding them to your wet ingredient mixture. Combine the wet and dry ingredients thoroughly with your fork. This mixture should be sticky and hold some shape.
Spread this mixture onto the parchment-lined cookie sheet, evenly distributing the dough and forming a long, flat rectangular, flatbread shape. Note that this dough is super sticky, so I find it easiest to wet my hands and spread and shape the dough by hand. If the dough starts sticking to your hands, re-wet your hands.
Once the dough is shaped into the rectangular shape and about 1/4″ thick, place in the preheated oven for 12 minutes.
After 12 minutes, remove from the oven. Slide the flatbread off of the parchment, and straight onto the cookie sheet (I've found that if it gets left on the parchment paper, the bottom of the flatbread tends to get soggy. Take out the parchment and the bottom will get crispy.)
Coat the top of the warm flatbread with the softened butter. Then evenly sprinkle the cinnamon sugar mixture over top of the buttered flatbread.
Place under your oven's broiler (High, if your oven has the option) for a couple of minutes. Watch your flatbread the whole time! This can turn ugly quickly. Let the cinnamon sugar start to bubble all over. Once the sugar is bubbling over the entire flatbread, remove from the oven and let it cool and set. Enjoy!

http://nourishwild.com/cms/wp-content/uploads/2015/06/DSC_0101.jpg
3999
2666
Morgan Carr
http://nourishwild.com/cms/wp-content/uploads/2016/02/Logo-Only-Large-300x212.png
Morgan Carr
2015-06-03 19:25:14
2016-02-27 20:53:51
Cinnamon Crunch Flatbread (Gluten-Free, Grain-Free, Nut-Free)