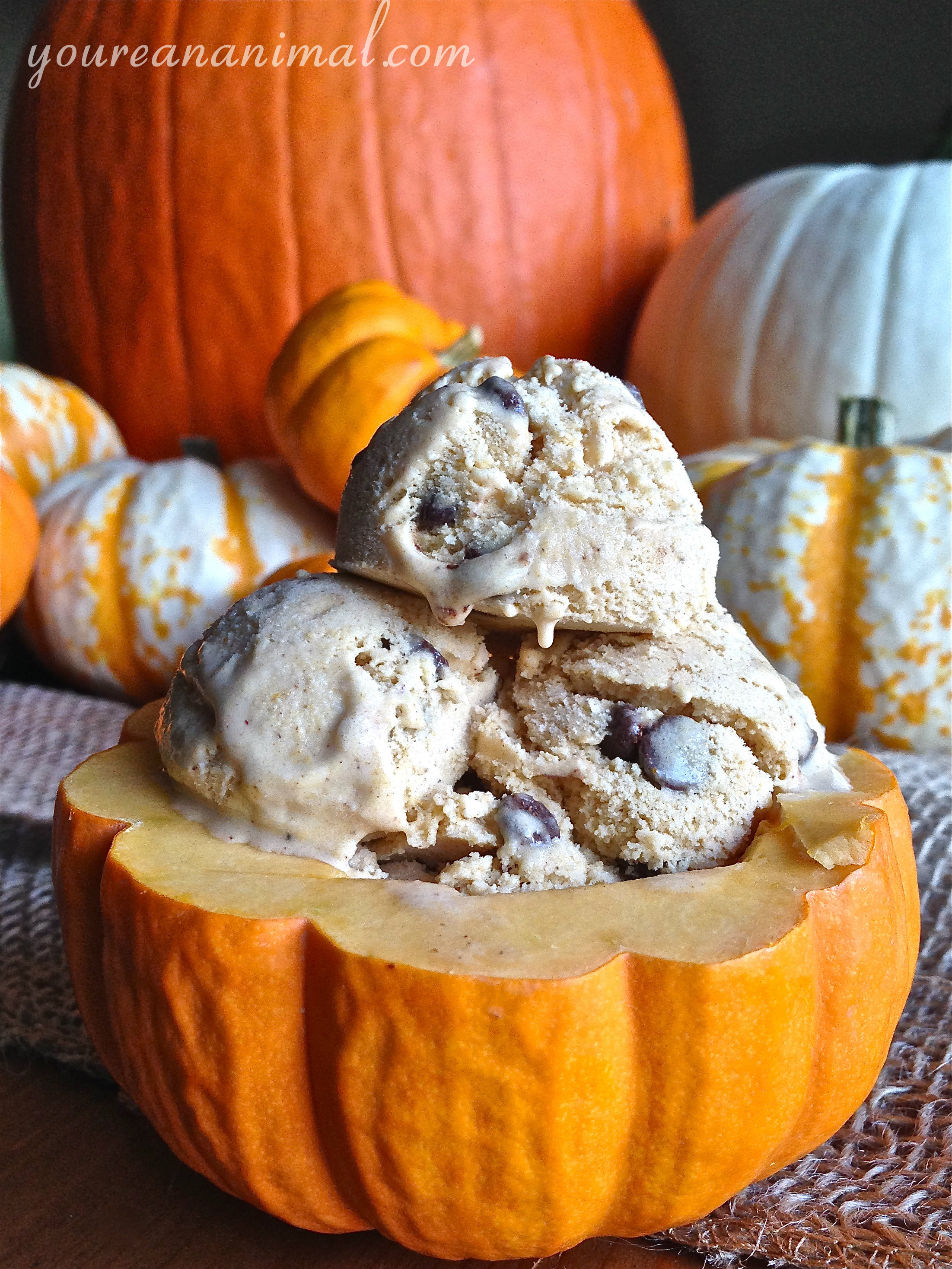 IT'S TIME FOR PUMPKIN EVERYTHING! This trend has grown more and more prevalent in the last couple of years, and I ain't complainin'. I don't know why we are all so obsessed with pumpkin season, but I know for me it's the pumpkin spice combo. Cinnamon, in particular. I love me some cinny-mon. Cinnamon on everything pretty please! I can promise you that while this is the first pumpkin recipe I've posted, it most certainly won't be the last. It's here, people, it's here.
Let's talk about this ice cream. As I mentioned in my Dairy-Free Coconut Ice Cream with Salted Caramel and Chocolate Ganache post, we got this ice cream maker
recently and I'm loving it. We haven't been without ice cream since. I'm sadly (but not so sadly) completely serious. Obviously I had to make my pumpkin recipe debut somehow, and since it's still currently almost 90 degrees here in VA, ice cream seemed like the way to go. Oh and it was the way to go, my friends, it definitely was. Not to mention allergies are running wild this week (again, darn you VA) so we needed something to sooth our poor wittle scratchy throats. Pumpkin ice cream to the rescue! This stuff is pretty much pumpkin bread in a cold, semi-liquid form. Perfect for those late summer/early fall days when it's cool at night but still gets toasty during the day. Pumpkin latte for the chilly mornings, then pumpkin ice cream as the day heats up. Sounds like a plan to me! Annnnd it's dairy-free, so my fellow lactose intolerant (or simply avoiding dairy) people can enjoy freely. And by "freely' I mean eating the entire quart. Alone. In one sitting. No no, let's not take it too far. Bring it back in. I know you all have stocked up on pumpkin by now, so go buy some cans of coconut milk while you're at it, and continue your pumpkin exploration. It's a lovely, spicy adventure!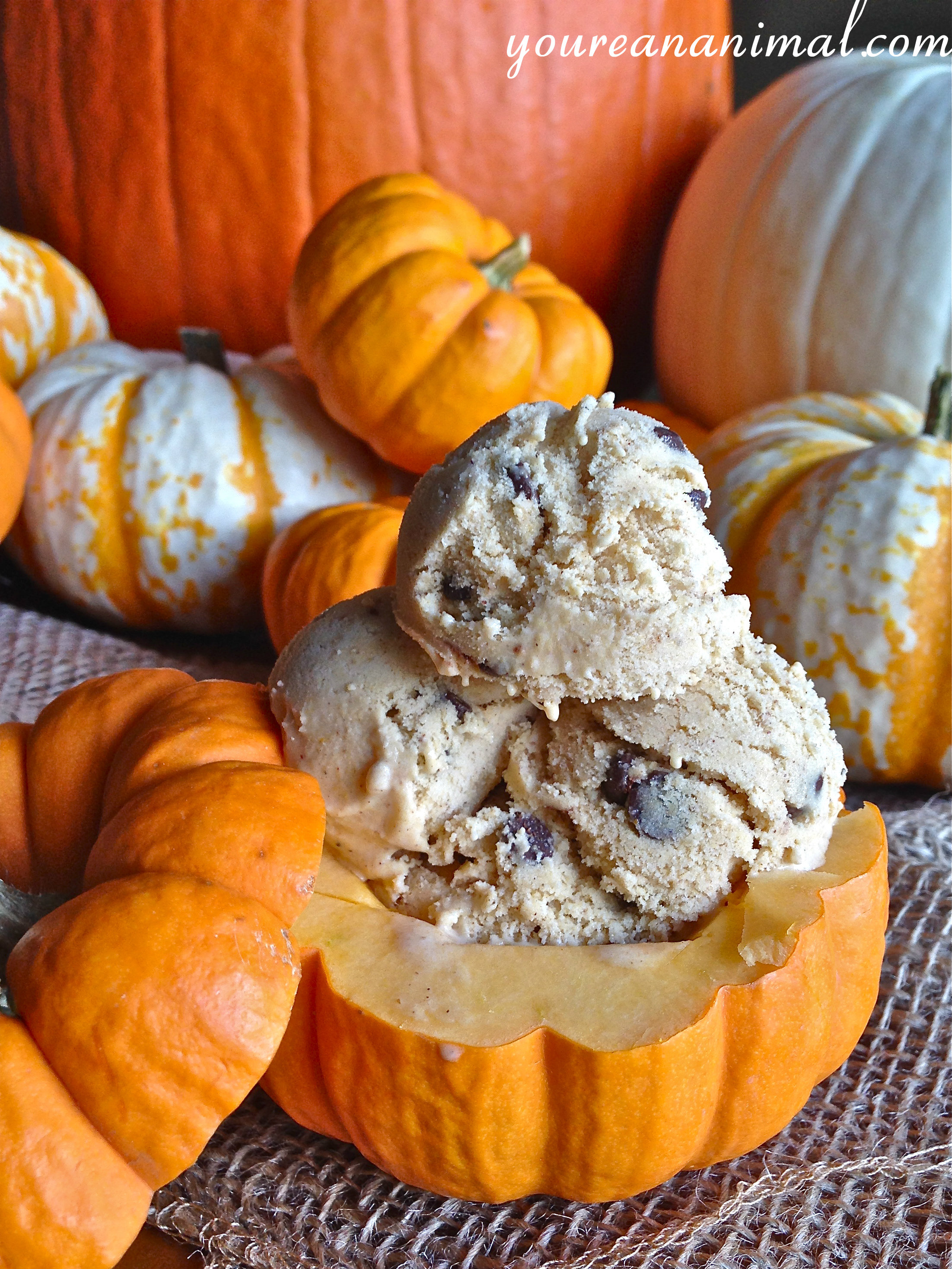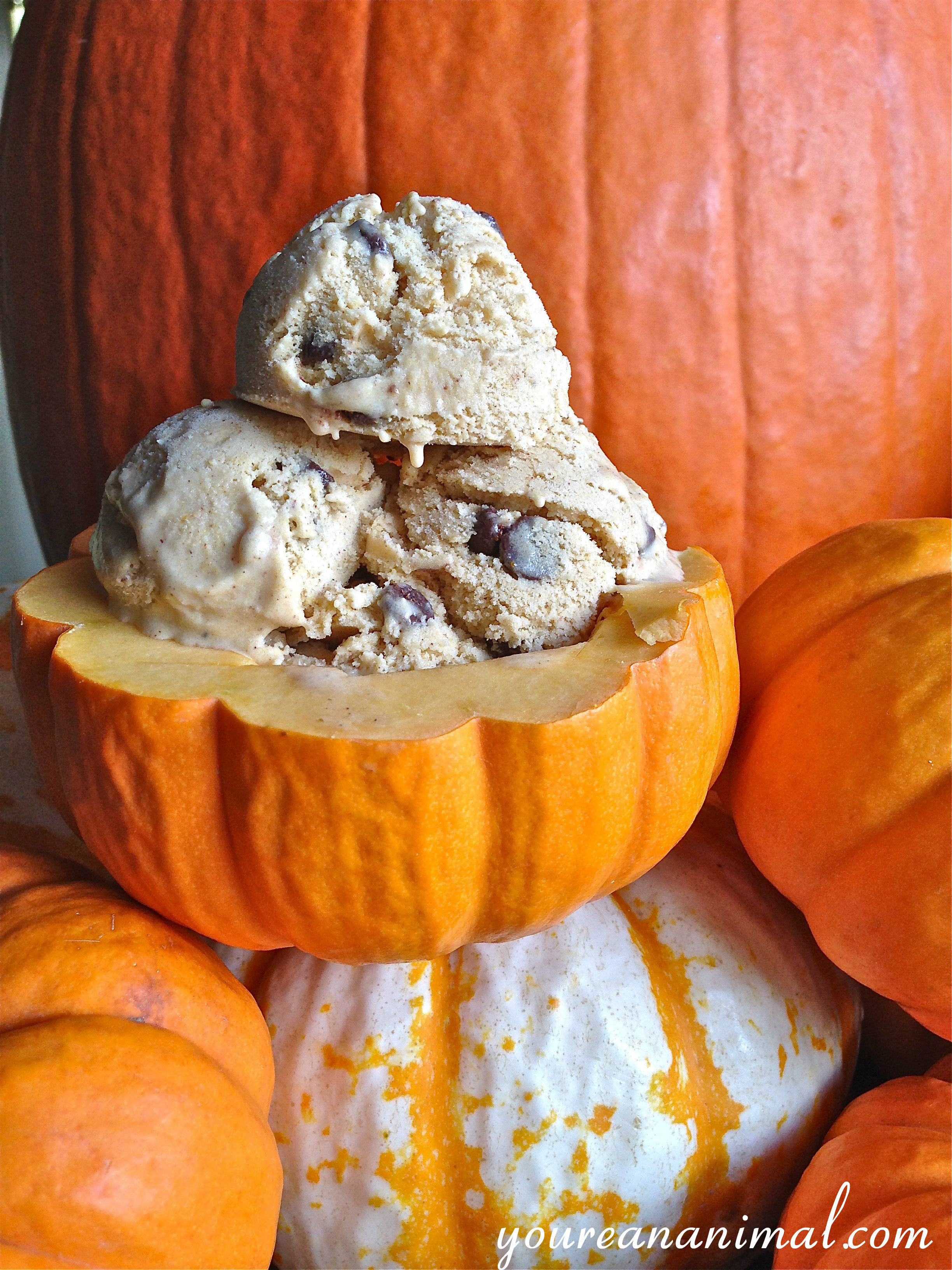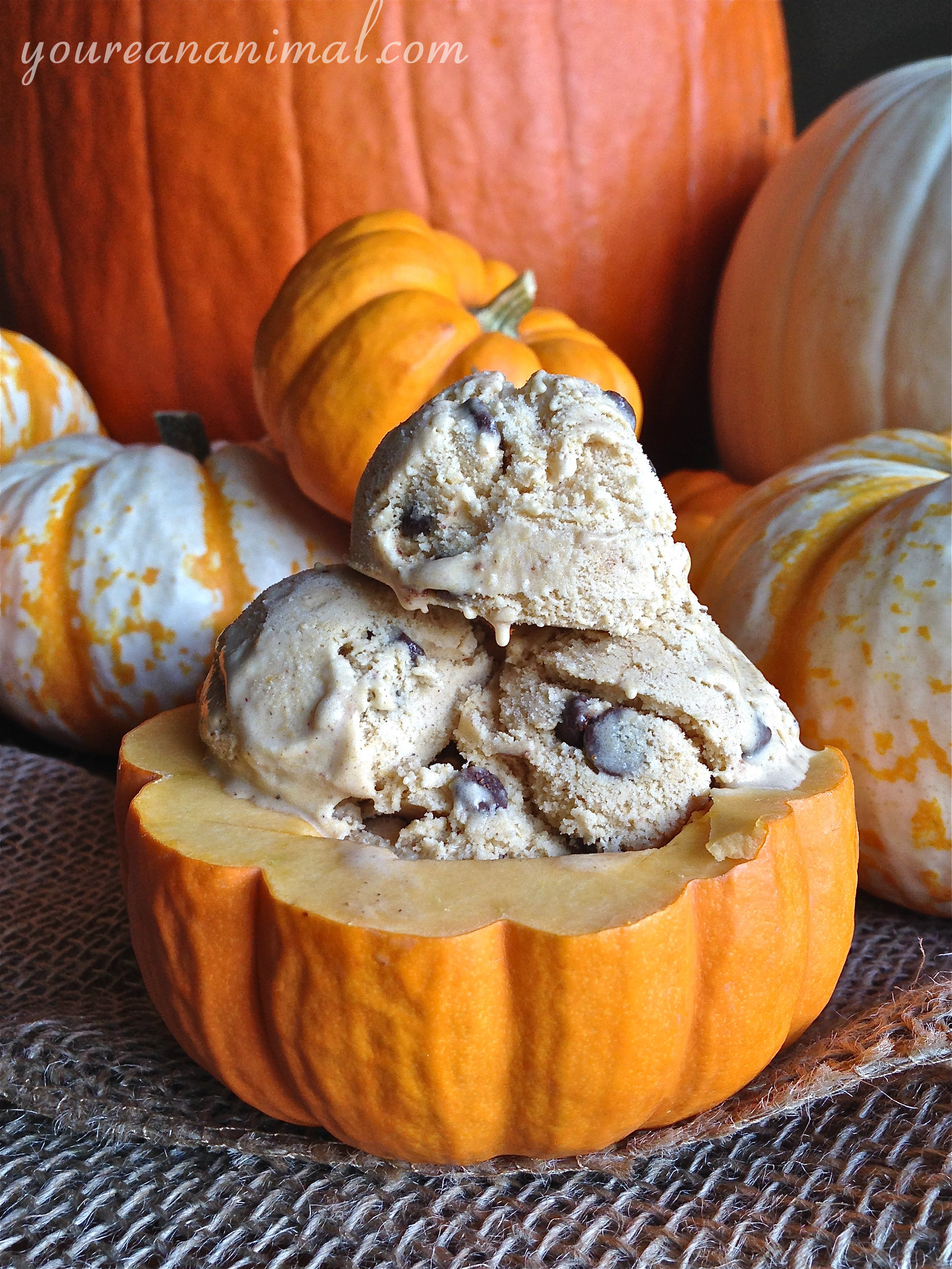 Dairy-Free Pumpkin Ice Cream
Combine all of the ingredients in a medium saucepan.
Heat the mixture over medium heat, stirring frequently, until the mixture is hot but before it boils.
Place the mixture in the fridge (I find it easiest to just put the saucepan directly in the fridge) and let chill for at least 1-2 hours, or longer.
Once completely chilled, strain the mixture through a sieve to remove any lumps and ensure a smooth ice cream. I find it easiest to strain the mixture directly into the ice cream maker.
Process the ice cream in your ice cream maker according to manufacturer directions. If adding the chocolate chips, add them in about 5 minutes before the ice cream is done. Transfer into your storage container. Enjoy!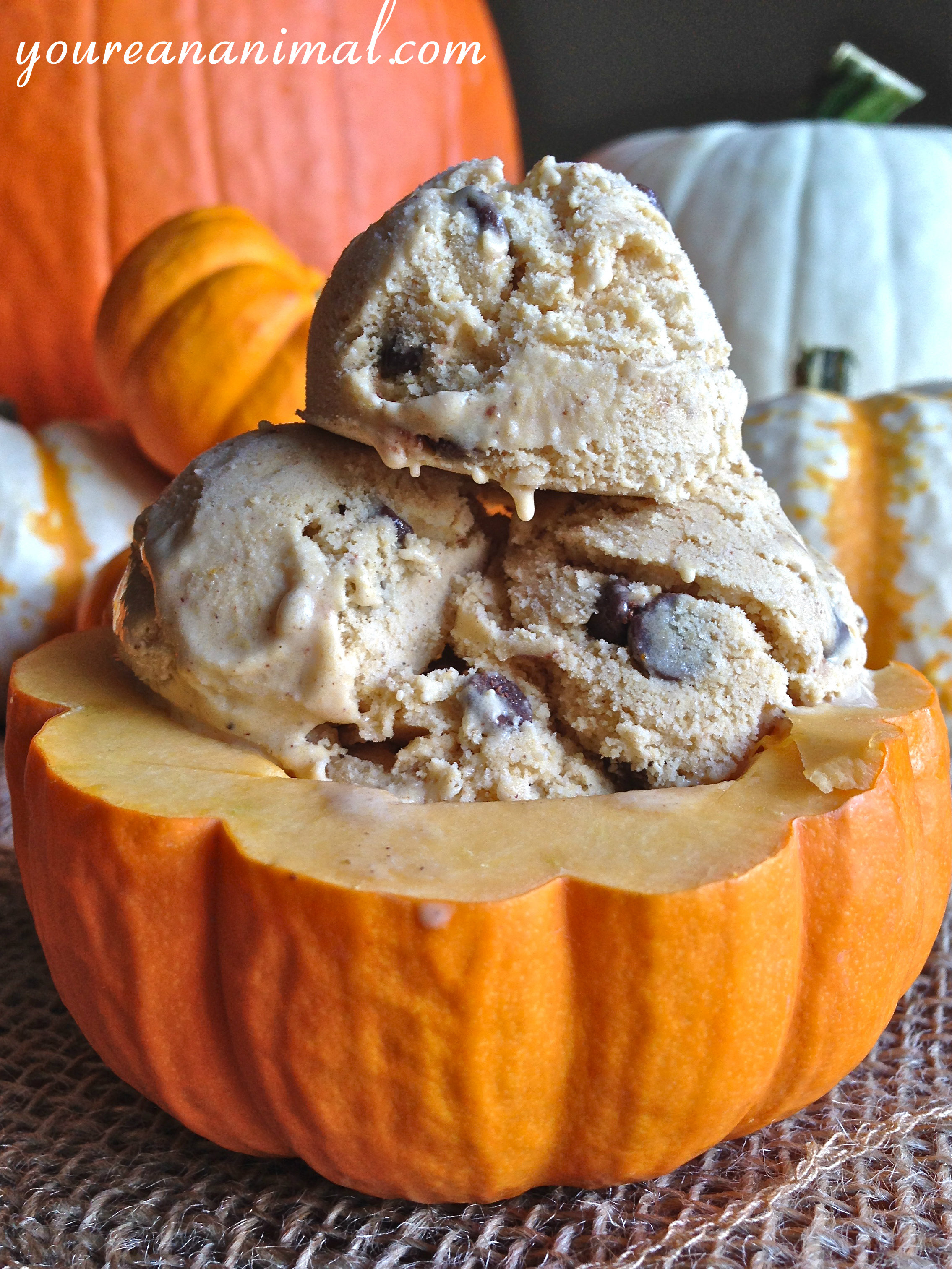 ---
Please note that some of the links in the above post are affiliate links that will take you to an Amazon.com page. If you choose to purchase a product featured in this post using an affiliate link, you will be directly supporting You're An Animal. Thanks!
---
http://nourishwild.com/cms/wp-content/uploads/2014/09/pumpkinicecream25.jpg
2937
2203
Morgan Carr
http://nourishwild.com/cms/wp-content/uploads/2016/02/Logo-Only-Large-300x212.png
Morgan Carr
2014-09-21 17:02:11
2016-02-27 21:23:37
Dairy-Free Pumpkin Ice Cream (White Sugar-Free)