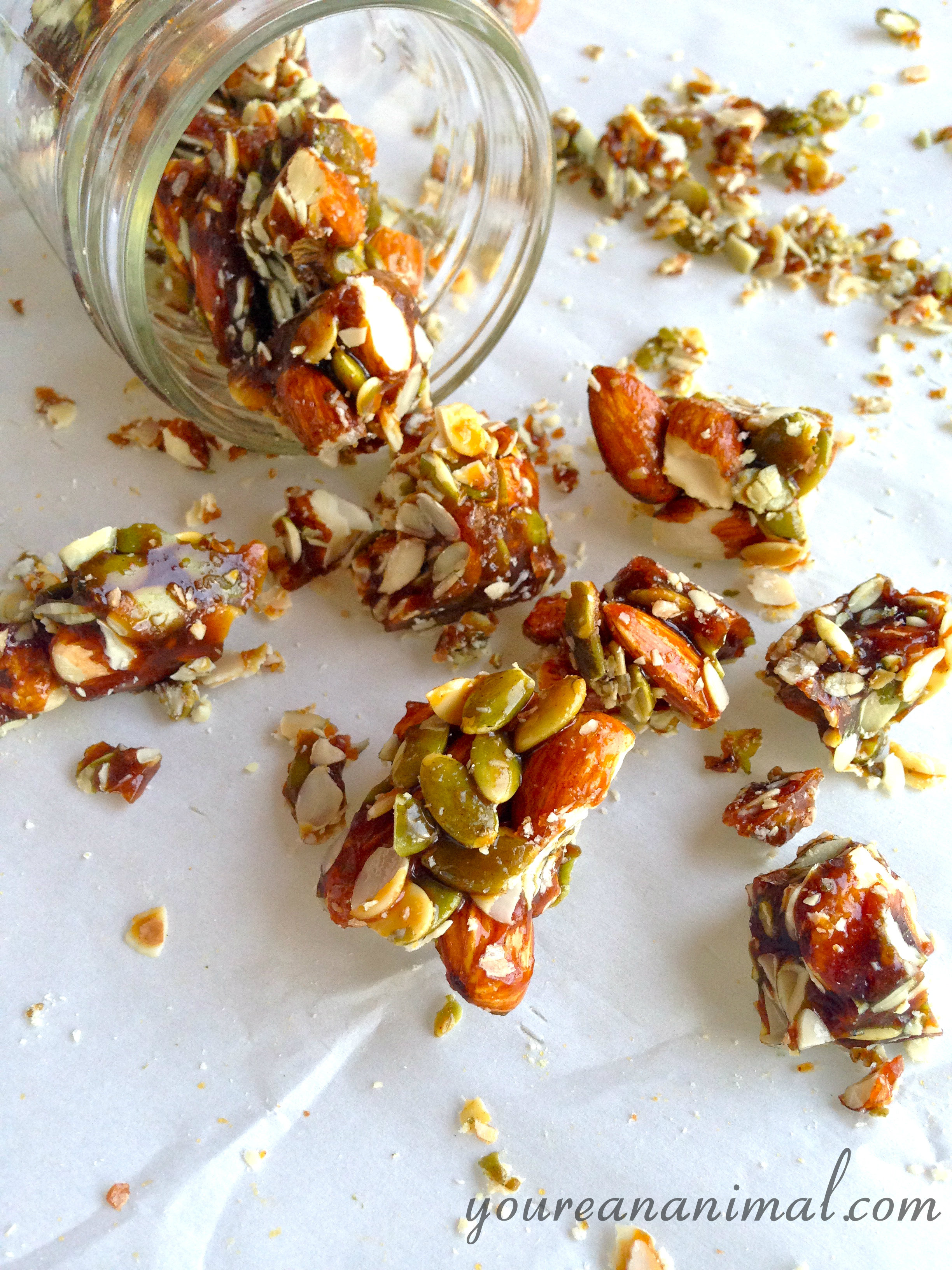 It's Independence Day weekend, which for most of us east-coasters means a long weekend at the beach! So Andrew and I packed up the car last night and drove 5 hours down the coast to the NC/SC border for a much-needed mental and physical break. And then Arthur arrived… the first hurricane of the season with the worst timing. Currently we are cooped up in the beach house on our first day here, waiting for the storm to pass. It's just grazing us here, so we're lucky, and thinking of the people (especially our friends) in the Outer Banks who are about to get a direct hit tonight. Stay safe!
In my world, road trips only mean one thing: Car snacks. A couple years ago I would have stocked up on Sour Patch Kids and chocolate covered pretzels on our gas station stop before heading out. Those days are (thankfully) gone, but I still wanted that sweet and salty fix, so I whipped up some Honey Maple Almond Clusters before heading out! Car snack fix, done and done. And not too terrible in the nutrition department, I might add. Heavy on the nuts and seeds, with natural sugars rather than the white and brown that are in typically brittle recipes. I added grass-fed butter for the extra richness and flavor, but you could certainly leave it out if you choose. Car packed, clusters made, plus a green smoothie in the cup holder, and we were set for the hours ahead! Now just to ride out this rain…
Honey Maple Almond Clusters
3/4 cup unfiltered honey
3/4 cup  grade B maple syrup
3/4 cup water
2 cups raw almonds
1 cup pumpkin seeds
1/2 cup watermelon seeds
2 Tbsp grass-fed butter (I used salted Kerry Gold)
1/4 tsp vanilla extract
1/2 tsp cinnamon
In a medium saucepan, combine the honey, maple syrup, and water.
Bring this mixture to a boil (about medium to medium-high heat), and use a candy thermometer to keep track of the temperature. (The thermometer is important! Sugar is very finicky.)
Line an 8×8 pan with parchment paper. Measure out your add-ins beforehand, as you will need to act quickly once your sugar mixture comes to temperature.
Continue to boil sugar mixture until it reaches 300 degrees F, or the "hard crack" stage, stirring frequently. Beware, it will foam up. If it foams too much, stir, or remove from heat briefly and then return. This stage takes longer than expected–anywhere from 30 min to an hour. Be patient!
Once the mixture reaches the hard crack temperature, remove from heat and quickly add your butter, almonds, seeds, vanilla and cinnamon. Stir and fold in the ingredients quickly, as the sugar will start to stiffen.
Add the mixture to the lined 8×8 pan, and smooth into an even layer.
Allow to cool in the freezer (they will be easier to break when really cold).
Once completely hardened (like hard candy), remove from the pan and break the mixture into bite-sized clusters.
Helpful hints: I found it broke more easily if I flipped it over so the bottom was facing up. I used a butter knife and just went for it. Caution–this is a messy process. Expect to sweep the floor and every inch of counter within a 4-5 foot radius. Maybe invest in some protective eye wear and send small children and pets out of the room. Standard flying object precautions. Also, these got slightly chewy at room temperature, so I found that storing them in the fridge kept them super crunchy. And one more thing… Please don't pull out a filling eating these.
Enjoy!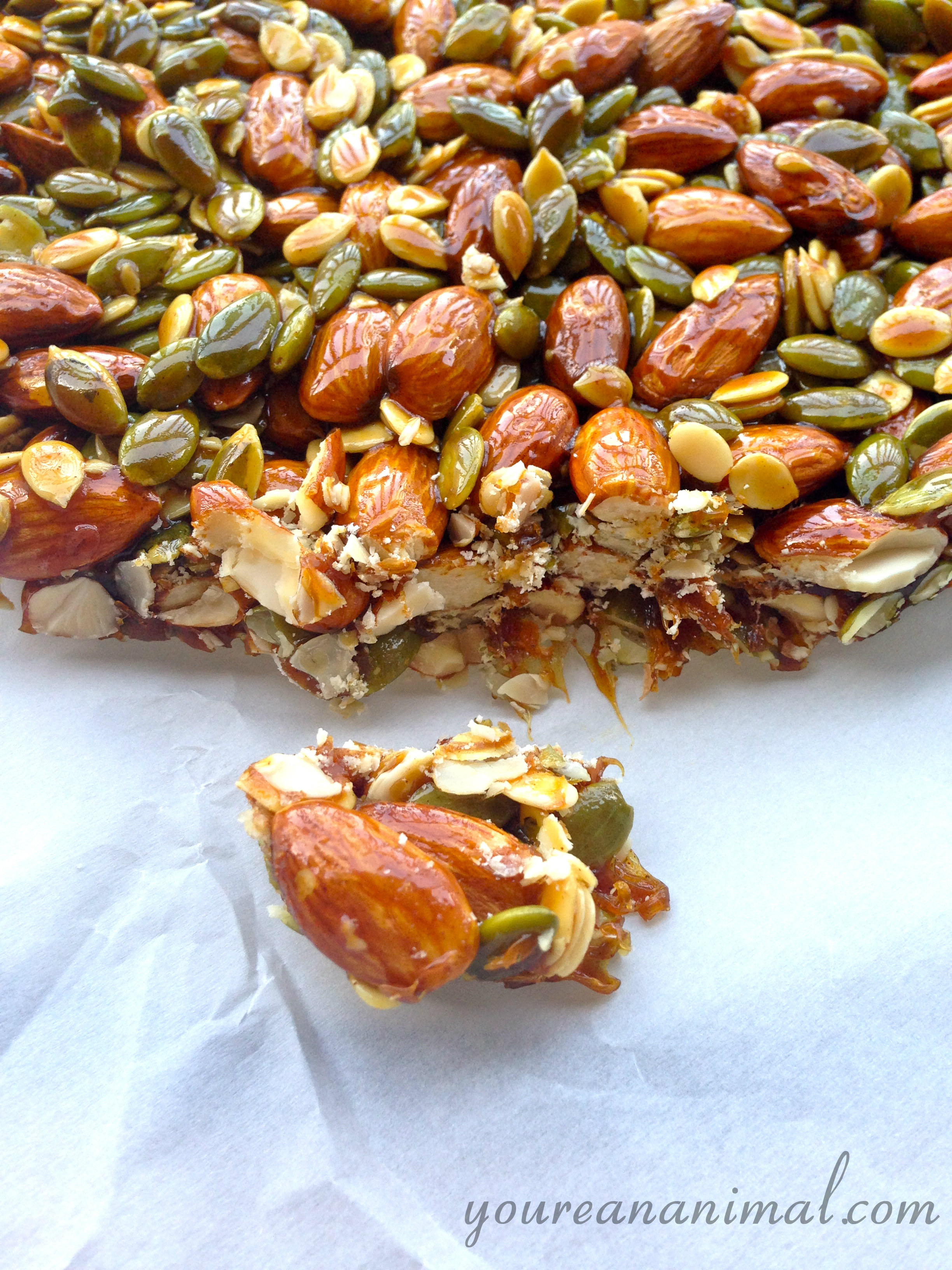 http://nourishwild.com/cms/wp-content/uploads/2014/07/almondcluster13.jpg
3264
2448
Morgan Carr
http://nourishwild.com/cms/wp-content/uploads/2016/02/Logo-Only-Large-300x212.png
Morgan Carr
2014-07-03 15:02:46
2016-02-27 21:32:29
Honey Maple Almond Clusters (White Sugar-Free)