Sometimes you need cheesy bread. It's a great snack or side dish to have on, say, a Sunday football afternoon with a fruit and veggie platter and other various finger foods. This flatbread is full of flavor, it's creamy and gooey, and it has a crispy outer edge that just screams "comfort food." Plus, it's made with quality ingredients like grass-fed cheese and avocado oil, and is also gluten-free and grain-free!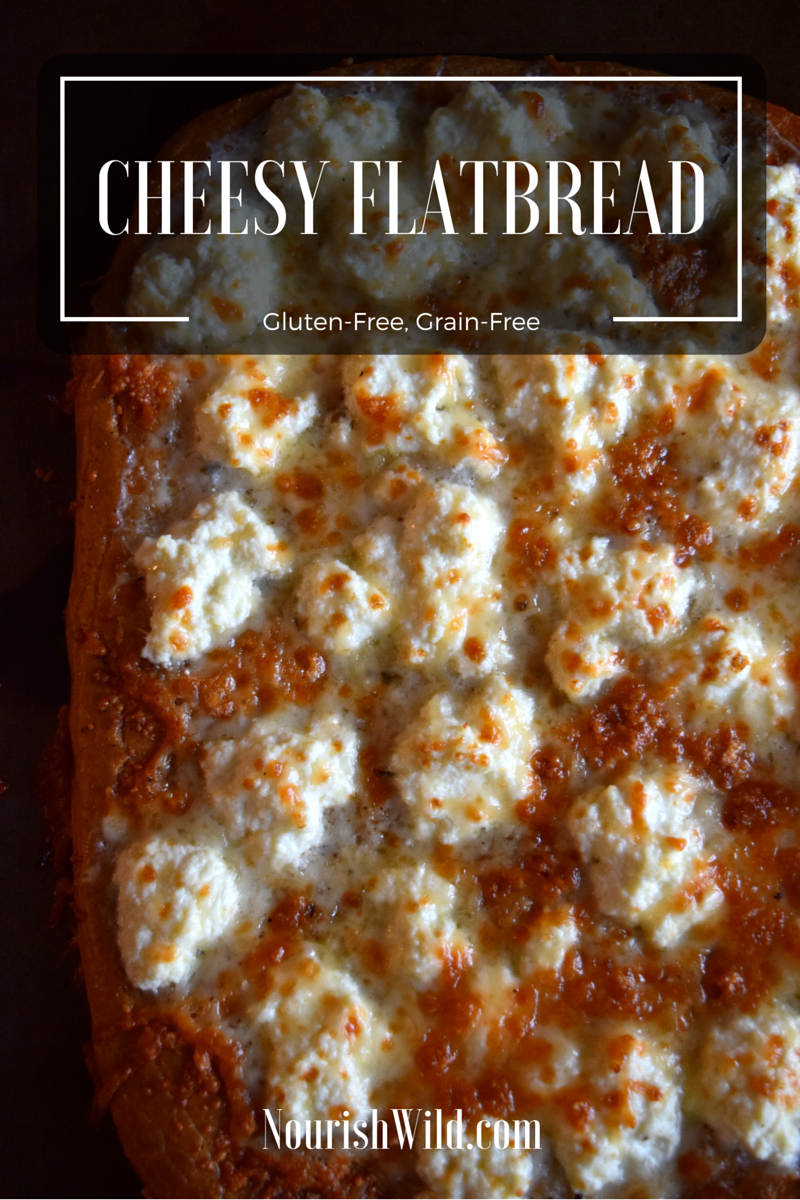 We're into Day 3 of being snowed in here in RVA. The sun is finally shining after a solid 36 hours of legitimate blizzard conditions, but the roads are still crazy bad at the moment because Virginia has no idea how to handle snow. Most of the Richmond area got about 12 inches, but my friends in the valley got closer to 2 feet. I can't imagine how long they'll be stuck at home! As for us, we can't even get out of our parking lot (we've watched many of our neighbors try and struggle or fail), so we'll just be over here eating. As usual.
Luckily, I planned ahead and bought lots (and lots and lots) of food. I was one of those crazy people fighting for a shopping cart and waiting 30 minutes to check out at the grocery store. We could probably be snowed in another few days and be a-okay in the food department. The sanity department though? Not sure about that.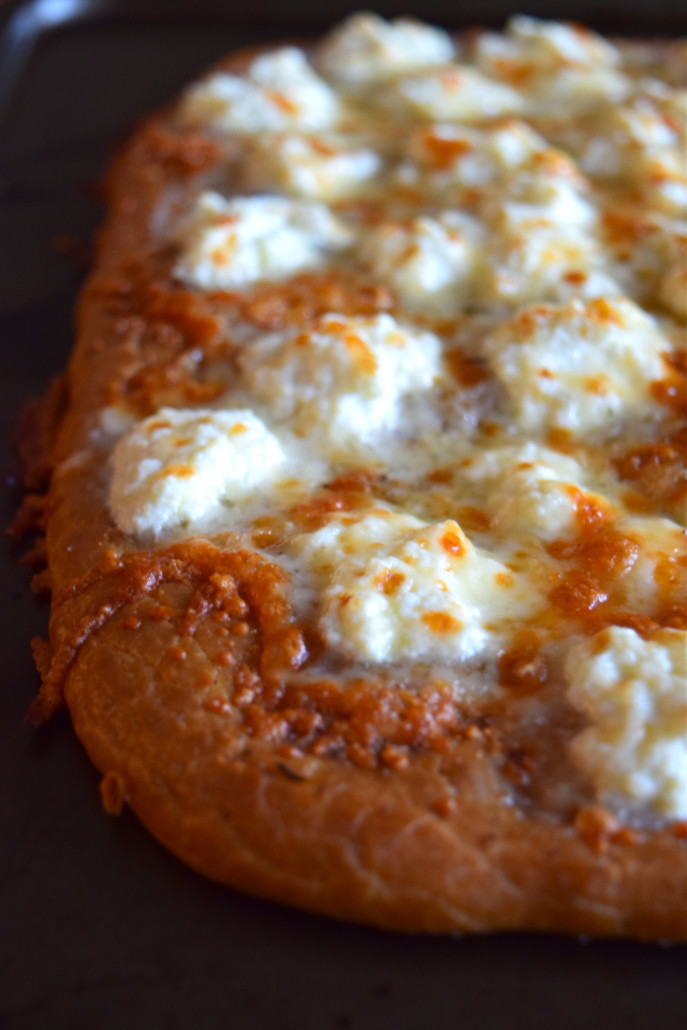 One of the must-haves this weekend was this Cheesy Flatbread. I used to make this with store-bought pizza dough at least twice a week in college. These days, however, I make my own flatbread dough– that way it's both gluten-free and grain-free. Less junky ingredients, less guilt in my book.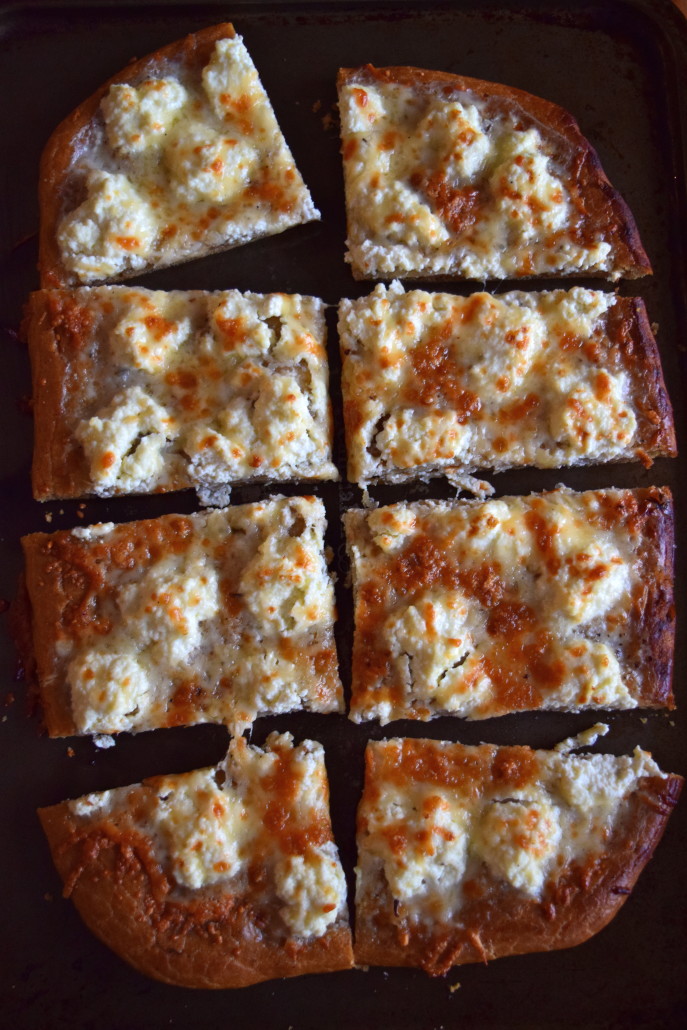 Who doesn't want a nice crispy crust topped with spices, ricotta, and parmesan? No one I want to be friends with, that's who.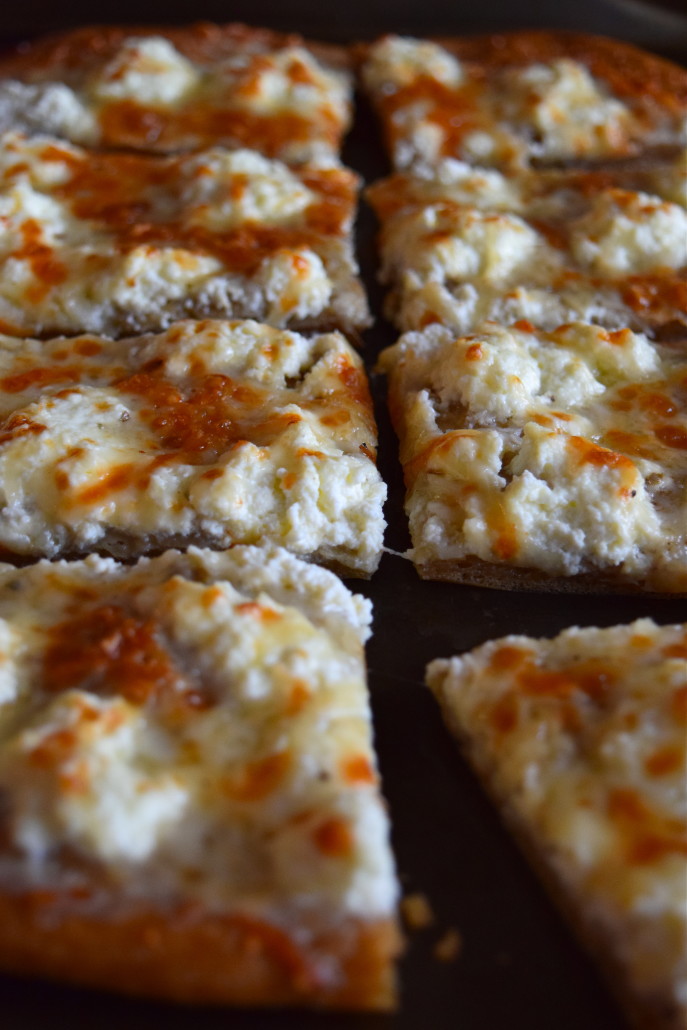 Is that drool? You may want to check yourself…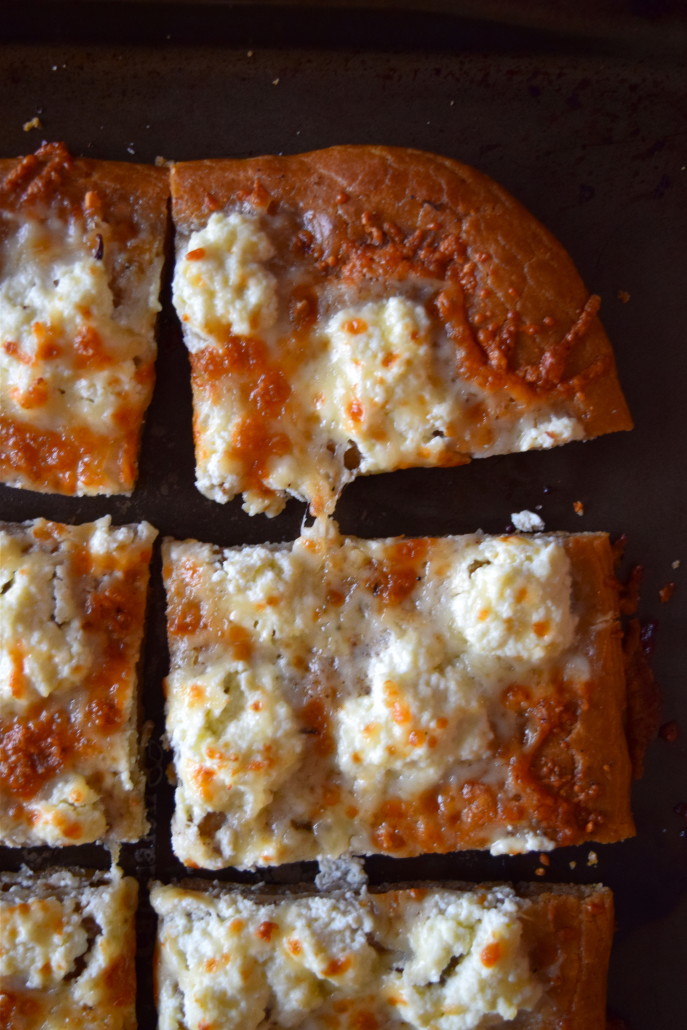 Want to learn more about how you can make healthy lifestyle choices that you can live with? Plus eat food like this cheesy flatbread and not feel guilty because you know it has health benefits too? Check out our eBook, The Groundwork Guide: A Beginner's Guide to Human Nutrition and Movement for Every Day Life.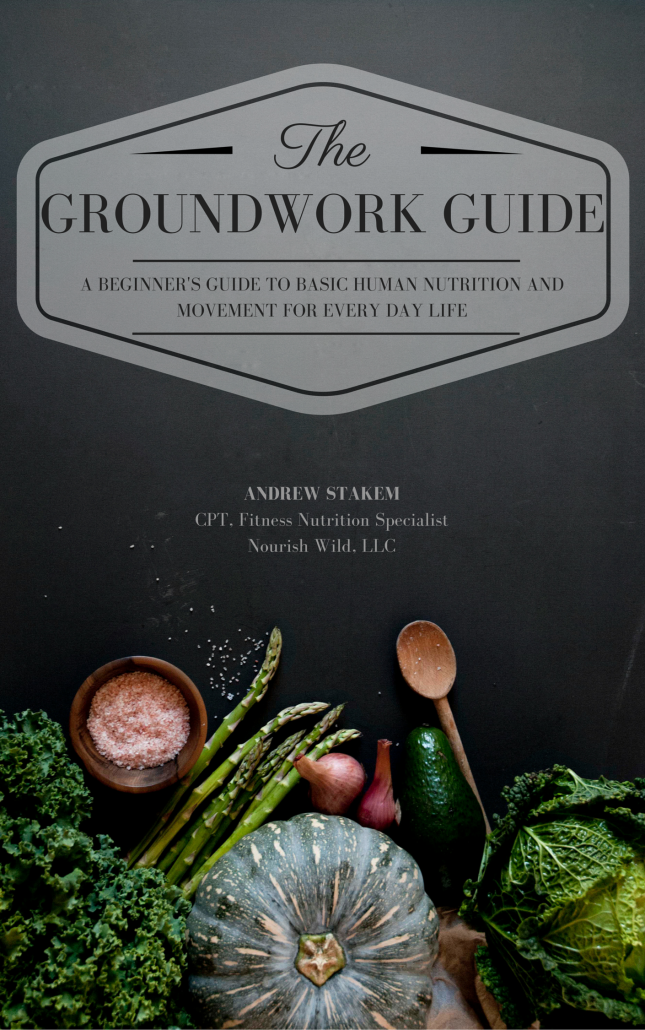 Cheesy Flatbread
Flatbread:
1 cup tapioca OR arrowroot starch
1/2 cup avocado oil
1/4 cup warm water
1 yeast packet
1/2 tsp honey
1/4 tsp baking soda
1/4 tsp baking powder
1 free-range egg
Topping:
1/4 tsp sea salt
1/4 tsp ground black pepper
1/4-1/2 tsp garlic powder
1/4-1/2 tsp onion powder
1/4-1/2 tsp oregano
1/2 cup grass-fed parmesan cheese
1/2 cup grass-fed ricotta cheese
Preheat the oven to 400 degrees F, and line a rectangular baking sheet with parchment paper.
In a large bowl, activate the yeast by combining the 1/4 cup warm water, the yeast packet, and the 1/2 tsp of honey. Mix and allow to rest according to the yeast packet (approximately 15 minutes; the yeast will start to foam).
To the yeast mixture, add the tapioca/arrowroot, avocado oil, baking soda, baking powder, and egg. Mix until combined. The mixture will be very loose and pourable. Let this mixture rest for about 15-30 minutes to let the ingredients combine and the yeast start to rise.
Pour the mixture onto the parchment lined baking sheet. Use a rubber or off-set spatula to spread the mixture over the parchment paper into a rectangular shape. The batter should be about 1/4 inch thick, and the rectangle should measure about 8 in x 10-12 inches. Again, let it rest for about 15 minutes to let it rise slightly again. Note: This dough will only rise a little, not a lot.
Bake the flatbread at 400 degrees for 10 minutes. Remove from oven.
Top the baked flatbread with an even distribution of the cheeses and spices.
Place the flatbread back in the oven under broil, until the cheese is bubbly and melted. Enjoy!
http://nourishwild.com/cms/wp-content/uploads/2016/02/Logo-Only-Large-300x212.png
0
0
Morgan Carr
http://nourishwild.com/cms/wp-content/uploads/2016/02/Logo-Only-Large-300x212.png
Morgan Carr
2016-01-24 18:24:55
2016-02-27 21:25:22
Cheesy Flatbread (Gluten-Free, Grain-Free)