Let's be honest, in most homes (at least here in the US) Chinese food is a weekly staple. Unfortunately, it's hard to come by junk-free stir fry. Until now… Soy-Free, Gluten-Free, and none of the bad stuff means you can indulge. Filled with veggies, and real stir fry flavor. Don't worry, the leftovers are just as good as your usual take-out. 
First, let's address the elephant in the room. It's been a ghost town the last few months here at YAA. Andrew and I both somehow found ourselves working 3 jobs (yes, I mean 6 total) plus I was taking a class while he was studying for his Health Coach certification. Let's just say 2015 hasn't been the most stress-free year so far. Unfortunately, that meant letting some things slide. Things such as our little creative outlet here… and our social lives… and our sanity. Luckily, we've moved past that tough spot, survived, and are heading forward. Onward and upward, my friends, onward and upward. Speaking of which, our website will be changing in the next few months! With Andrew getting his Health Coach certification, it's going to get a makeover to be more focused on his business, which is incredibly exciting! Just you wait.
So what better way to say "we're baaaack" than with some Asian Stir Fry? I can't even talk about how much I love Asian flavors. In college, I would say about 4 or 5 out of my 7 dinners per week were Asian flavored. Mostly because it's relatively easy. Cook some rice, throw some veggies in a skillet, and pour some sauce over it, ta da! Dinner of champions. But ever since refocusing my eating habits and eliminating that processed shtuff that is a usual go-to (I'm looking at you, Kikkoman) I've been really disappointed by my Asian flavored attempts. It was never right. Coconut aminos always seemed too sweet, but I wasn't sure where else to go with it. After pouring over "paleo-fied" Asian recipes, I finally managed a combination that is not just sufficient, it's amazing. I'm serious. I ate this for dinner last night and for lunch today and I was really, really sad when it was gone. If I had more ingredients to make it (and if Andrew wouldn't think I was a crazy person) I would make it again tonight.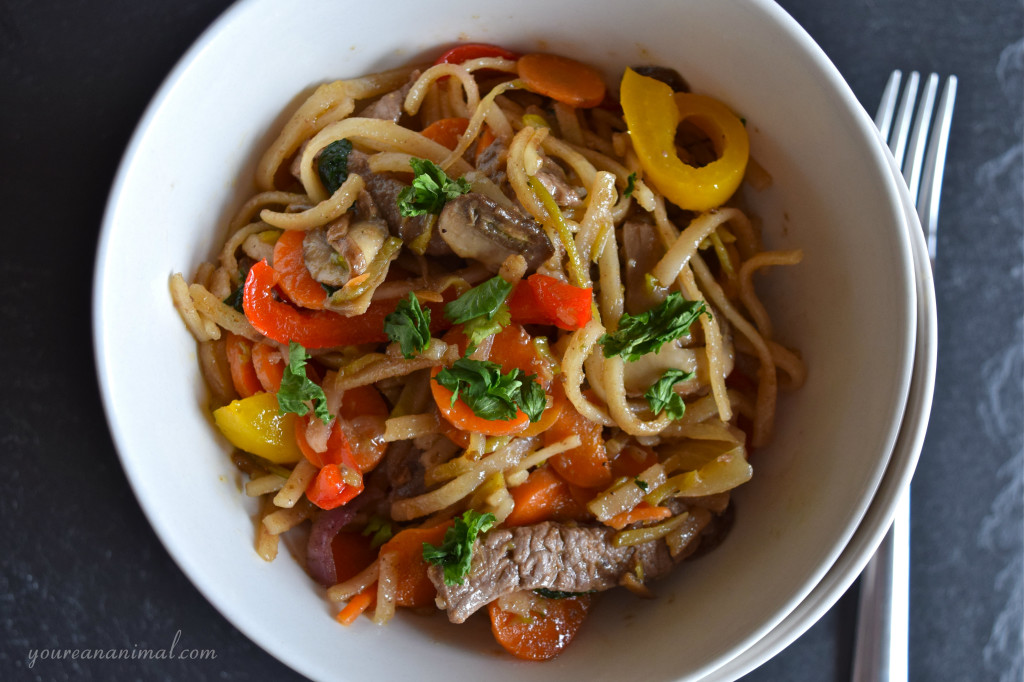 I used rice noodles because I had never used them before and thought it would be yummaayyy (I was right) but you could use regular rice, or no rice at all if you're into that kind of thang. You could also sub different veggies, or meats. Chicken or shrimp would be perfect as well. Do whatever feels right in that Asian-inspired heart of yours. I topped it was fresh cilantro because we both lurve cilantro and I actually think the flavor adds a lot to this dish, but I know that apparently it tastes like soap to some of you, so ya know, don't add it if that's the case. Also, I put grass-fed butter in the sauce because it makes it thicker and creamier and silkier and delishier, but if you want it to be dairy-free, just leave it out.
Eat!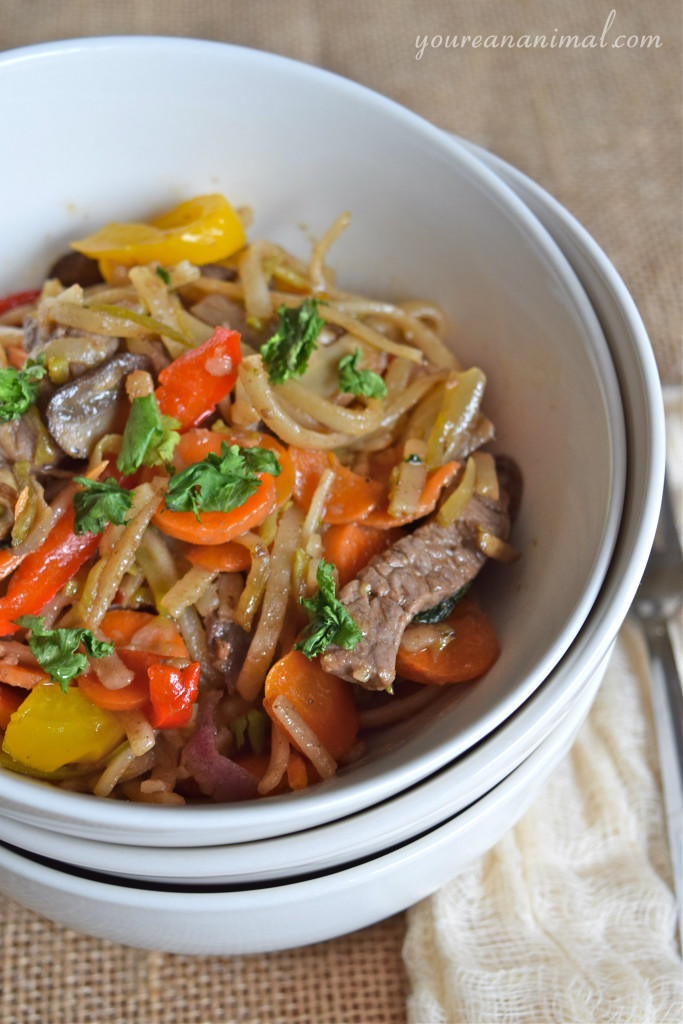 Asian Stir Fry
1 lb grass-fed beef (flank steak works well), sliced
1 red bell pepper, sliced
1 yellow bell pepper, sliced
2 medium carrots, sliced into coins
1/2 yellow onion, sliced
1 cup of broccoli slaw (the kind that comes pre-shredded in a bag)
1/2 cup of baby bella mushrooms, sliced
2 cloves of garlic, minced
1/2 cup coconut aminos
1/2 tsp fish sauce
1/2 Tbsp unfiltered honey
2 Tbsp grass-fed butter (I use Kerrygold)
1/2 of a 14 oz box of Asian style rice noodles (make sure rice and water are the only ingredients)
1/4 tsp each salt, black pepper, and ground ginger
Avocado or coconut oil to coat skillet
Red pepper flakes or hot sauce to taste
Fresh cilantro (optional)
In a mixing bowl, combine coconut aminos, fish sauce, honey, garlic, ground ginger,and butter (butter doesn't need to be melted). Set aside.
Cook rice noodles according to manufacturer instructions. Set aside. Tip: If they seem like they are going to stick together, add some water into the pot/bowl in which they are sitting until you are ready to use.
Add the avocado or coconut oil to a large hot skillet. Saute the beef in the oil until barely pink, and season with salt and black pepper. Remove the meat with tongs and set aside, leaving the residual liquid in the skillet.
To the skillet, add your coconut aminos mixture. Cook this sauce over medium heat at a slow simmer until it starts to thicken. (You will notice that the bubbles seem thicker, this should take about 5 minutes. Don't let it burn, low and slow is all it needs.)
To the thickened sauce, add all of your veggies (onions, bell peppers, carrots, broccoli slaw and mushrooms). Stir until the veggies are coated in the sauce.
Cook these veggies at medium to medium-high heat, until they are softened to your preference. The onions should be close to translucent.
Add you noodles and meat to the veggies. Toss until thoroughly combined.
Top with cilantro and serve!
Makes 4 servings
http://nourishwild.com/cms/wp-content/uploads/2015/05/DSC_01181.jpg
0
0
Morgan Carr
http://nourishwild.com/cms/wp-content/uploads/2016/02/Logo-Only-Large-300x212.png
Morgan Carr
2015-05-17 18:02:52
2016-02-27 21:00:57
Asian Stir Fry (Soy-Free, Gluten-Free)