If you're someone who is concerned with what you put in your body, you should also be paying attention to what you put on your body. I've overhauled my beauty routine, and outlined all of the products I use in one blog. Junk-free makeup, shampoo, conditioner, face wash, toothpaste, deodorant and soap. All made with natural ingredients and no preservatives or nasty chemicals. It's time to make over your medicine cabinet!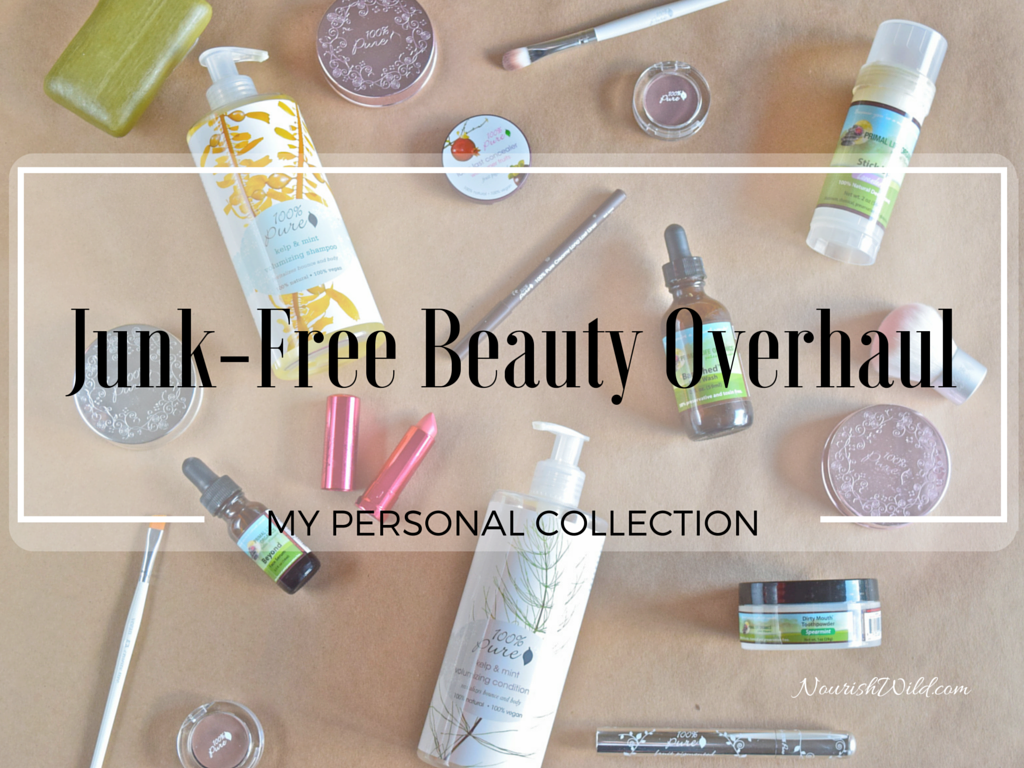 I finally did it. After several month of transition, I have finally made a complete switch to junk-free skin care and I couldn't be happier. The best part is, I get everything from only 3 companies (and it could be 2, but I like my soap).
If you're like me, you probably spend a lot of time and effort being aware of what goes into your body. Of course, no one is perfect all of the time… that's no fun and no way to live life. But I do think it's important to make your regular habits and choices be good ones. So when I realized just how much crap was being absorbed into my skin from my makeup and shampoo and face wash, I knew I needed to make a change. In fact, I have even had clients who were told by their doctors to switch to natural, paraben-free products (especially deodorant) due to breast cancer concerns. So I did my research, and found replacement products that suited both my requirements for effectiveness, and my need for ingredients I could pronounce.
As an aside: Did you know we host a Free Energy Challenge that starts on the first Monday of every month? If you're over-stressed and low on energy, and need a kick in the pants to get yourself going, sign up for this 7 day challenge. It's completely free! Click here to learn more and enroll.
Here's my list of the products I use on a daily or weekly basis, and companies that I have grown to trust. Please note that I am not being, nor have I ever been, paid to try or promote these products. I am simply highlighting products that I have found useful and hope that it helps other ladies out there! Click on any of the links below to learn more about the company or product represented. (Side note: I make my own lotion using a recipe from Wellness Mama, but I'm sure I could find one I liked from 100% Pure as well.)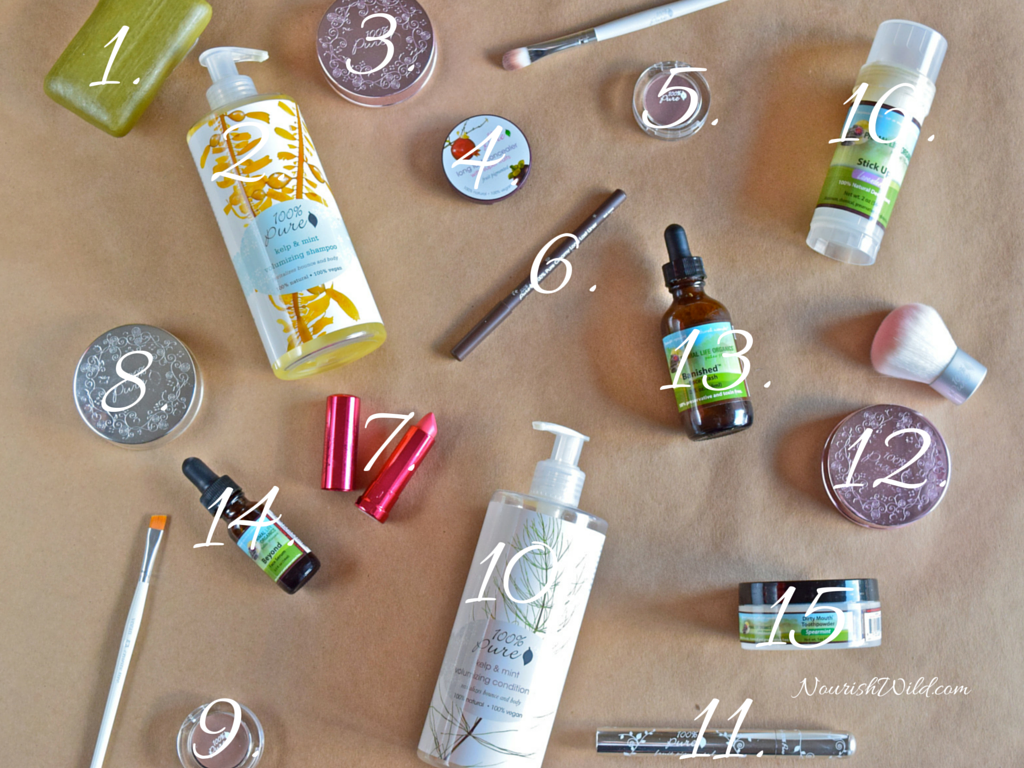 2. Kelp & Mint Volumizing Shampoo
4. Fruit Pigmented Long Lasting Concealer
7. Fruit Pigmented Pomegranate Oil Anti-Aging Lipstick
8. Fruit Pigmented Foundation Powder
9. Fruit Pigmented Eye Brow Powder Gel
10. Kelp & Mint Volumizing Conditioner
12. Fruit Pigmented Peppermint Candy Blush
13. Banished Face Wash (for acne-prone skin)
14. Beyond Face Serum (I use this as an overnight moisturizer/skin anti-inflammatory)
15. Dirty Mouth Toothpowder (toothpaste replacement)
---
http://nourishwild.com/cms/wp-content/uploads/2016/02/Logo-Only-Large-300x212.png
0
0
Morgan Carr
http://nourishwild.com/cms/wp-content/uploads/2016/02/Logo-Only-Large-300x212.png
Morgan Carr
2016-02-27 20:27:45
2016-02-27 21:26:02
Junk-Free Beauty Overhaul