This seasonal favorite has been given a healthier upgrade by using honey instead of white sugar. Filled with chocolate and peppermint goodness in addition to the traditional tang of a vanilla cheesecake, this dessert is a great addition to your holiday parties.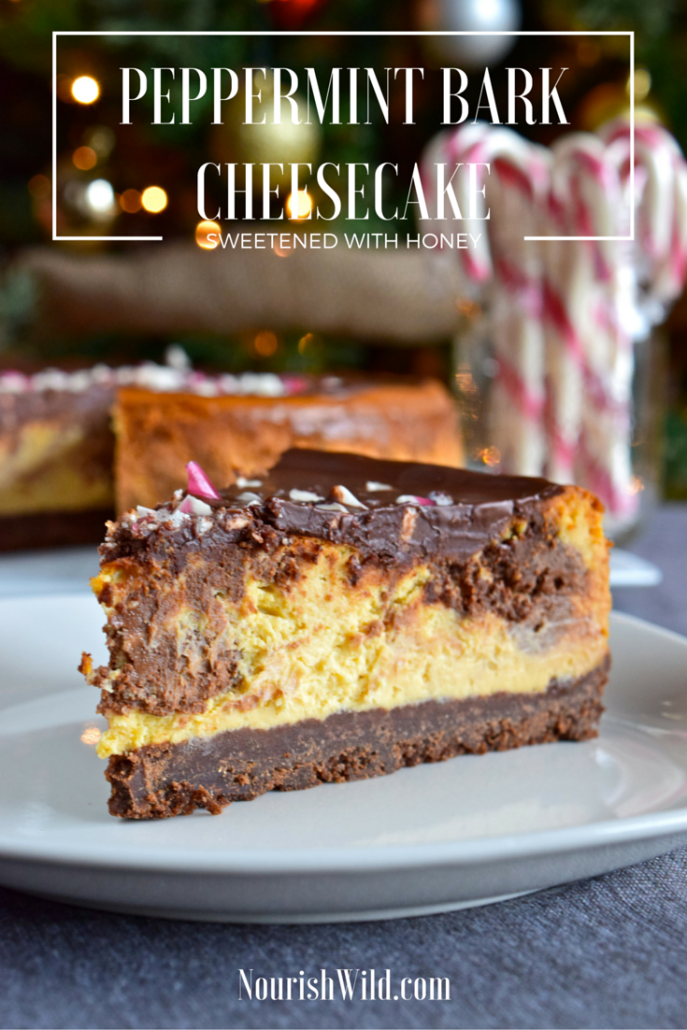 Peppermint bark and cheesecake. If that doesn't sound like a winning holiday combination, I don't know what does. There's just something about the cool peppermint, rich chocolate and tangy cream cheese flavors that feels like Christmas in a bite. It's decadent, but this version is slightly less guilty with honey instead of white sugar.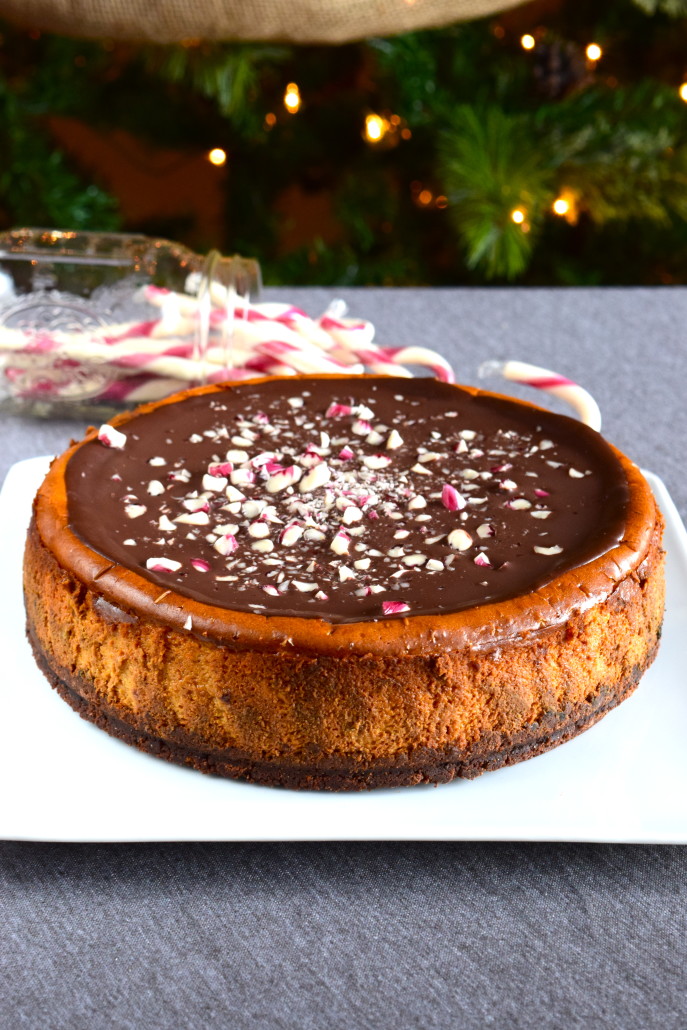 Christmas is only 2 days away, which means New Year's and New Year Resolutions are creeping up quickly. If you're like most people, your resolutions probably include some type of health upgrade. Which is awesome! Wanting to get healthier is always a good goal. Of course, the trick is making it last longer than the month of January.
If you're looking for a free, short and sweet kickstart to a healthier lifestyle, join us on January 11th for our Free 7 Day Challenge!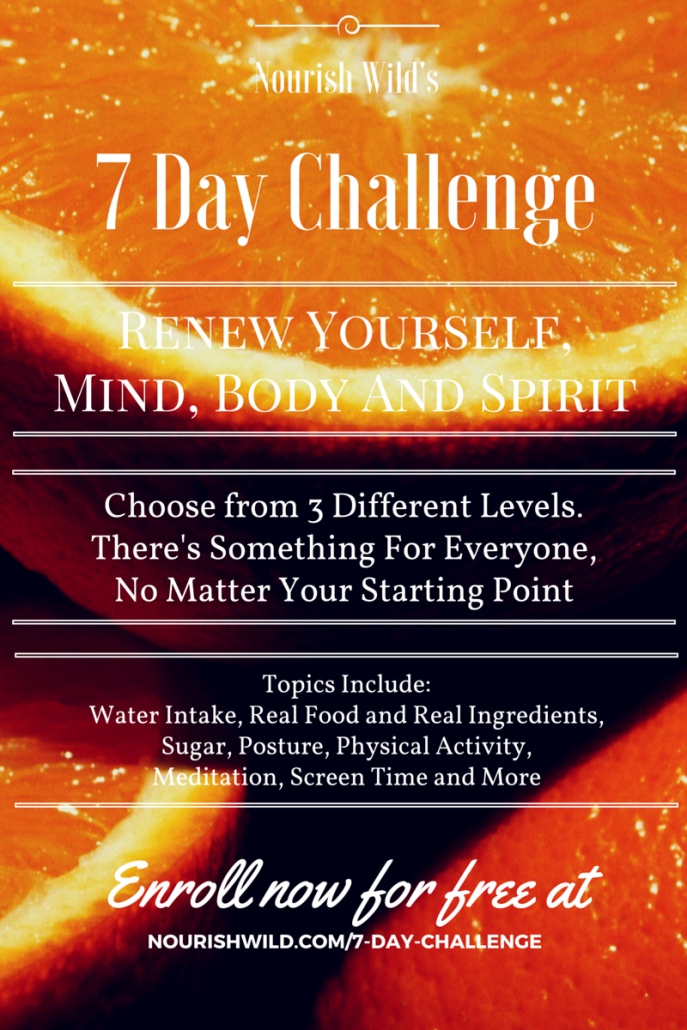 Ready to join us? What do you have to lose… It's free!
If you have any questions, you can always contact us at nourishwild@gmail.com. We hope you join us! Tell your friends, let's do this together!
But first, finish off the year with this guy: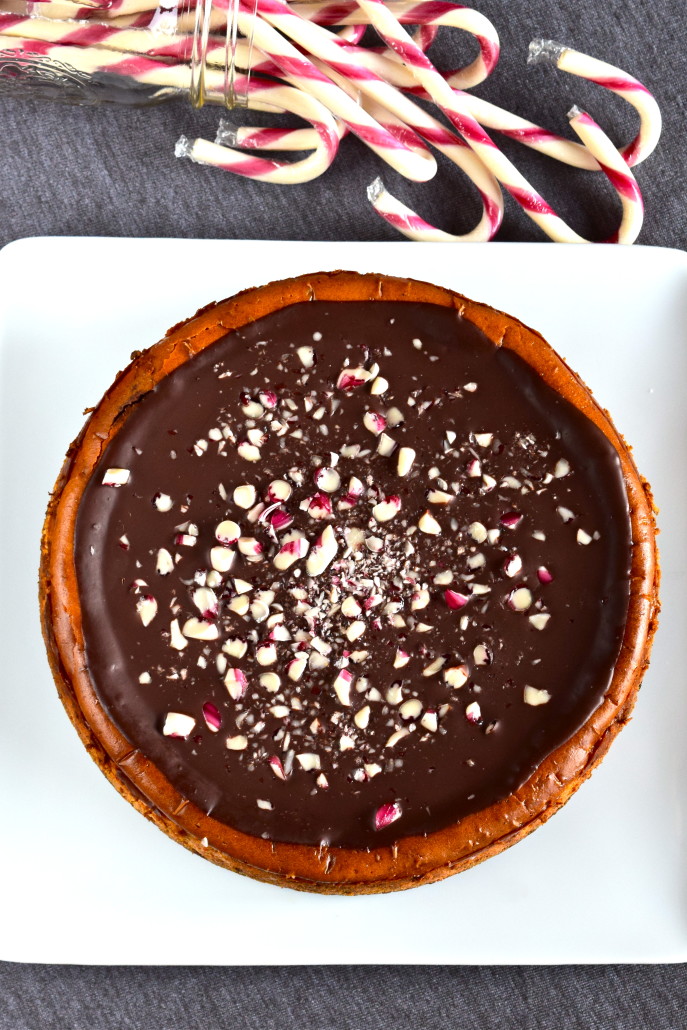 Peppermint Bark Cheesecake
Crust:
I used this recipe from Gluten Free On A Shoestring. I halved the recipe, then cooked it in one giant cookie. Once baked, I crumbled up the cookie into crumbs, and added about 2 Tbsp of melted butter. Of course, you can use your favorite crust recipe if this one doesn't do it for ya.
Filling:
2 pounds (four 8 oz block) of grass-fed cream cheese (I use Organic Valley), softened completely to room temperature
3/4 cup of unfiltered honey (Depending on the initial consistency of your honey, you may need to gently heat the honey until it is a pour-able consistency.)
4 free-range eggs, room temperature
1.5 tsp vanilla extract
4 crushed candy canes
1/3 cup chocolate chips (I use Enjoy Life), melted
1 tsp peppermint extract
Topping:
1 cup chocolate chips, melted
1/4 cup avocado oil
1 tsp peppermint extract
2-3 crushed candy canes
Preheat the oven to 325 degrees F, and grease a 9″ springform pan (I like coconut oil for greasing pans). I also like to put a round cutout of parchment paper on the bottom of the pan for extra non-stick insurance.
Press your crust mixture into the bottom of the pan. I'm not into the fancy edges. As long as it covers the bottom evenly, I'm happy.
Bake the crust for about 15 minutes. Allow to cool slightly.
Prepare the filling. Use an electric mixer to beat together the cream cheese and honey in a large bowl.
Add your eggs, one at a time, to the cream cheese and honey, mixing continuously at a low speed. Also add in the vanilla and 4 crushed candy canes while mixing.
Stop mixing and take 1 cup of this cream cheese mixture and place it a separate, small bowl.
To this small bowl of batter, add the 1/3 cup of melted chocolate, and 1 tsp of peppermint extract. You now should have one large "vanilla" cream cheese mixture, and one small "chocolate peppermint" cream cheese mixture.
On top of the crust, pour all of the large "vanilla" cream cheese mixture and make sure it is evenly distributed.
Using a spoon, plop dollops of the "chocolate peppermint" cream cheese mixture on top of the "vanilla" cream cheese mixture. Now all of the cream cheese batter should be in the springform pan.
Use a butter knife to gently swirl the chocolate peppermint dollops with the vanilla cream cheese mixture. This will create a marbled effect, with pockets of chocolate peppermint distributed throughout the vanilla batter. Make sure to not scrape the crust while doing this.
Bake the cheesecake in lower 1/3 of your oven at 325 degrees for 1 hour 30 minutes, until the middle is just barely under-cooked. (I 'm not concerned with a water bath for this recipe since it will be topped with chocolate and cracks in the top won't show anyway, but if it makes you feel better, you can add a pan of water in the oven as well to create a steam effect.)
After 1 hr 30 minutes, turn off the oven and crack the door, leaving the cheesecake in the oven. Allow the oven to cool completely with the cheesecake still inside. Once the oven is cooled, remove the cheesecake and let it continue to cool (still in the springform pan) on the counter until close to room temperature.
Create the topping by mixing the 1 cup melted chocolate chips, avocado oil and peppermint extract. Pour this mixture on top of the cooled cheesecake. Sprinkle with crushed candy canes.
Refrigerate the cheesecake (still in the springform pan) overnight before serving.
http://nourishwild.com/cms/wp-content/uploads/2016/02/Logo-Only-Large-300x212.png
0
0
Morgan Carr
http://nourishwild.com/cms/wp-content/uploads/2016/02/Logo-Only-Large-300x212.png
Morgan Carr
2015-12-23 17:10:09
2016-02-27 21:12:24
Peppermint Bark Cheesecake (Sweetened With Honey)