Sometimes you just need that familiar comfort of a warm, fresh-from-the-oven, tastes-like-grandma's chocolate chip cookie. But if you're like us, the typical slice-and-bake kinds just don't cut it anymore. These Ultimate Chocolate Chip Cookies are gluten-free, grain-free, and nut/seed-free, yet full of nostalgia. If you're looking for a chocolate chip cookie that fulfills your comfort food needs, but doesn't send you over the processed-food edge, look no further… you're home.
We recently did a sugar detox for 3 weeks (foreal), and learned so much. First of all, I learned that I actually can function without sugar. Seriously, when you get to the end of your day and realize that you didn't slip up once, and you didn't even think about being tempted, it feels like you deserve a trophy. Sad? Yes. Reality for most Americans? Absolutely. But as we got closer to the end of the no-sugar test, I started thinking about cookies. Chocolate chip cookies. And I couldn't stop… So guess what I made to celebrate the end of our detox? Taadaaa! The Ultimate Chocolate Chip Cookie was born. But let me tell you the craziest part, and what tells me that our little detox was pretty successful: I ate one and was satisfied. Guys, let's go over that again. I made awesome chocolate chip cookies after going 3 weeks without sugar, and only wanted one. Winner winner, chicken dinner! The curse is broken.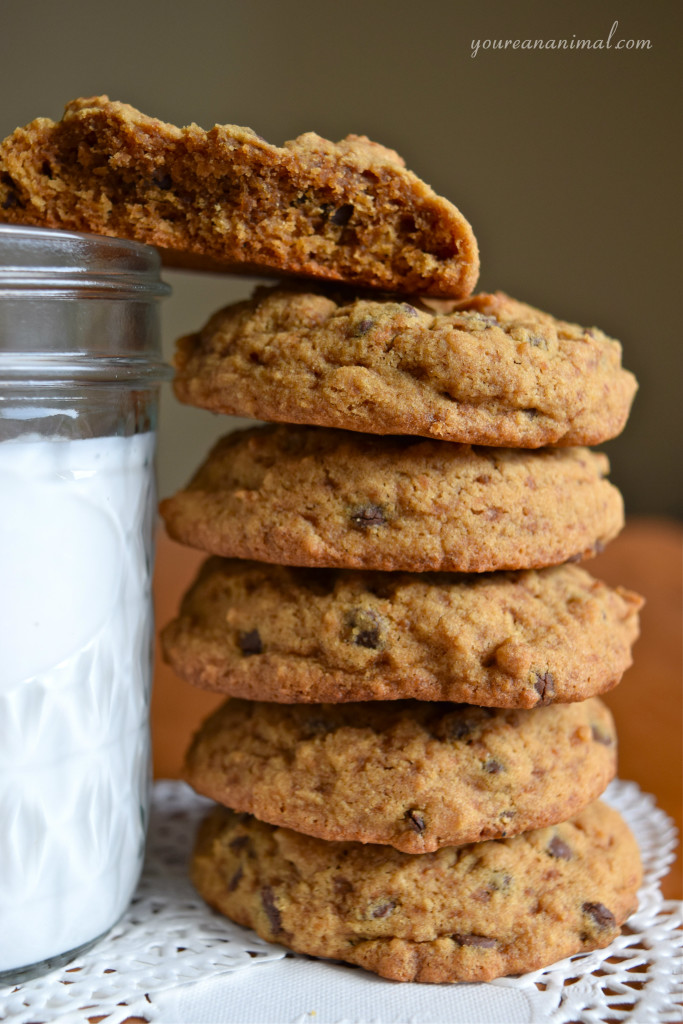 That certainly doesn't mean these are any less scrumptious, of course. I based this recipe off a certain "House" recipe that many of us grew up with, and they do not disappoint. You have a choice with these as well: to Xanthan or not to Xanthan, that is the question. A lot of gluten-free bakers use xanthan gum in their recipes because it helps the goodies stick together and not crumble into a million pieces. Personally, I prefer not to use it because it is still a relatively processed ingredient, and it's not something I would naturally use in daily life. But in the interest of science, I ended up making one batch of these cookies without xanthan (pictured) and one batch with it. There are definitely differences. Mainly, the ones with xanthan held together better and were much less delicate (expected), and they also didn't spread out quite as prettily as the ones without xanthan did. Also, I felt like the ones with the xanthan were a little fluffier and cakier than the ones without. That being said, while the cookies without the xanthan required a more delicate touch while eating them, I will probably make them without the xanthan in the future. If you do plan on using the xanthan, I would recommend you flatten out the cookie dough a little more (don't just roll them into balls and bake) since they don't seem to spread out as much in the baking process.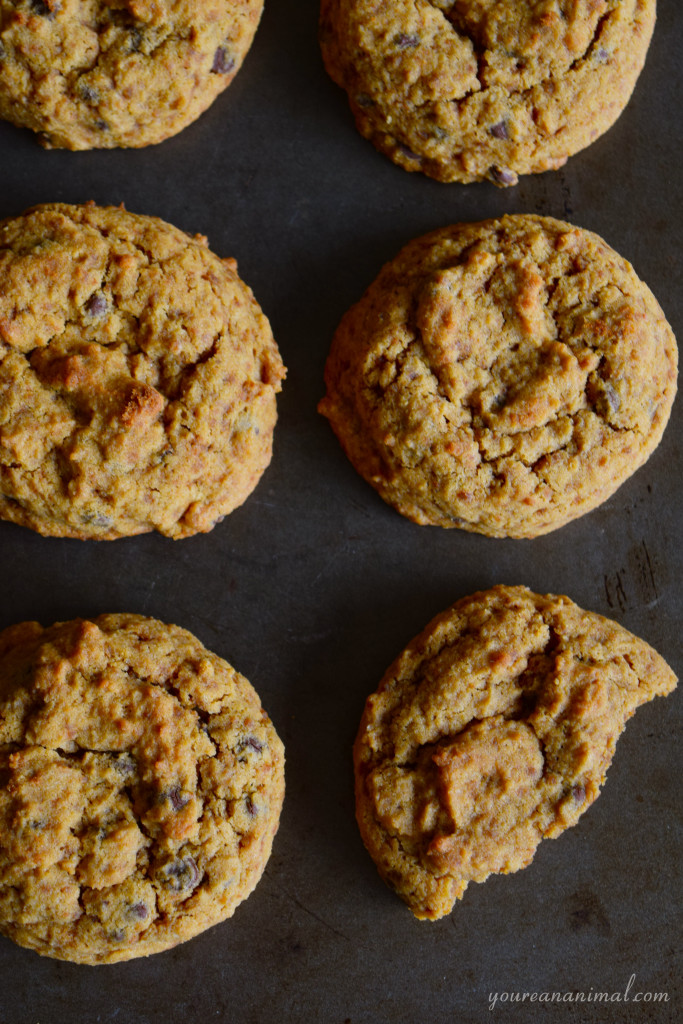 What makes these cuties different, is that they are "paleo" or "primal" friendly, without using nuts. I do already have one chocolate chip cookie recipe posted, but that uses almond flour or sunflour seed meal, and these days we really try to stay away from nuts and seeds. Plus the texture of these Ultimate cookies is a lot better, and more like a "traditional" cookie I think. They do still use a good bit of butter, but you could use ghee as well. As always, please please use grass-fed butter! Contrary to popular belief and traditional thought, butter that is good quality (read: grass-fed) is actually full of good stuff.
The Ultimate Chocolate Chip Cookie
1/3 cup tapioca starch
1/3 cup potato starch
1/2 cup coconut flour
1/2 tsp baking soda
1/2 tsp sea salt
1/2 cup grass-fed butter, softened to room temperature (important!) — I use Kerrygold salted
2/3 cup coconut palm sugar
1/4 tsp molasses
1/2 tsp vanilla extract
1 egg (free-range)
about 1/2-3/4 cup chocolate chips — I use Enjoy Life minis
optional: 1/2 tsp xanthan gum (see above for my notes)
Preheat the oven to 375 degrees F, and line a cookie sheet with parchment paper.
In a small bowl, sift and mix the tapioca starch, potato starch, coconut flour, baking soda, and salt (and xanthan gum if using) together.
In a large mixing bowl, beat together the softened butter, coconut palm sugar, molasses, vanilla, and egg with an electric mixture, until the texture is uniform.
Slowly mix in the dry ingredients to the wet mixture, using the electric mixer to combine. Continue until all of the dry ingredients have been completely mixed in.
Fold in the chocolate chips.
Using a 1 Tbsp scoop, place balls of dough on the parchment-lined cookie sheet. You should get about 12 balls of dough. Flatten the tops of the balls slightly (flatten a little extra if you've used xanthan gum).
Place your cookie sheet with the dough in your fridge for 10 minutes to allow the dough to set up a little before baking. This will prevent the butter from melting too quickly so the cookies won't spread out too much and run together.
After 10 minutes in the fridge, place the cookie sheet straight into the preheated oven, and bake for about 9-11 minutes, until golden brown and cracked.
Remember, if you haven't used xanthan gum, be gentle! They should not be dry, but they might be fragile.

http://nourishwild.com/cms/wp-content/uploads/2015/05/DSC_0099.jpg
3999
2666
Morgan Carr
http://nourishwild.com/cms/wp-content/uploads/2016/02/Logo-Only-Large-300x212.png
Morgan Carr
2015-05-24 14:03:35
2016-02-27 21:06:41
The Ultimate Chocolate Chip Cookie (Gluten-Free, Grain-Free, Nut-Free)