Can't get your kids (or your spouse… or yourself) to eat their veggies? These double chocolate chip hidden veggie muffins are the perfect solution. The entire base for these muffins is a mixture of zucchini, carrots and green leaves. Not to mention they're also gluten-free, grain-free, nut-free, dairy-free and white sugar-free. Oh, and they're pretty darn tasty… who could resist a double chocolate chip muffin for breakfast?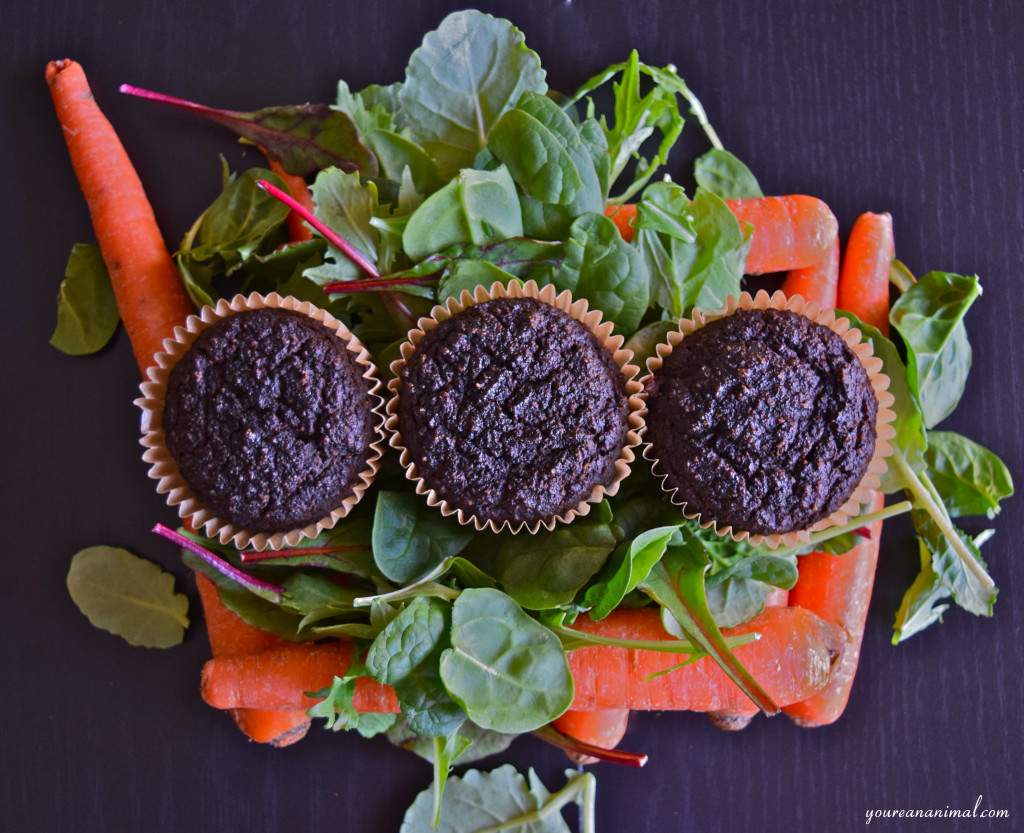 While I'm not a mom, I have been surrounded by kids for a long, long time. I've gone from working as a camp counselor, to a preschool teacher, to a nanny, and there's one thing I know for sure: it's hard to get kids to eat green stuff. And for the most part, if the kids won't eat it, the moms won't buy it. That makes for breakfasts that are filled with sugary cereals, waffles, pastries… whatever the kid will actually put in their stomach before heading out to school. You can't let them go hungry, right? Well, I have a solution for you that will hopefully make you feel a little better before putting your kid on the bus. Or putting yourself in your cubicle for that matter. Hidden Veggie Muffins. Actually… Double Chocolate Chip Hidden Veggie Muffins to be exact. A batch of these guys have 1 zucchini, 2 carrots, and 2 big handfuls of green leaves. And I promise you, you can't taste a single one of them. All you taste is chocolately goodness, and all you see is a kid scarfing down his/her greens without even blinking an eyelash. Oh yeah, that's a mom win for sure.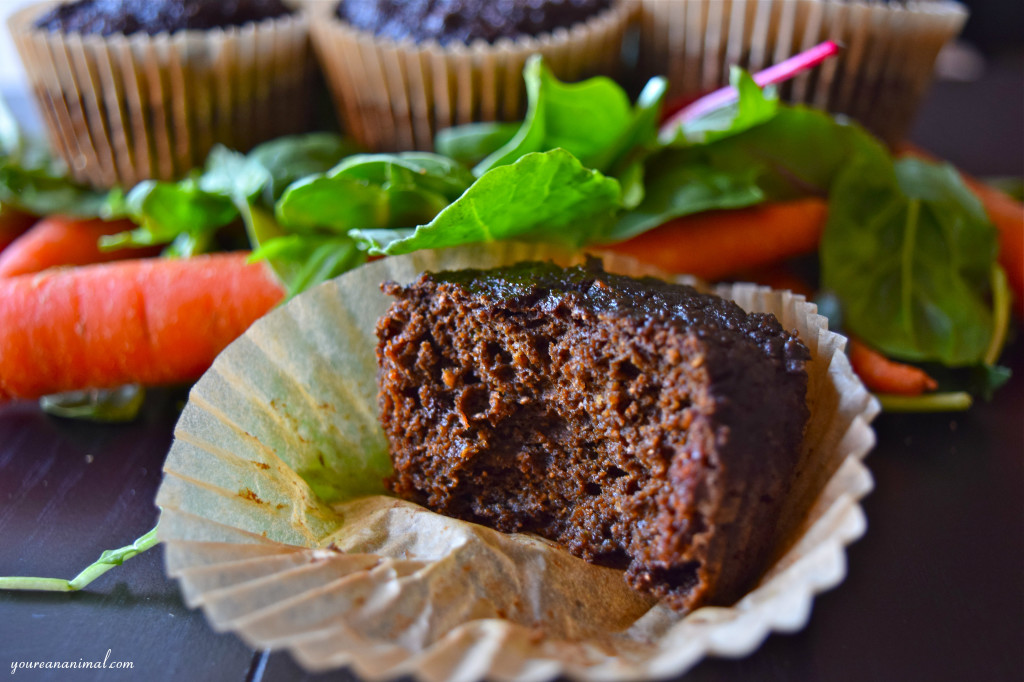 Who could resist a chocolate muffin for breakfast? Not I.
Hidden Veggie Muffins
1 small zucchini, roughly chopped
2 full-sized carrots, roughly chopped
2 large handfuls of greens of your choice (baby spinach works great)
2 Tbsp water
1/2 cup + 1/4 cup chocolate chips (I use the brand Enjoy Life as they are allergen-free)
2 pasture-raised eggs
2 Tbsp Grade B Maple Syrup 
2 Tbsp pure cocoa powder
6 Tbsp Coconut Flour
1/4 cup Unmodified Potato Starch
2 Tbsp Arrowroot Starch Flour
1 tsp apple cider vinegar
1 tsp baking soda
1 tsp baking powder (note that baking powder is usually made from corn starch, omit if necessary)
1/2 tsp vanilla extract
pinch of salt
Preheat your oven to 350 degrees F, and line a standard-sized (1 dozen) muffin tin with paper liners or liberally coat the pan with coconut oil.
Add your zucchini, carrots, greens, and 2 Tbsp of water to a blender, and blend until it is a puree. This may require scraping down the sides of the blender a few times to get all of the pieces incorporated. When the mixture is a consistent color and texture, it is done. It should be almost like baby food.
Over a double broiler, melt your 1/2 cup of chocolate chips and your 2 Tbsp of maple syrup. Heat and stir until the chocolate chips are completely melted and the syrup is thoroughly combined.
Remove your chocolate/syrup mixture from the heat, and add in your veggie puree. Stir until combined.
To your chocolate/veggie mixture, add your dry ingredients (cocoa powder, coconut flour, arrowroot, potato starch, baking soda, baking powder, salt). Again, stir to combine by either hand or electric mixer. Continue until the batter is a consistent color and texture.
To your batter, add your eggs, vanilla, and apple cider vinegar. Again, stir until thoroughly combined.
Fold in your 1/4 cup of chocolate chips.
Evenly distribute your batter into the 12 cups of your muffin tin. I got about 2 Tbsp of batter per cup.
Bake your muffins for 20-22 minutes, or until the middle of the muffin springs back when touched.
Make 12 muffins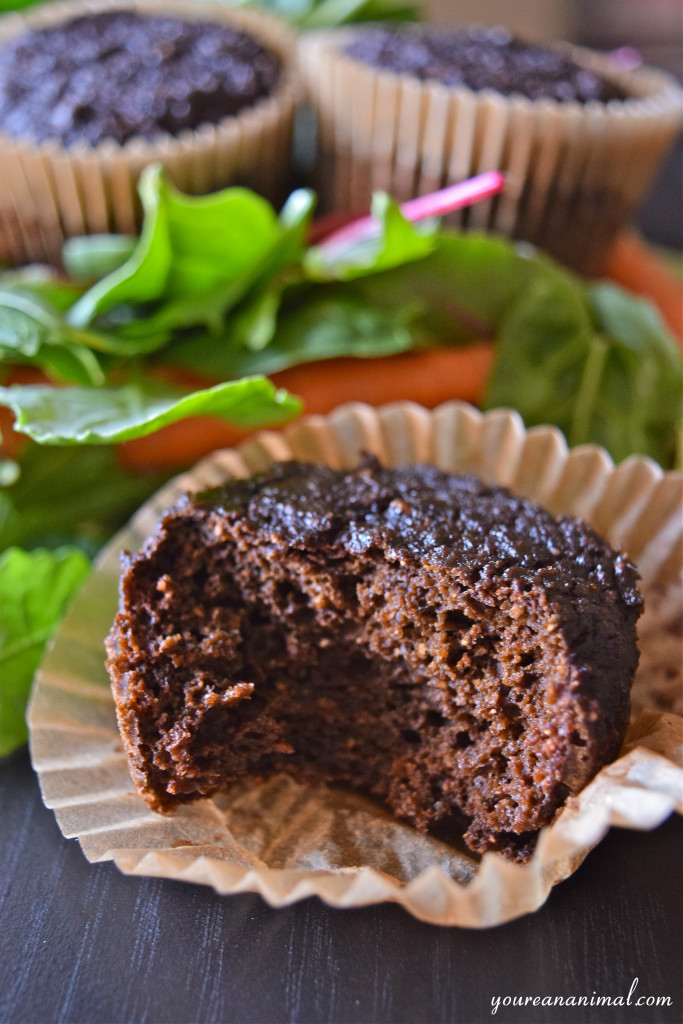 ---
Please note that some of the links in the above post are affiliate links that will take you to an Amazon.com page. If you choose to purchase a product featured in this post using an affiliate link, you will be directly supporting You're An Animal. Thanks!
---
http://nourishwild.com/cms/wp-content/uploads/2015/02/DSC_0001.jpg
3254
4000
Morgan Carr
http://nourishwild.com/cms/wp-content/uploads/2016/02/Logo-Only-Large-300x212.png
Morgan Carr
2015-02-09 22:09:57
2016-02-27 21:07:08
Hidden Veggie Muffins (Gluten-Free, Nut-Free, White Sugar-Free)