These meatless (and gluten-free) quinoa and spinach burgers are easy to make in a big batch and freeze. Reheat in only 15 minutes, perfect for when you don't have time or energy to cook. Plant-based protein and greens in one neat little patty package! Meatless Monday anyone?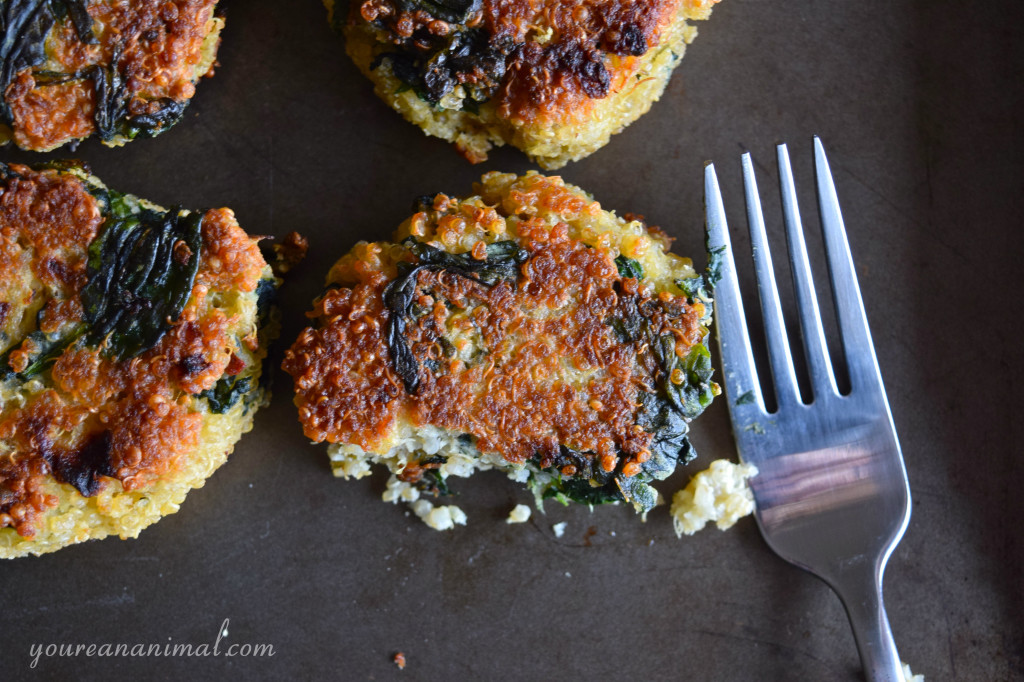 These little guys are something I used to make in college a lot, mainly because they freeze and reheat like a dream, so they're awesome for making a big batch and having them stocked up and ready to go when you don't feel like cooking. Now, Mr. Meat-Every-Meal Andrew wasn't through the roof about the idea of a non-meat burger, but even he said it was good, so I'll take it. I used sprouted quinoa, which is more easily digested than non-sprouted grains, but note that we do still monitor our grain intake. They aren't something to go overboard with if you want to keep your gut health in check. Oh, and this is also a great way to get some extra greens in!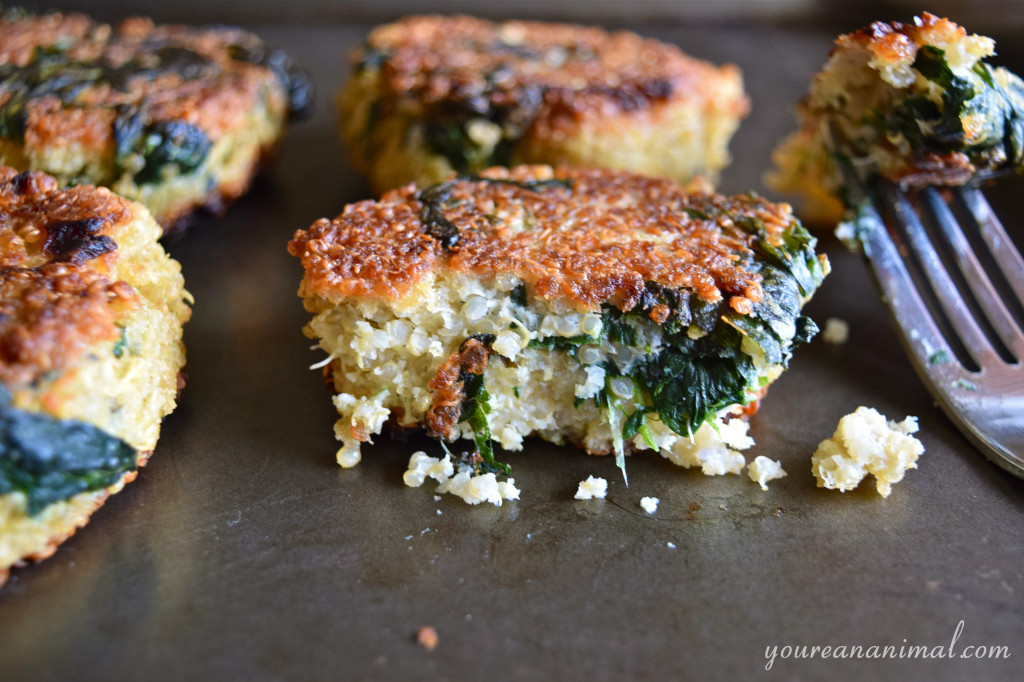 I particularly like these for lunch. They would pair perfectly with a big, fresh salad. Yuuummm.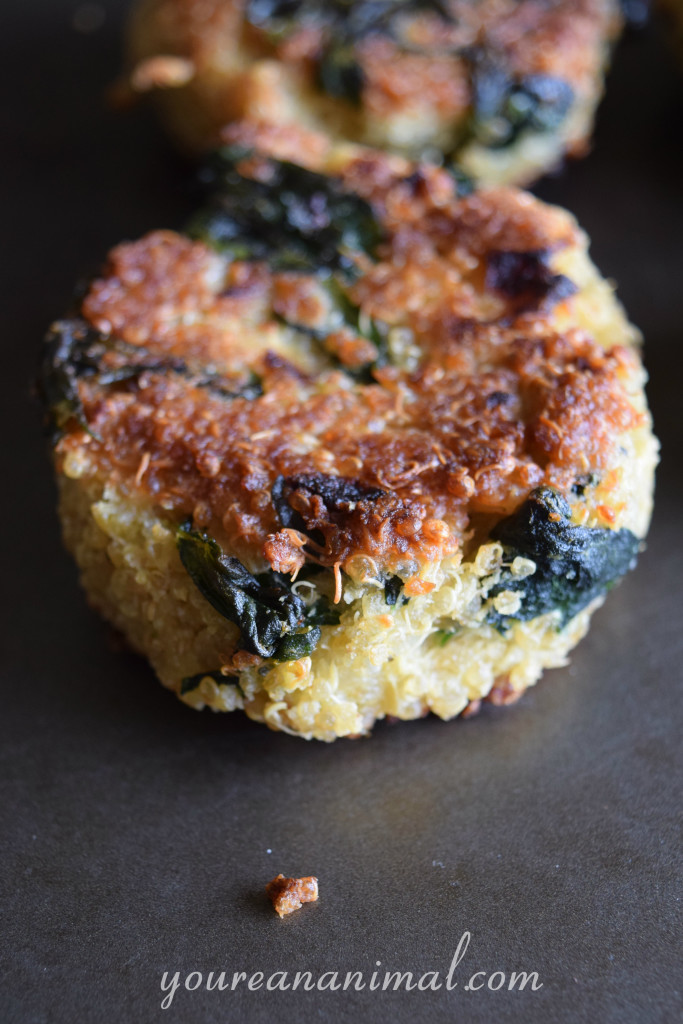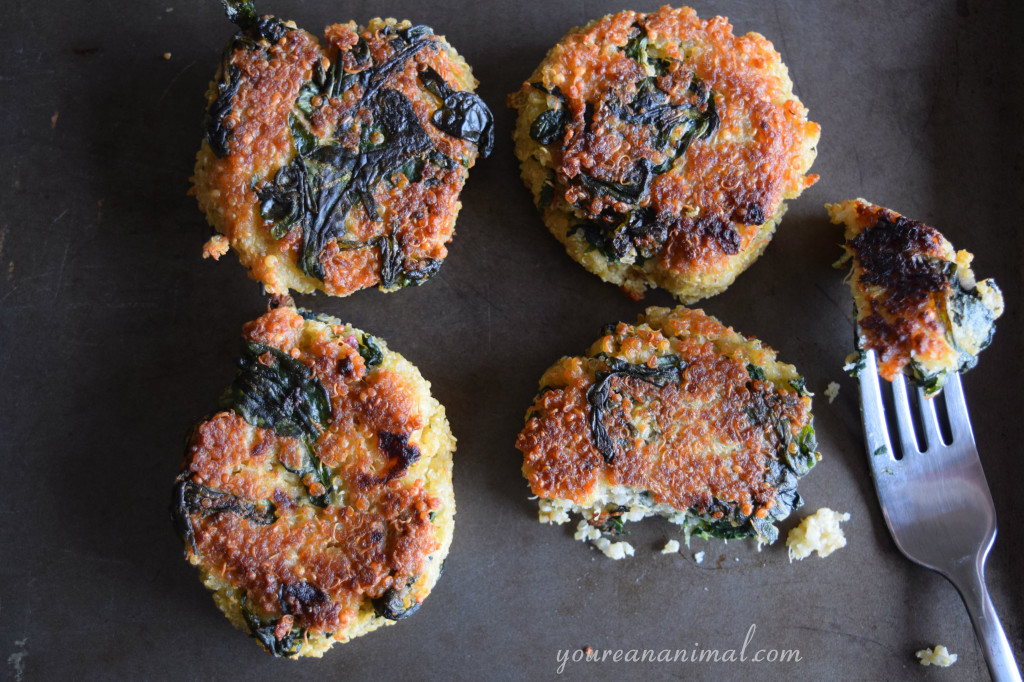 Quinoa and Spinach Patties (Gluten-Free)
 1.5 cups of sprouted quinoa (dry)
3 cups of water
1/2 cup white onion, minced
1 clove garlic, minced
2 eggs
2 Tbsp coconut flour
2 Tbsp potato starch
2 large handfuls of baby spinach
1/4 tsp each salt, black pepper, red pepper flakes, and italian seasoning
1 Tbsp + 1/4 cup avocado oil
In a medium saucepan, combine the dry quinoa and water, and cook as directed on the package until done.
In a large pot, add your onion, garlic, avocado oil, salt, black pepper, red pepper and italian seasoning. Saute until the onions are translucent. Add the spinach and stir until the spinach is wilted.
Once both the onion and quinoa are done, remove from heat and add the quinoa to the onion/garlic mixture in the large pot. To this mixture, add the eggs, coconut flour and potato starch. Mix until thoroughly combined. The mixture should stick together relatively well and should start to form a ball.
Heat the 1/4 cup avocado oil over medium to medium-high heat in a large skillet.
Drop 1/4 cup sized balls of your quinoa batter into the hot skillet, being sure to give each patty space to cook and not overcrowd the pan.
Cook each patty until it is firm, and golden brown on each side. Add more oil to the pan as needed. Repeat until no batter is left.
Makes about 14 patties.
---
 Please note that some of the links in the above post are affiliate links that will take you to an Amazon.com page. If you choose to purchase a product featured in this post using an affiliate link, you will be directly supporting You're An Animal. Thanks!
---
http://nourishwild.com/cms/wp-content/uploads/2015/01/DSC_0177.jpg
2666
4000
Morgan Carr
http://nourishwild.com/cms/wp-content/uploads/2016/02/Logo-Only-Large-300x212.png
Morgan Carr
2015-01-18 15:40:10
2016-02-27 21:02:06
Quinoa and Spinach Patties (Gluten-Free)