These powerhouse breakfast burritos are perfect for Sunday Meal Prep! Stick them in the freezer, and heat them up in the morning when you're ready. With both veggies and protein, they are an easy way to get yourself going on those hectic weekday mornings.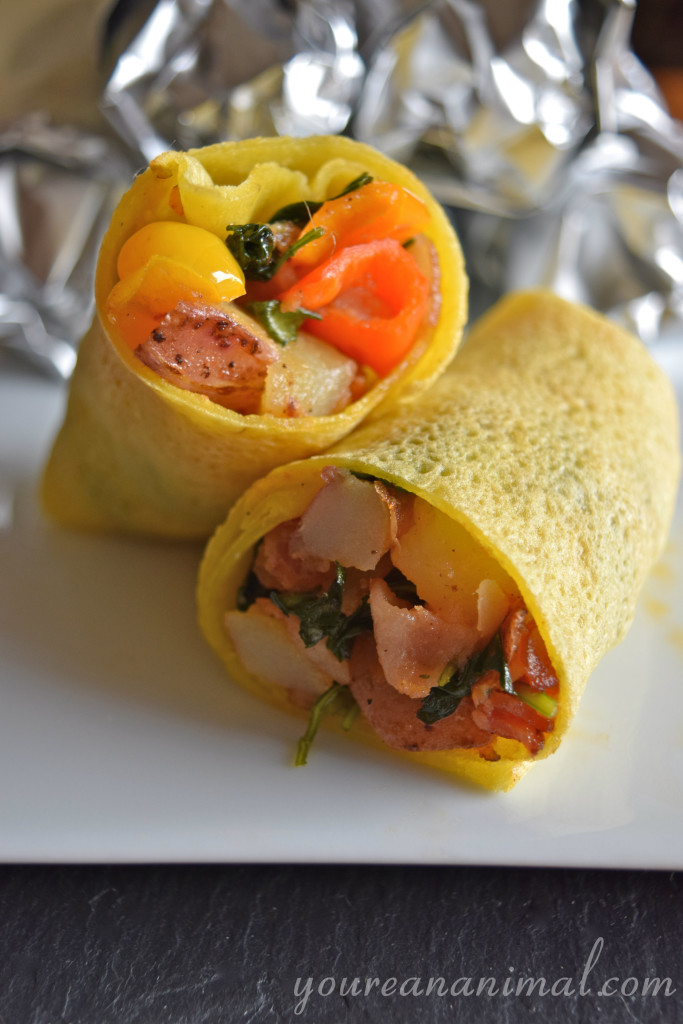 You know those mornings when you get to sit down and have a wonderful, elaborate, healthy breakfast before work or school? No? Me neither. If you're like me, on the mornings you need to get out the door, you're scrounging for something that takes little-to-no effort, or can be taken on the go. Oh and yeah… it's supposed to actually nourish my body for the start of the day. Let me introduce your mornings' new best friend: the Freezer Breakfast Burrito. If you have about 30 minutes to spare on your Sunday afternoon, you can get yourself ready for every morning of the week mindlessly and painlessly.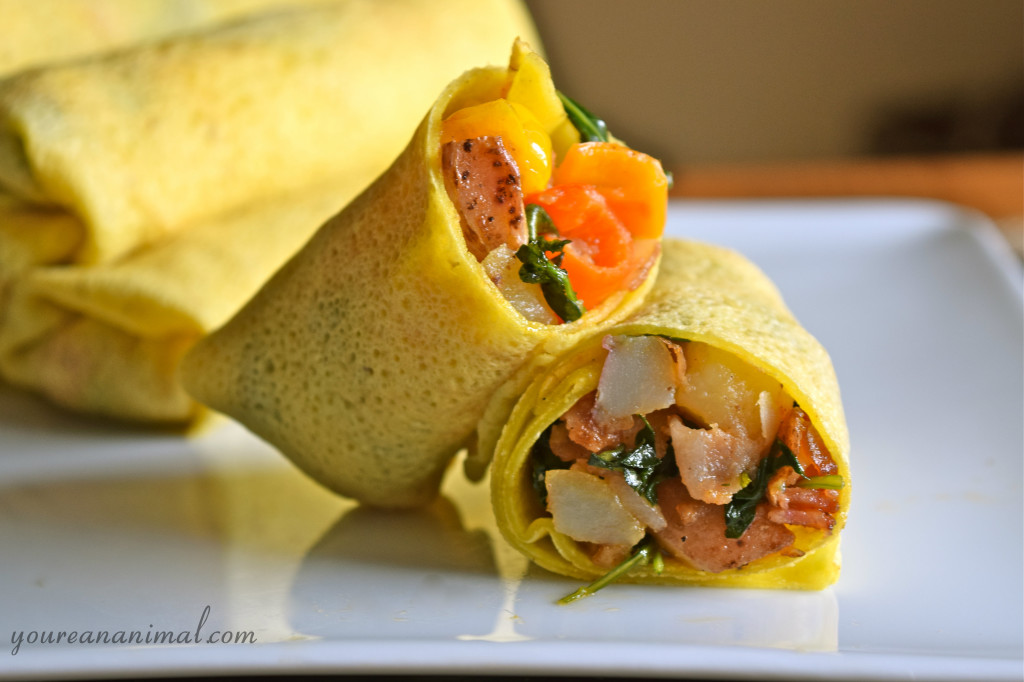 Wrap these guys up in foil, stick them in the freezer, and then the night before you want to eat one (or two), put it in the fridge overnight to thaw. This will save you precious reheat time in the morning. Ten minutes of reheat time before you head out the door (or if you're like me, once you get to work) and voila, you're good to go to start your day!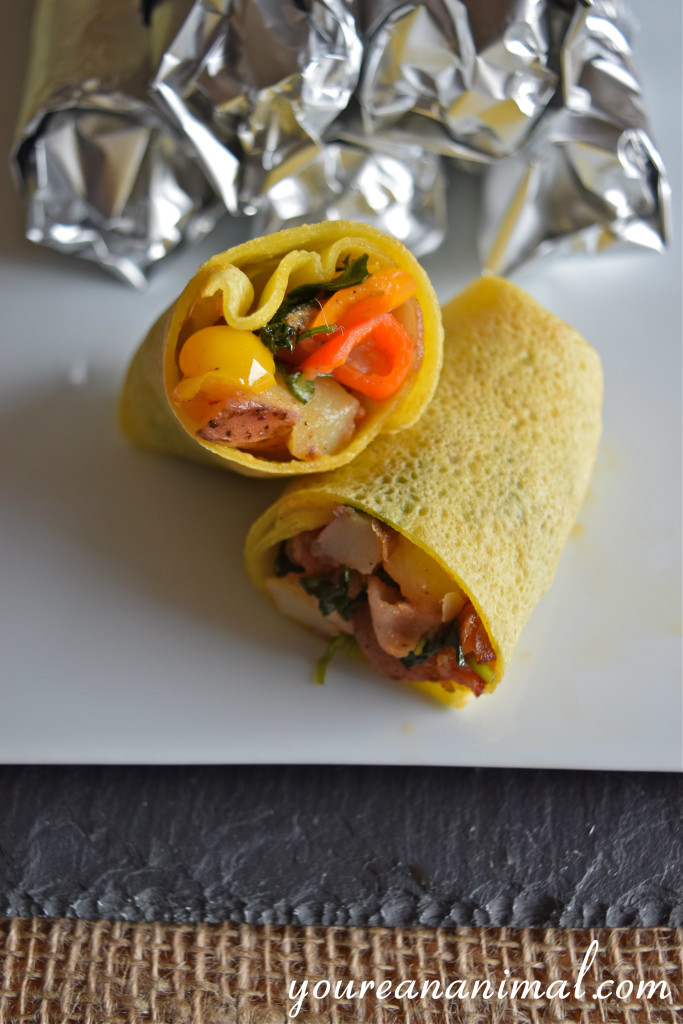 Tell me that doesn't look like something you want to eat in the morning sun. Peppers, bacon (!), potatoes, and kale all wrapped up in the grain-free, egg-based tortilla. I think that's also spelled b-r-e-a-k-f-a-s-t.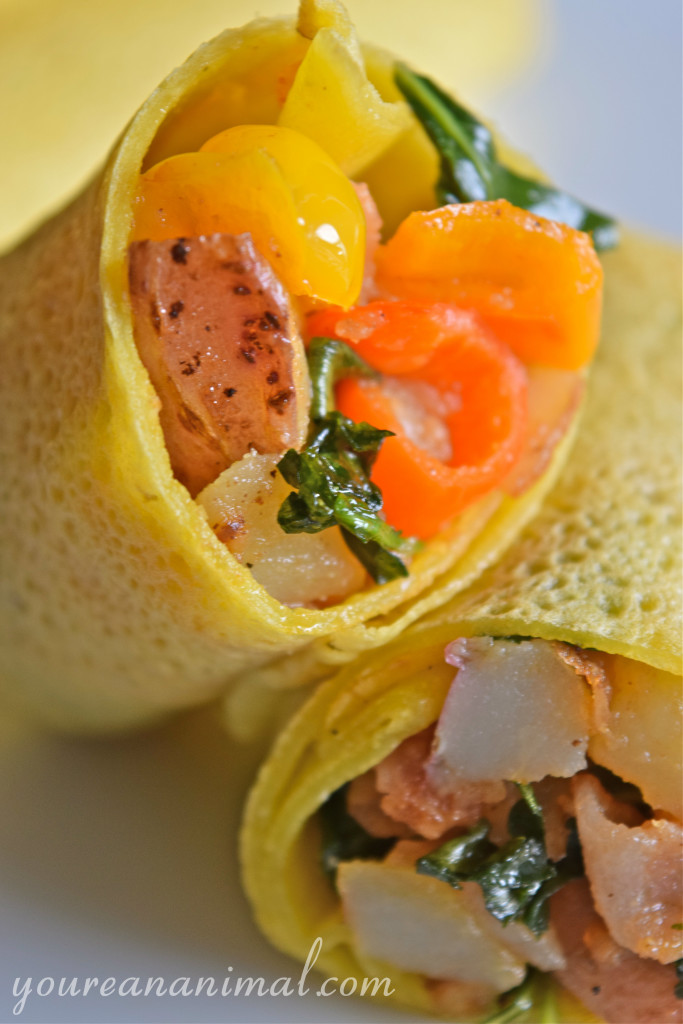 Breakfast Burritos
Grain-Free Tortillas (from Stupid Easy Paleo):

4 eggs
1/2 cup of your choice of starch (arrowroot, tapioca or potato… I use potato because it has a mild flavor)
2 tsp of coconut flour
3 Tbsp water
1 Tbsp olive oil
1/4 tsp each of garlic powder, onion powder, salt, and black pepper

2 cups of diced white potatoes (diced into about 1/2 inch chunks)
6 slices of nitrate-free bacon (sliced into about 1/2 inch pieces)
6 mini sweet peppers sliced into 1/4-1/2 inch pieces (or 1 large green, yellow, orange, or red bell pepper)
2 handfuls of baby kale
hot sauce to taste (I used about 2 tsp) (I use Frank's Hot Sauce)
1/4 tsp each garlic powder, onion powder, salt, and black pepper
Avocado oil or olive oil to coat pan
Heat a large skillet with your avocado or olive oil over medium-high heat. Add your diced potatoes to the skillet, and allow them to start to cook.
Next, work on the tortillas. In a large mixing bowl, combine all of your tortilla ingredients. Use an electric mixer to combine the ingredients, in order to most effectively eliminate the lumps from your mixture, until very smooth but not to the point of frothing the eggs.
Use a 10-inch, non-stick skillet to make the tortillas. Heat the skillet on medium heat. Once heated, pour about 1/4 cup of the tortilla batter onto the skillet, and roll the batter around in the skillet so it is evenly coated (like making a french crepe). Cook about 1 minute on each side, until lightly browned. The edges will curl away from the pan. If you have any issues with this process, you can refer to the original recipe and instructions for these tortillas here. This will make 6 tortillas.
As you are working on the tortillas, check on the potatoes. As they are starting to brown and soften slightly (about 5-10 minutes into the cooking process), add your sliced peppers and sliced bacon. Allow these to cook, letting the peppers soften and the bacon crisp, stirring occasionally.
Once your potatoes, peppers, and bacon have cooked to desired texture, add the hot sauce, garlic powder, onion powder, salt, pepper, and kale to your mixture. Stir to combine, until the kale wilts into your mixture.
Evenly divide your potato/pepper/bacon/kale mixture onto your tortillas. Roll into burritos (they will be relatively small in size).
To make it a freezer meal: Wrap your burritos in tin foil, and store in the freezer. The night before you want to eat one, place your burrito in the refrigerator and allow to thaw overnight. In the morning, set your oven or toaster oven to 400 degrees F. Place your foil-wrapped burrito in the oven for 10 minutes. Now run off to whatever you're (almost) late for!
Makes 6 burritos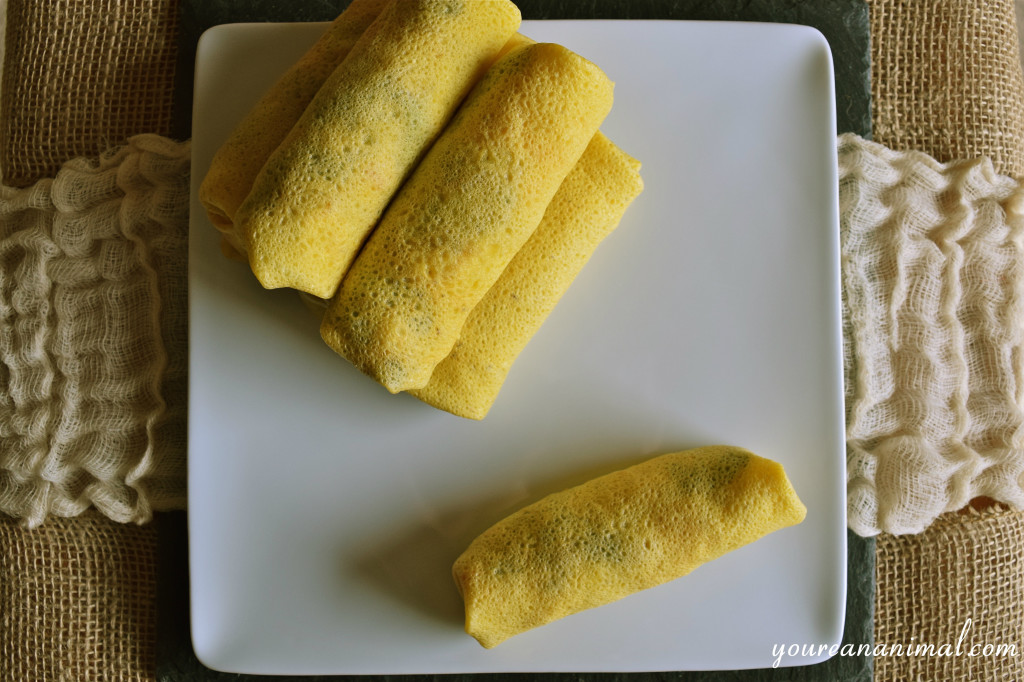 http://nourishwild.com/cms/wp-content/uploads/2015/01/DSC_0081.jpg
3999
2666
Morgan Carr
http://nourishwild.com/cms/wp-content/uploads/2016/02/Logo-Only-Large-300x212.png
Morgan Carr
2015-01-08 19:13:29
2016-02-27 20:54:25
Freezer Meal: Breakfast Burritos (Gluten-Free, Grain-Free)