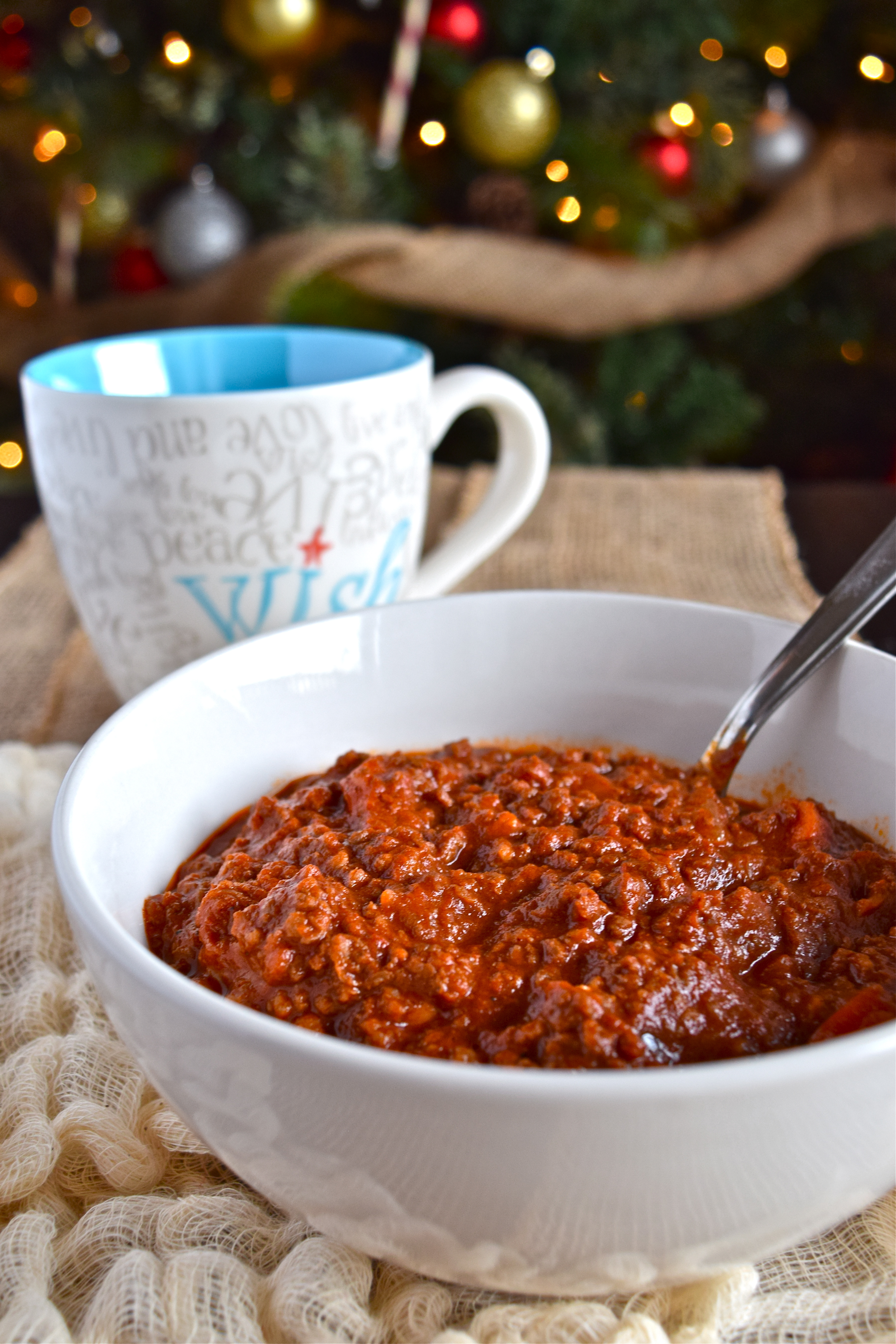 Ah chili. The most soul-warming, hearty meal around. In college, I made chili often in the winter because it was cheap to make. I made it meatless with a store-bought packet of who-knows-what, a can of tomato sauce and a can of beans, and it was ready in 10 minutes after just throwing everything in a pot and heating it up. It got the job done, but little did I know the damage those kind of nutrient-lacking meals were doing to my body. Now, I'm cooking a tastier, healthier, heartier chili that is full of grass-fed meat and a bunch of veggies. The perfect meal to curl up next to the Christmas tree and snuggle up in a blanket with.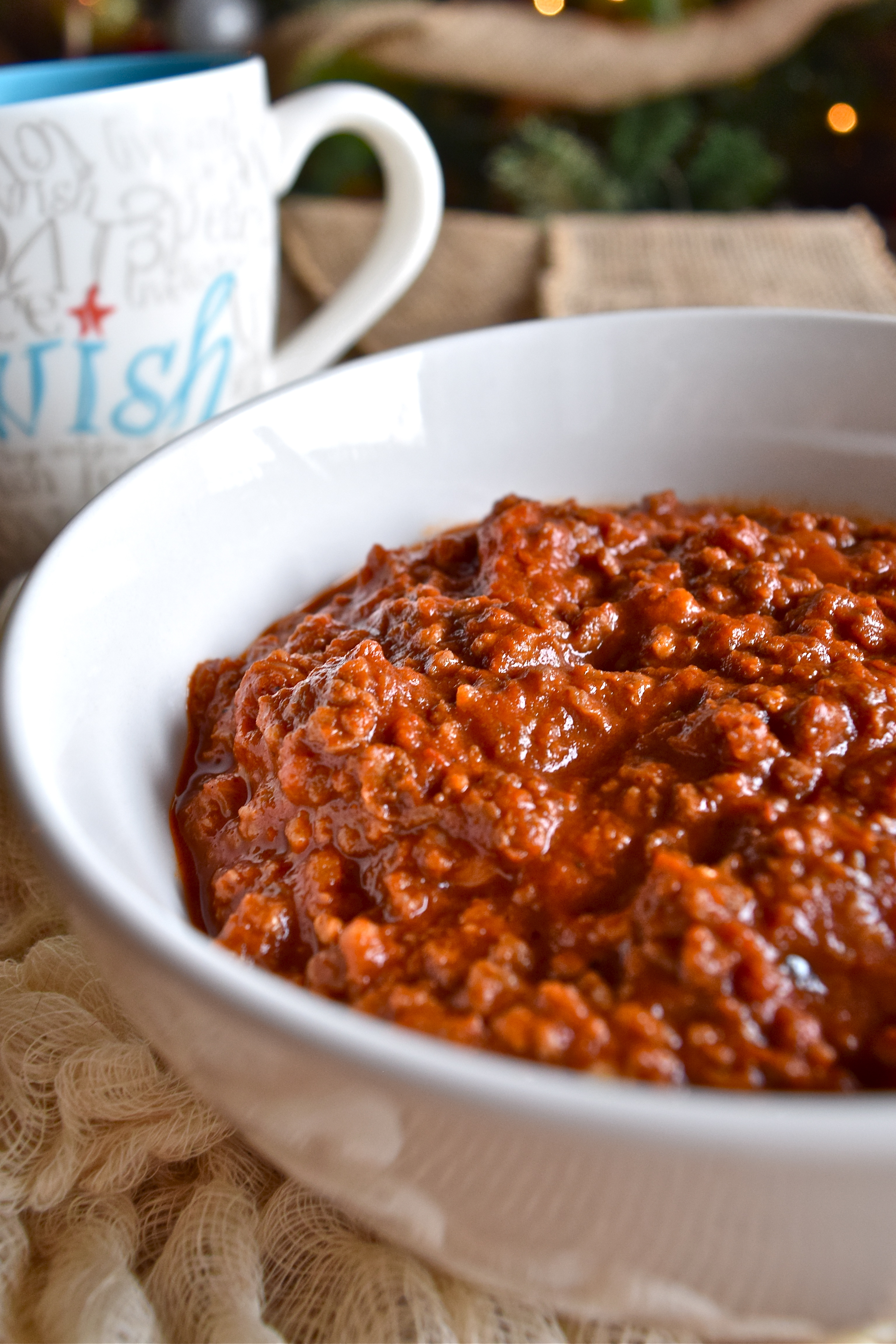 This is a completely customizable recipe. Change out the meat (turkey, chicken), add different veggies (squash, zucchini), make it spicier… whatever chili means for you! The reason we skipped out on the beans, however, is because beans are not that great for our intestinal system. You know what kind of reputation beans have, don't you? Well, when a food creates an uncomfortable situation, it often is a signal that your body is having a hard time processing it. And for me, well, beans and I definitely do not get along. As we all know, all bodies are created differently, but if you're interested in reading more about the potential harm of legumes, you can check out this write up, or do a google search about legumes and "leaky gut"!
No-Bean Chili
1 lb grass-fed ground beef
1 small onion, minced
2 cloves of garlic, minced (check out how to prepare garlic to maximize the health benefits here)
2 stalks of celery, chopped to your size preference
2 carrot sticks, chopped to your size preference
1 green pepper (or 5 mini sweet peppers), chopped to your size preference
1 cup chicken stock, or bone broth
1 16oz can of tomato sauce
1 8oz can of tomato paste
2 Tbsp dark chili powder
1/2 Tbsp cocoa powder
1/2 tsp each: paprika, cumin, ground yellow mustard
1/4 tsp each: salt, cinnamon
cayenne to taste
2 Tbsp grass fed butter
2 Tbsp olive oil
Heat the olive oil and butter in a large sauce pot (one that has a lid) at medium/high heat.
Add all chopped veggies (celery, carrot, pepper, onion, garlic) to the heated oil. Saute for 2-4 minutes, or until they just start to soften.
Add the meat and all of your spices to the veggies. Brown the meat through, chopping with a spoon or spatula as it cooks to break up the meat and allow it all to get cooked evenly, and to distribute the spices. Saute until the meat is crumbled, and no pink remains.
Add the chicken stock, tomato sauce, and tomato paste. Stir until combined.
Reduce the heat to low, cover the pot, and allow the flavors to meld for at least 10 minutes… but the longer it sits, the better the flavors combine.
Makes approximately 4 servings.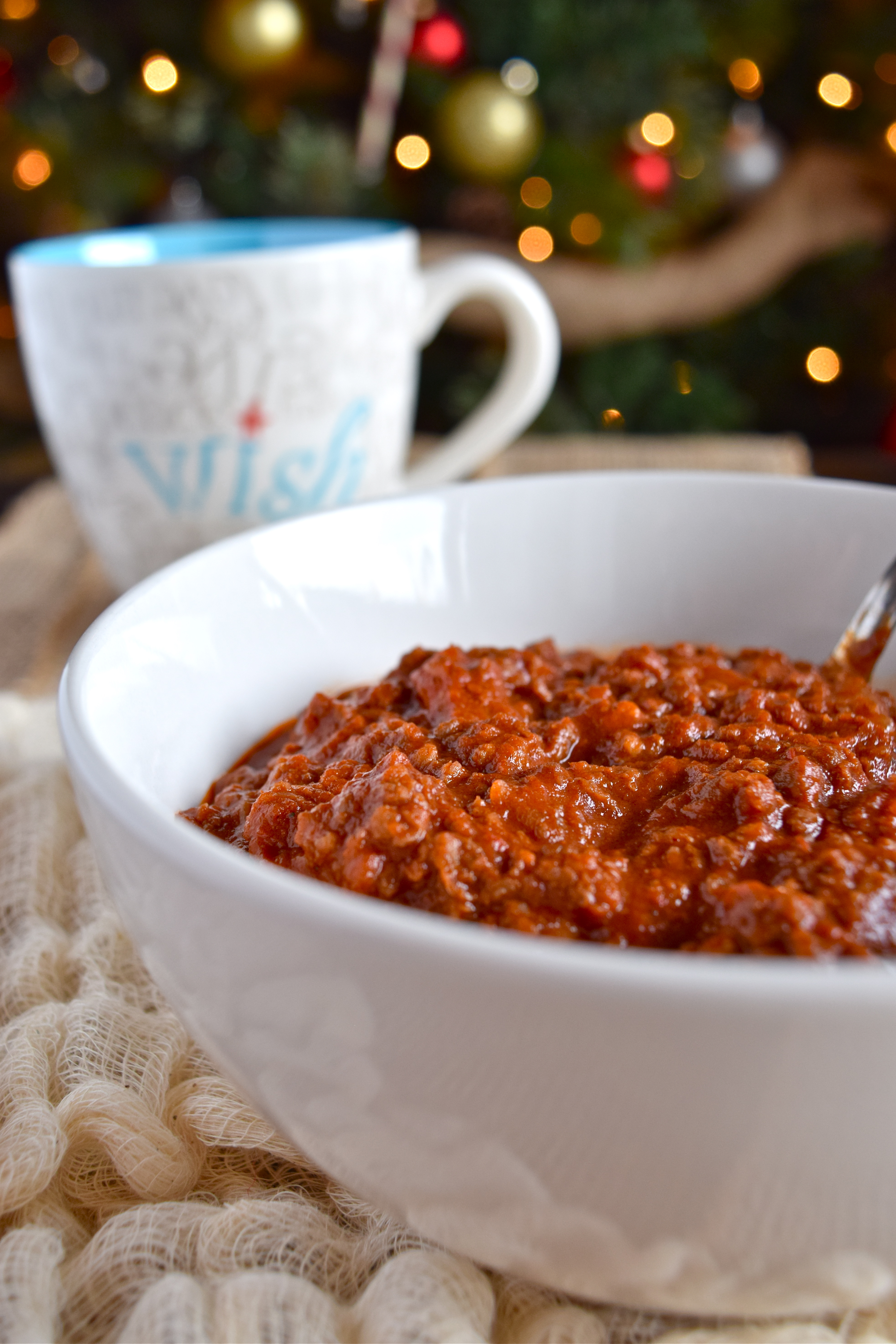 http://nourishwild.com/cms/wp-content/uploads/2014/12/DSC_0063.jpg
5400
3600
Morgan Carr
http://nourishwild.com/cms/wp-content/uploads/2016/02/Logo-Only-Large-300x212.png
Morgan Carr
2014-12-13 15:34:28
2016-02-27 21:02:31
No-Bean Chili