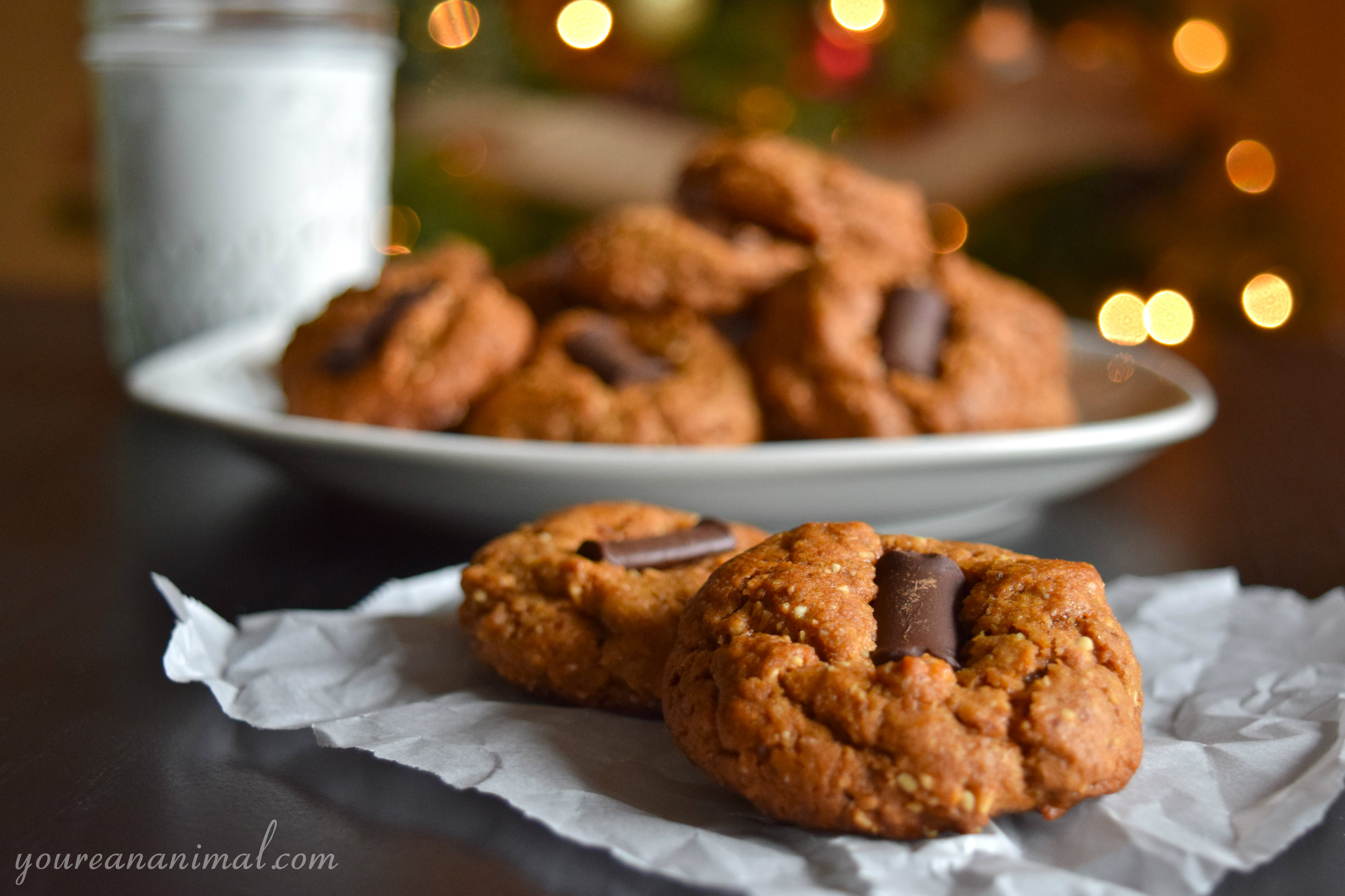 Tis the season for Christmas cookies! I love making Christmas cookies, and when I asked Andrew what his favorite Christmas cookie is, he said "the peanut butter ones with the Hershey kiss in the middle." Aka Peanut Butter Blossoms. Well, to be honest I've never made those before, so I don't even know what the "normal" recipe is. But I do know that they often use some kind of flour, and they have a big ol' processed chunk of chocolate in the middle. So in keeping with tradition, I used peanut butter and then subbed in coconut palm sugar to create an updated Peanut Butter Blossom. Now, that being said, we rarely (and I mean pretty much never) eat peanut butter. The main reason for this is because peanuts are highly inflammatory. The omega-6 to omega-3 ratio is off the charts. Not to mention peanuts have a reputation for harboring all kinds of mold and fungi. Yuuuu-mmy. So if you'd rather not use peanuts, you can certainly use any other kind of nut butter. Almond butter would work perfectly, and so would Sunbutter. This is your cookie, eat it the way you want! Whatever you use though, get a kind with nothing added. If possible, go to a store like Whole Foods that has it's own peanut/almond grinder, that way you know for sure that you're only getting the ground nut in your butter.
Oh hey, by the way, we put up our Christmas decor! Gotta love Gnomie.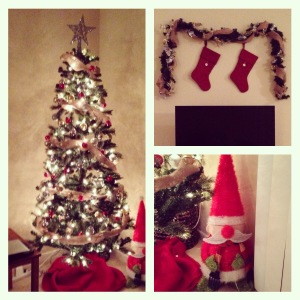 Image from Instagram. Follow us at youreananimal
And also, I got a snazzy new DSLR camera for my birthday! Thanks mom and dad! I have no idea how to use it properly yet, but check out that picture quality: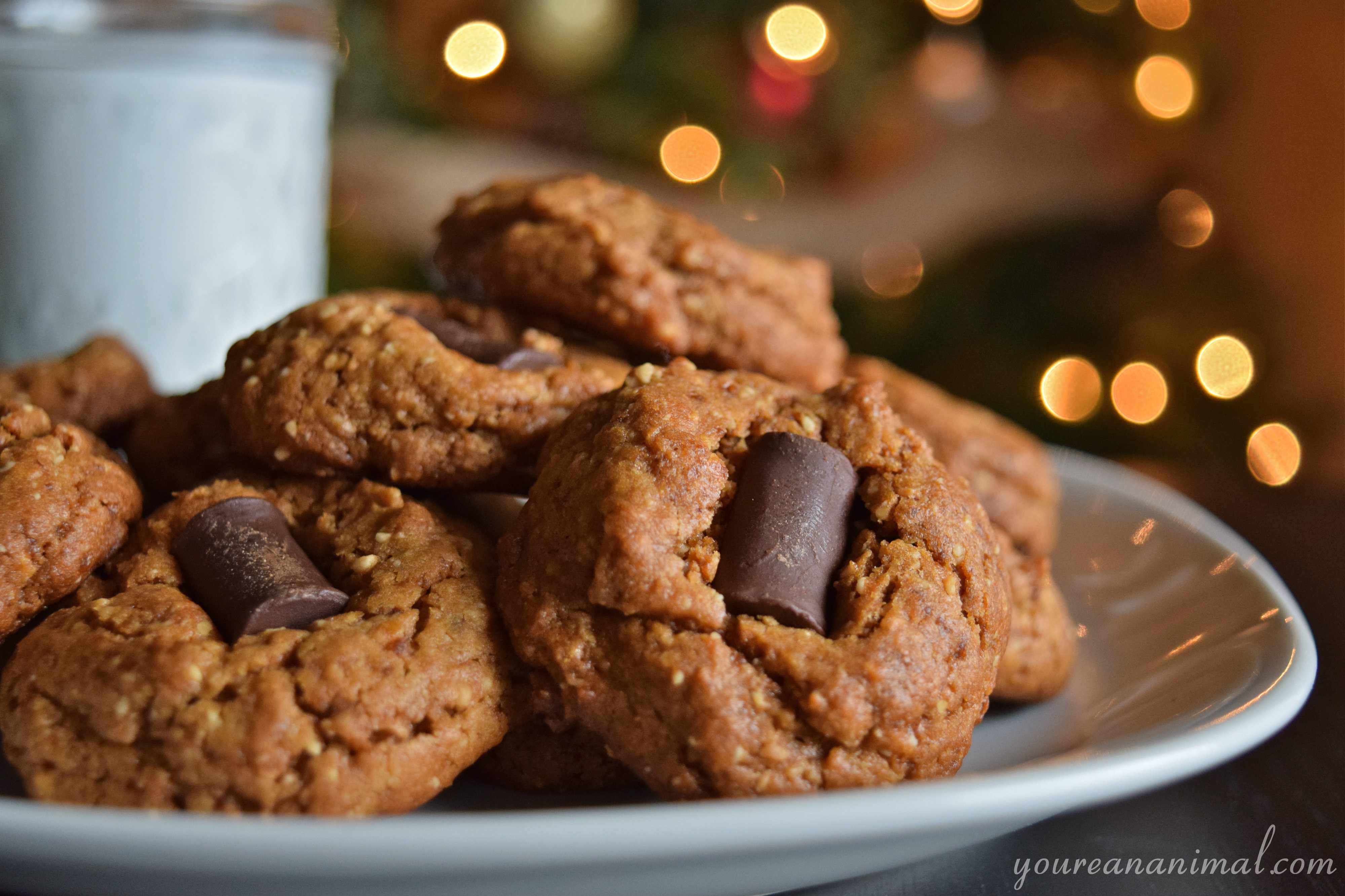 Also, did I mention these cookies only have 5 ingredients? Because they do. Which makes them simple, yet scrumptious. Chewy, dense, and full of flavor. Everything you want from your Christmas cookie!
Nomz. I know Santa wouldn't mind a big plate of these waiting for him next to the stockings. He needs some protein for all of those toy deliveries, right?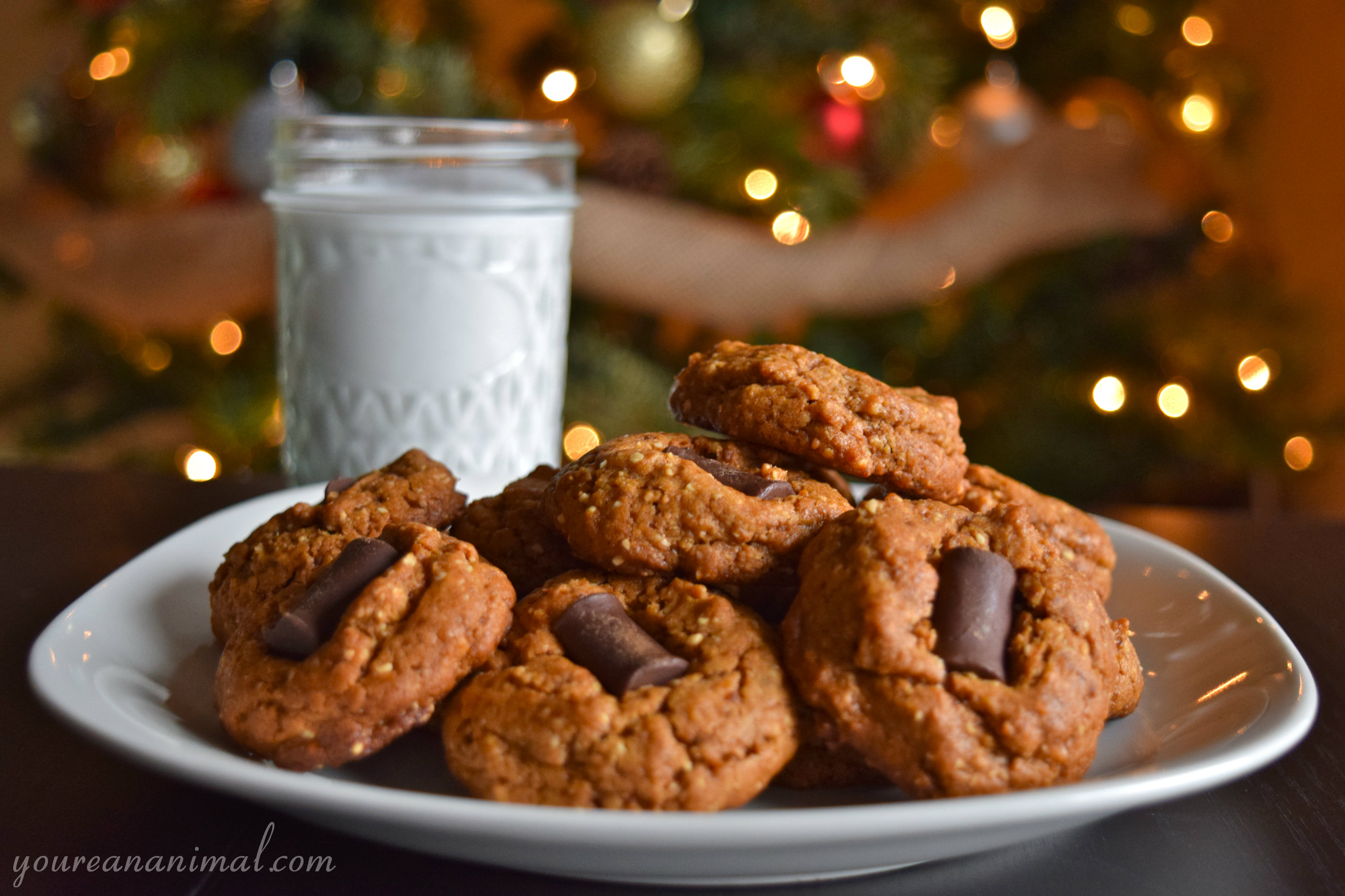 Flourless (Pea)Nut Butter Blossoms:
1 cup nut butter of your choice
1/2 cup Coconut Palm Sugar
1 egg
1/2 tsp baking soda
Enjoy Life Mega Chunk chocolate chips (at least enough for 1 per cookie)
Preheat your oven to 350 degrees F and line a baking sheet with parchment paper.
In a large mixing bowl, combine all of your ingredients until one consistent texture. The dough will be sticky.
Form balls of cookie dough, about 2 teaspoons of dough each. You should get close to 20 dough balls.
Place each ball of dough on your parchment-lined baking sheet, leaving at least 1-2 inches of space in between.
Bake for 10-12 minutes, until golden brown and cracked.
Immediately after removing them from the oven, press a chocolate chunk into the middle.
Allow to cool, and enjoy!
Makes about 20 cookies.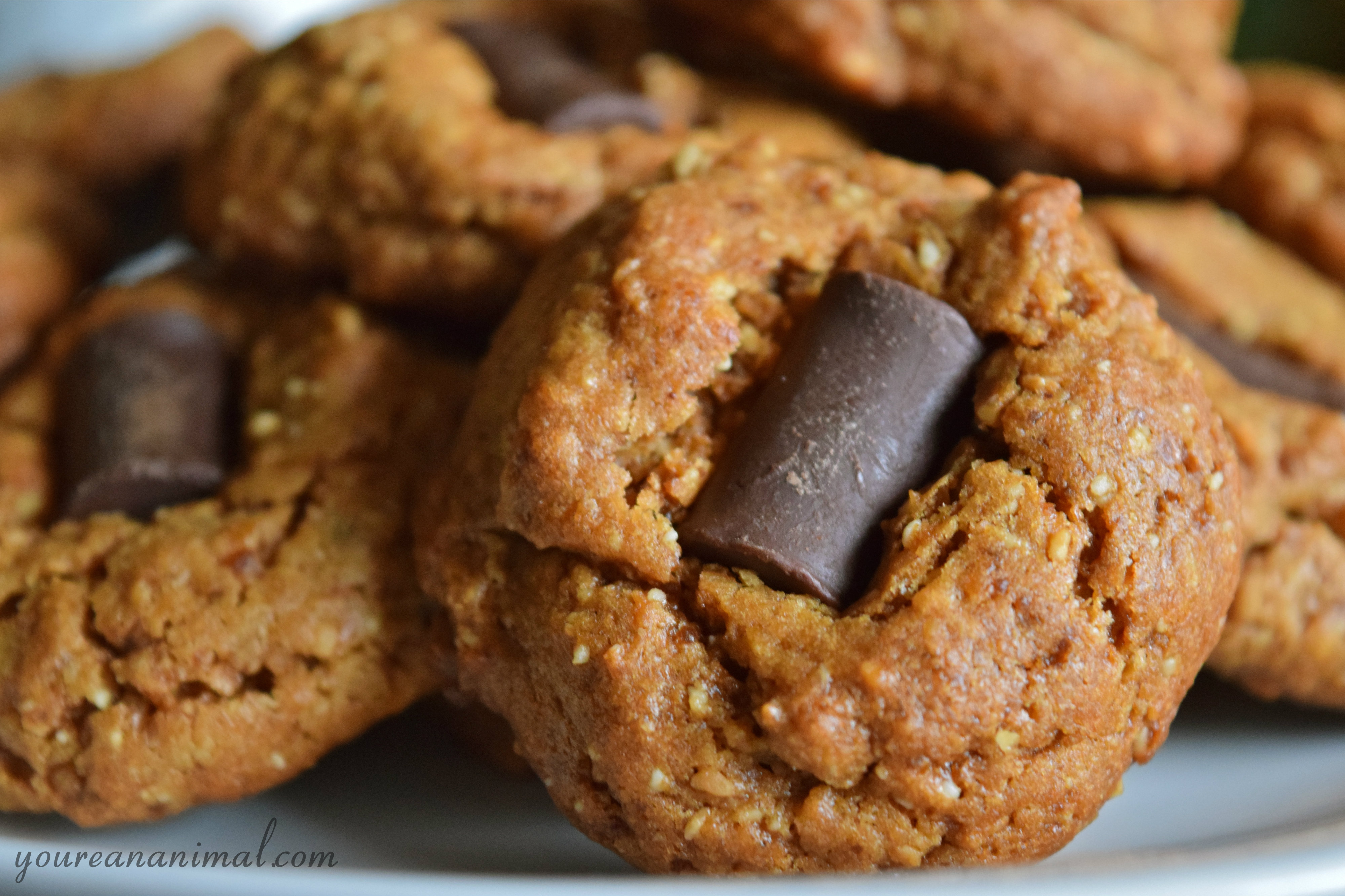 ---
Please note that some of the links in the above post are affiliate links that will take you to an Amazon.com page. If you choose to purchase a product featured in this post using an affiliate link, you will be directly supporting You're An Animal. Thanks!
---
http://nourishwild.com/cms/wp-content/uploads/2014/12/DSC_0034.jpg
2666
4000
Morgan Carr
http://nourishwild.com/cms/wp-content/uploads/2016/02/Logo-Only-Large-300x212.png
Morgan Carr
2014-12-05 11:36:29
2016-02-27 21:09:00
Flourless (Pea)Nut Butter Blossom Cookies (White Sugar-Free)