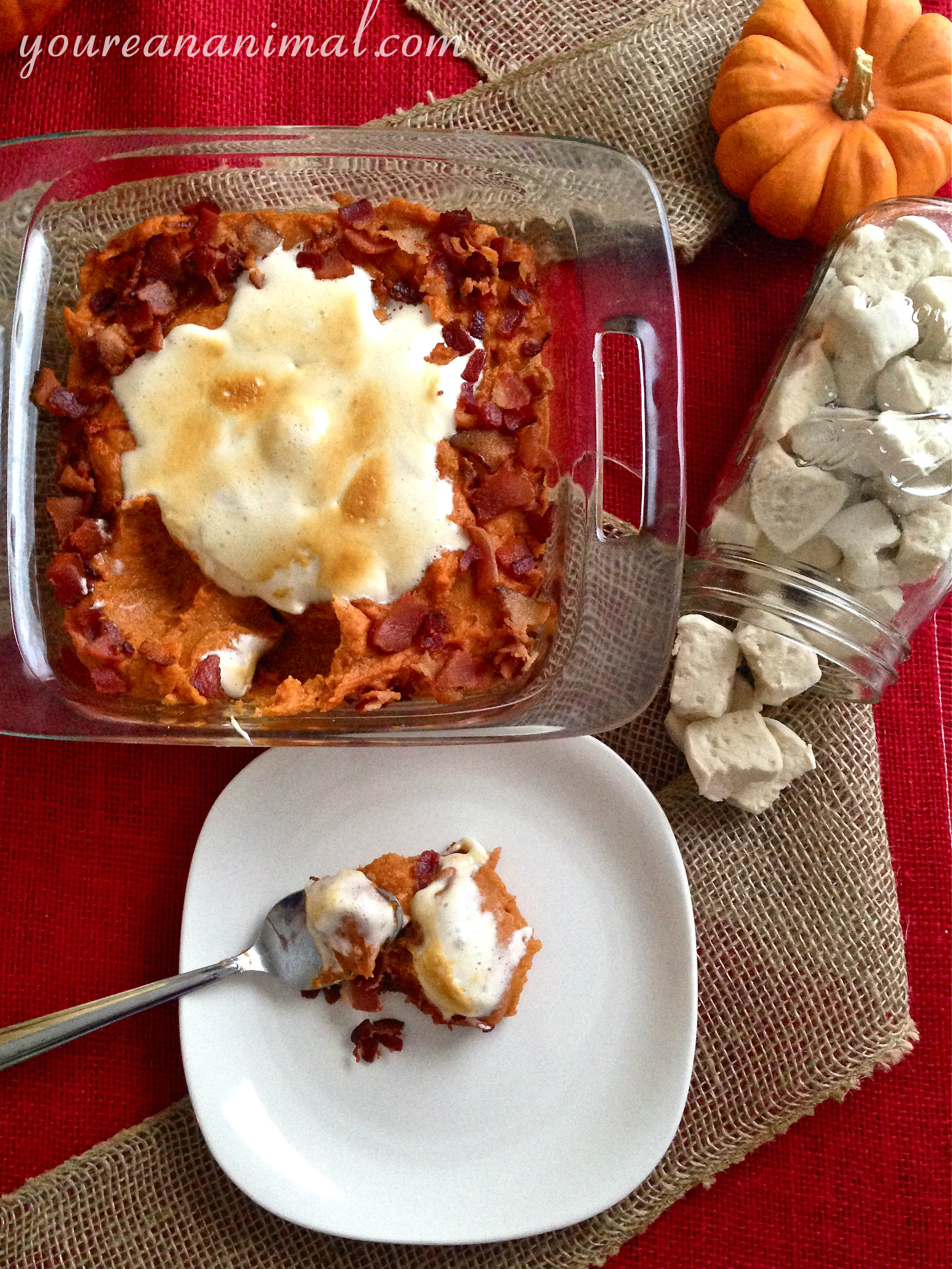 Thanksgiving is such a wonderful day. No presents, no pressure, just an abundance of food and family. But Thanksgiving can be a minefield of gluten-filled carbs, and sugar-overload. So in this series of "Thanksgiving Cleaned Up," I've taken some classic Thanksgiving staple foods and made them a little bit less detrimental. You can check out my other posts, Garlic Kale Mashed Potatoes, Pinot Noir Cranberry Sauce, and Grain-Free Drop Biscuits and have yourself a slightly less guilty, but certain not less hearty, Thanksgiving feast! Wonderful additions to this series would be my Autumn Salad and my Grain-Free Pumpkin Bread!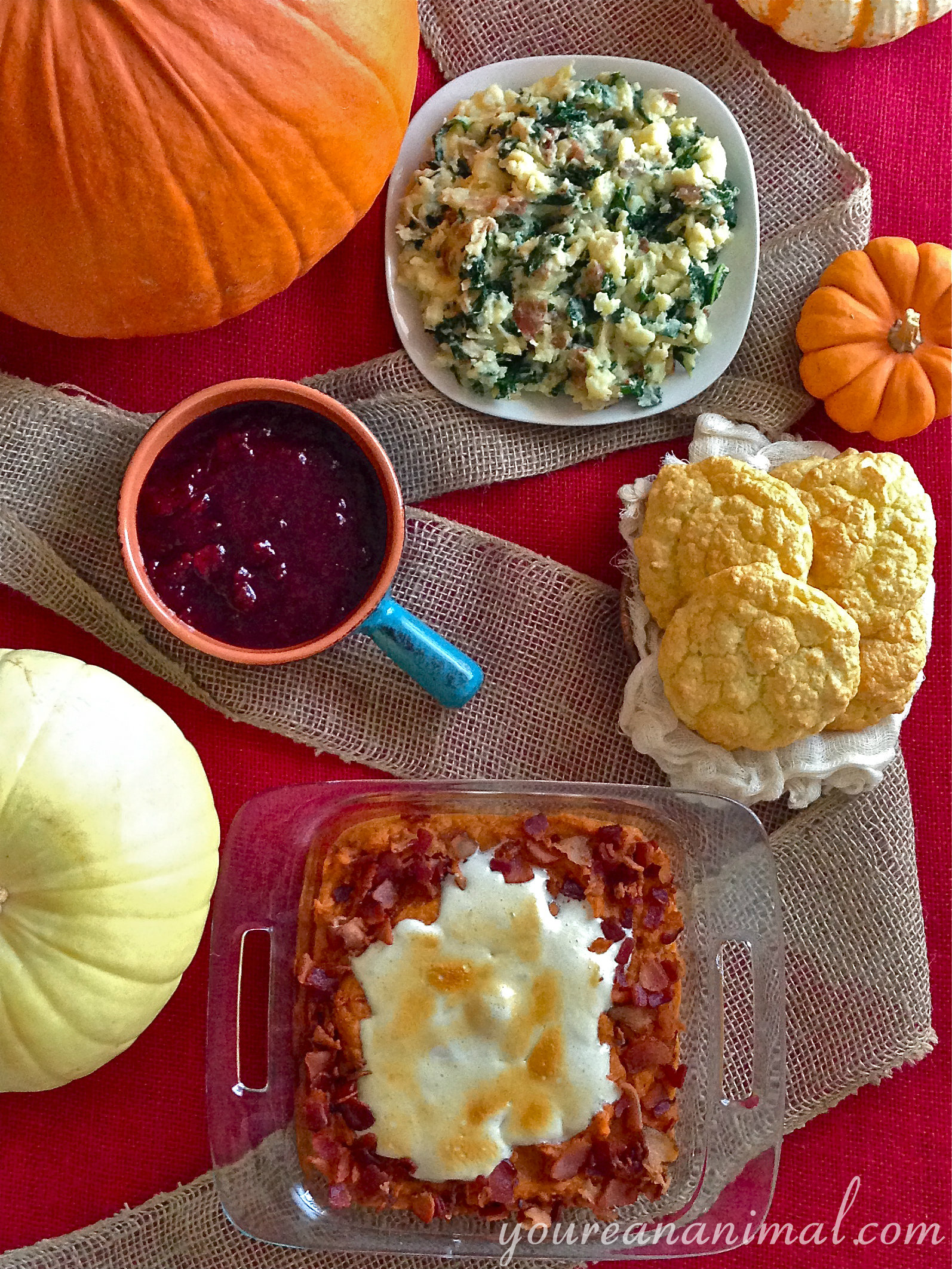 I'm starting this series off with dessert. Gotta eat dessert first ;). I know the classic dessert for Thanksgiving is pumpkin pie, but I don't actually particularly like pie (except Key Lime… I know, apparently there's something wrong with me.) So this "dessert" substitute is something we always had on our Thanksgiving table growing up: Sweet Potato Casserole. Complete with the toasted marshmallows, because that's a must-have element. I also added some bacon, because everything is better with bacon and this is no exception. No added sugar to the potatoes because sweet potatoes are just that: sweet. And the marshmallows already add that little extra sugar. The sweet, spicy and salty combo is perfect to round out your Thanksgiving table for dessert, with your meal, or as a pre-feast snack… I won't tell!
Sweet Potato Casserole
2 lbs of sweet potatoes, roasted and mashed
1/2 cup coconut milk (from a can)
1/2 tsp each of ground clove, ground nutmeg and ground ginger
2 tsp of ground cinnamon
2 Tbsp grass-fed butter (I use Kerrygold)
Homemade Marshmallows (about 1 cup)
4 strips of bacon, cooked and crumbled
Roast and mash your sweet potatoes. Transfer into a large mixing bowl.
Add the butter, coconut milk, clove, nutmeg, ginger, and cinnamon to your sweet potatoes.
Use an electric mixer to combine the ingredients, and whip until smooth.
Transfer your potato mix to oven-safe bake ware (I used an 8×8 Pyrex dish)
Dig out a hole in the middle of your potatoes. Add a handful of marshmallows in the hole.
Place your potatoes with the marshmallows in the oven under broil, and allow the marshmallows to toast until golden brown.
Remove from the oven, and sprinkle the crumbled bacon around the edges, around the marshmallow middle.
Serve hot.
Makes about 4-6 servings of potatoes.
http://nourishwild.com/cms/wp-content/uploads/2014/11/thanksgiving93.jpg
2937
2203
Morgan Carr
http://nourishwild.com/cms/wp-content/uploads/2016/02/Logo-Only-Large-300x212.png
Morgan Carr
2014-11-21 15:07:04
2016-02-27 21:30:45
Sweet Potato Casserole: Thanksgiving Cleaned Up Part 1