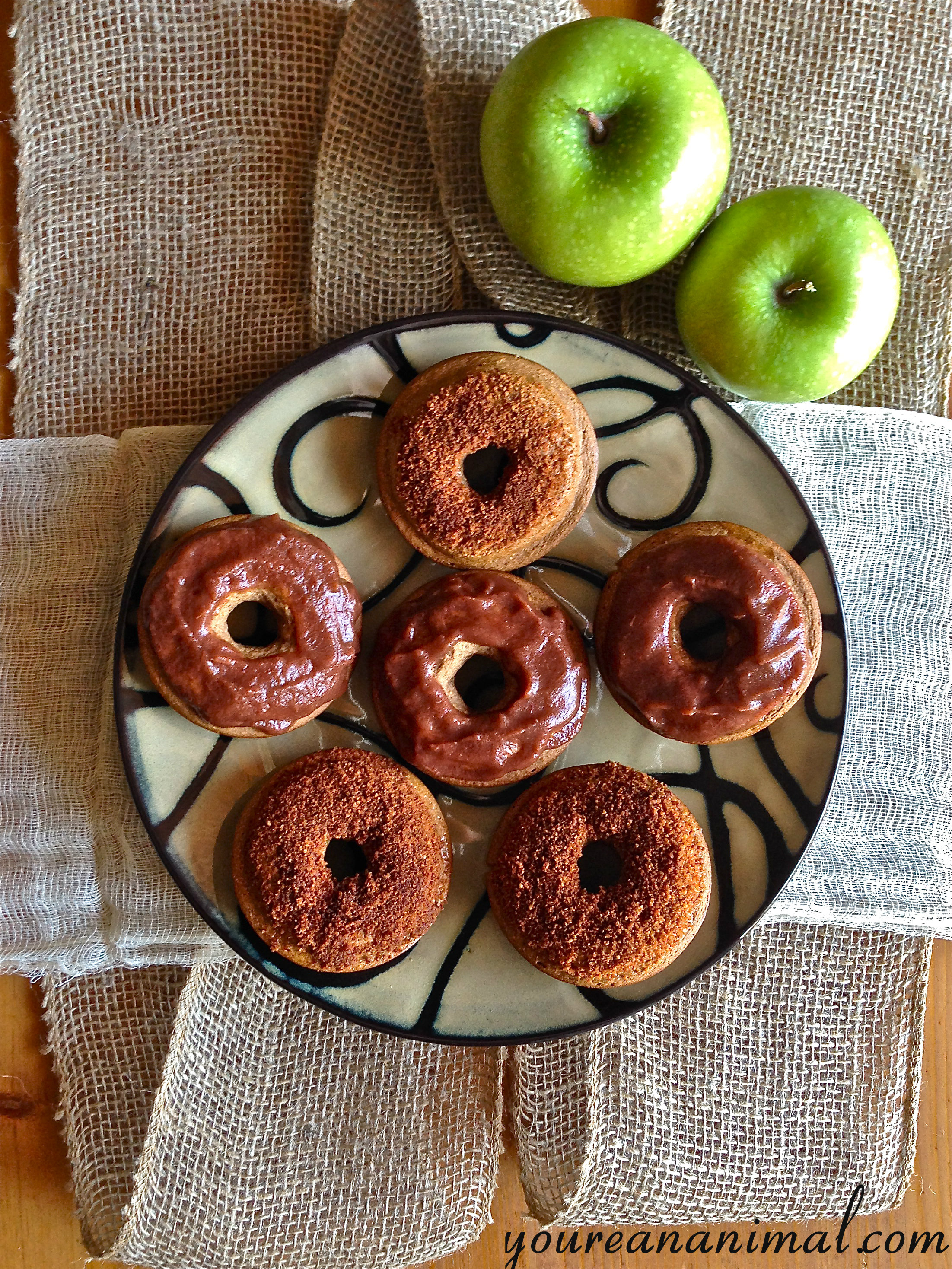 A couple weeks ago, I told you about my super-amazingly easy crockpot apple butter. The only thing about that apple butter recipe is that it makes a lot of apple butter. What's a girl to do with alladat? Well, after making my apple butter muffins, and topping my protein pancakes with apple butter, and eating apple butter by the spoonful, I decided to go another direction… donuts. Because if apple butter donuts don't say fall, I don't know was does! Astute readers will notice that this recipe base is very similar to the apple butter muffins. However, there are some tweaks, which makes these a lot more donut-y than muffin-y. Mainly, they are chewier, like a donut should be! I've baked these in a handy dandy donut pan, but I believe you could probably shallow-fry these as well. The batter is a little runny though, so it might take some playing with. Or you could just bake them like I did… trust me, it's divine. I didn't add any sugar to these guys; I found the apple butter itself makes these sweet enough for my taste (since cutting back on sugar, my taste buds are a lot more sensitive to sweetness, which is amazing!) I topped off half of them with pure apple butter, and the other half with cinnamon sugar. The cinnamon sugar ones were my preference, and the apple butter ones were Andrew's preference, so it's up to you!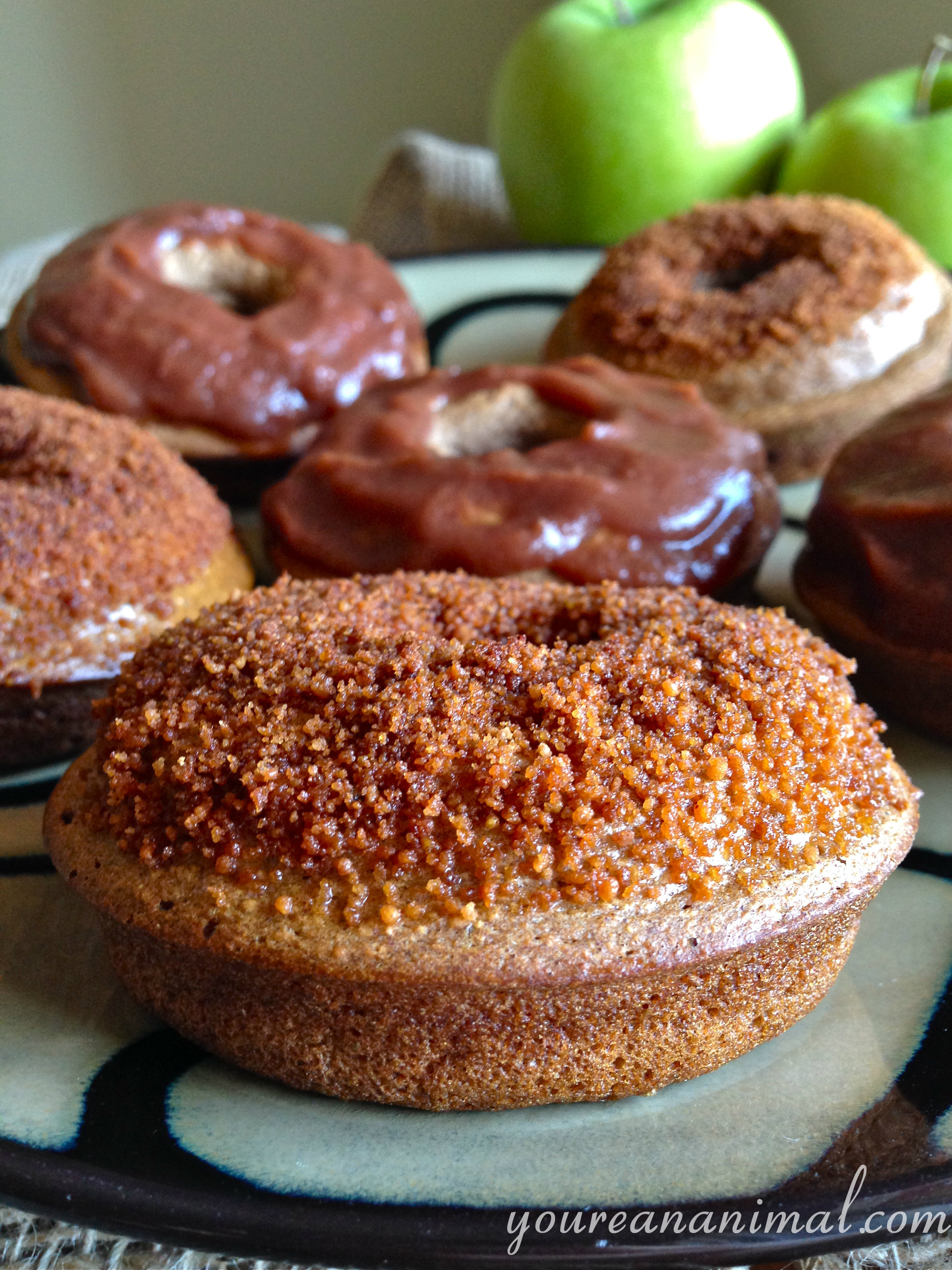 The texture is that of a chewy cake donut, and the flavor is spicy with the slightest hint of apples. Basically autumn on your taste buds.
For the cinnamon sugar topped ones, I melted a little Kerrygold grass-fed butter, dunked the tops of the donuts in the butter so the topping would stick, then swirled the donut in a combination of cinnamon and coconut palm sugar.
For the apple butter topped ones, I just spooned a little leftover apple butter on the tops. That's it!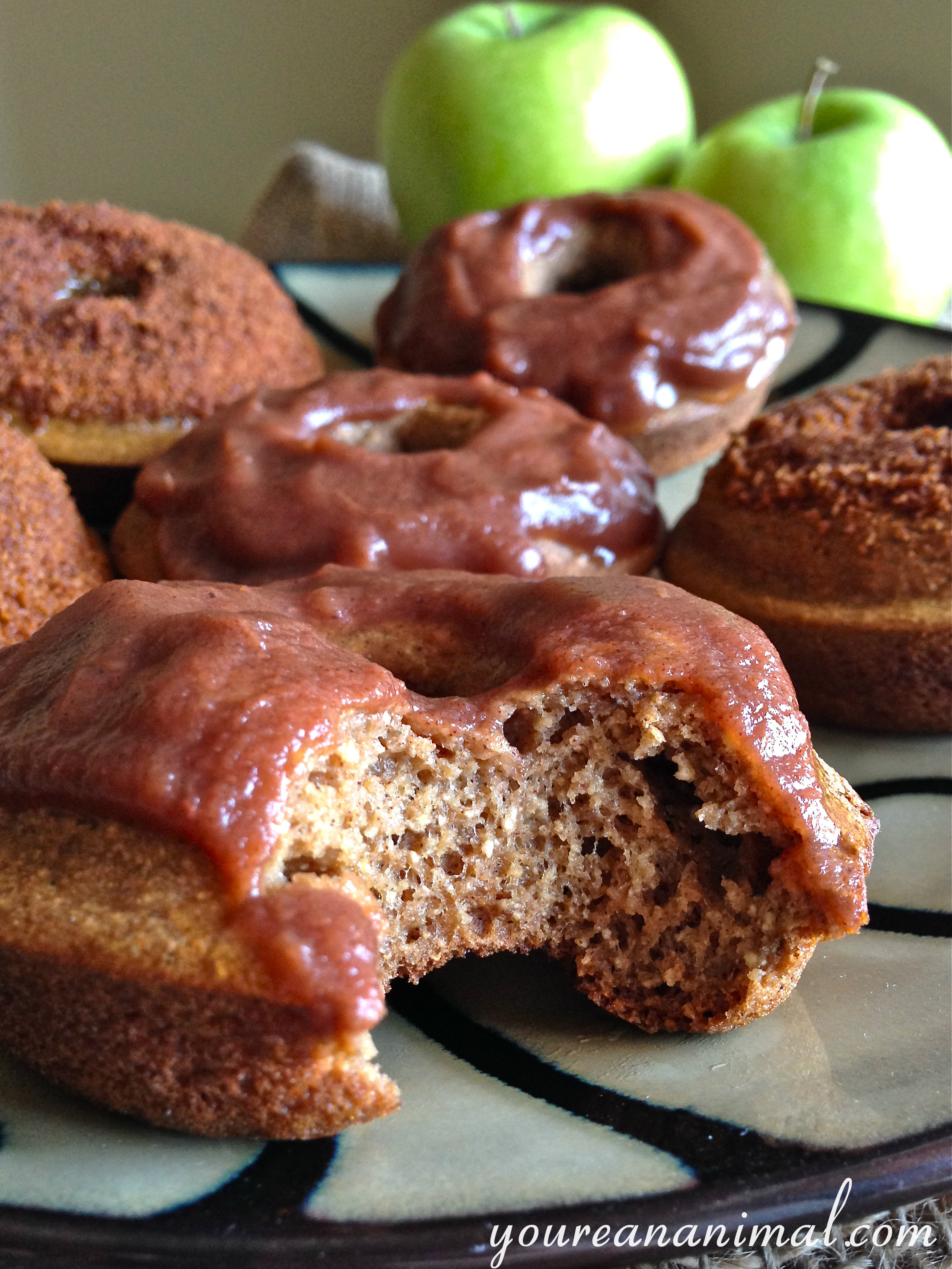 Apple Butter Donuts
Preheat your oven to 400 degrees F, and grease your donut pan (6 donuts) liberally with butter or coconut oil.
Combine your wet ingredients (apple butter, eggs, vanilla, and apple cider vinegar) in a large mixing bowl.
Add your dry ingredients (arrowroot, potato starch, coconut flour, baking soda, baking powder, and spices) to your wet ingredients mixture.
Use an electric mixer to fully combine your batter, until it is smooth.
Evenly distribute your batter in your donut pan, so each well is about 3/4 full.
Bake in preheated oven for 14-17 minutes, or until the donuts spring back when touched.
Allow to cool completely before adding any toppings (see above post for suggestions)
Makes 6 donuts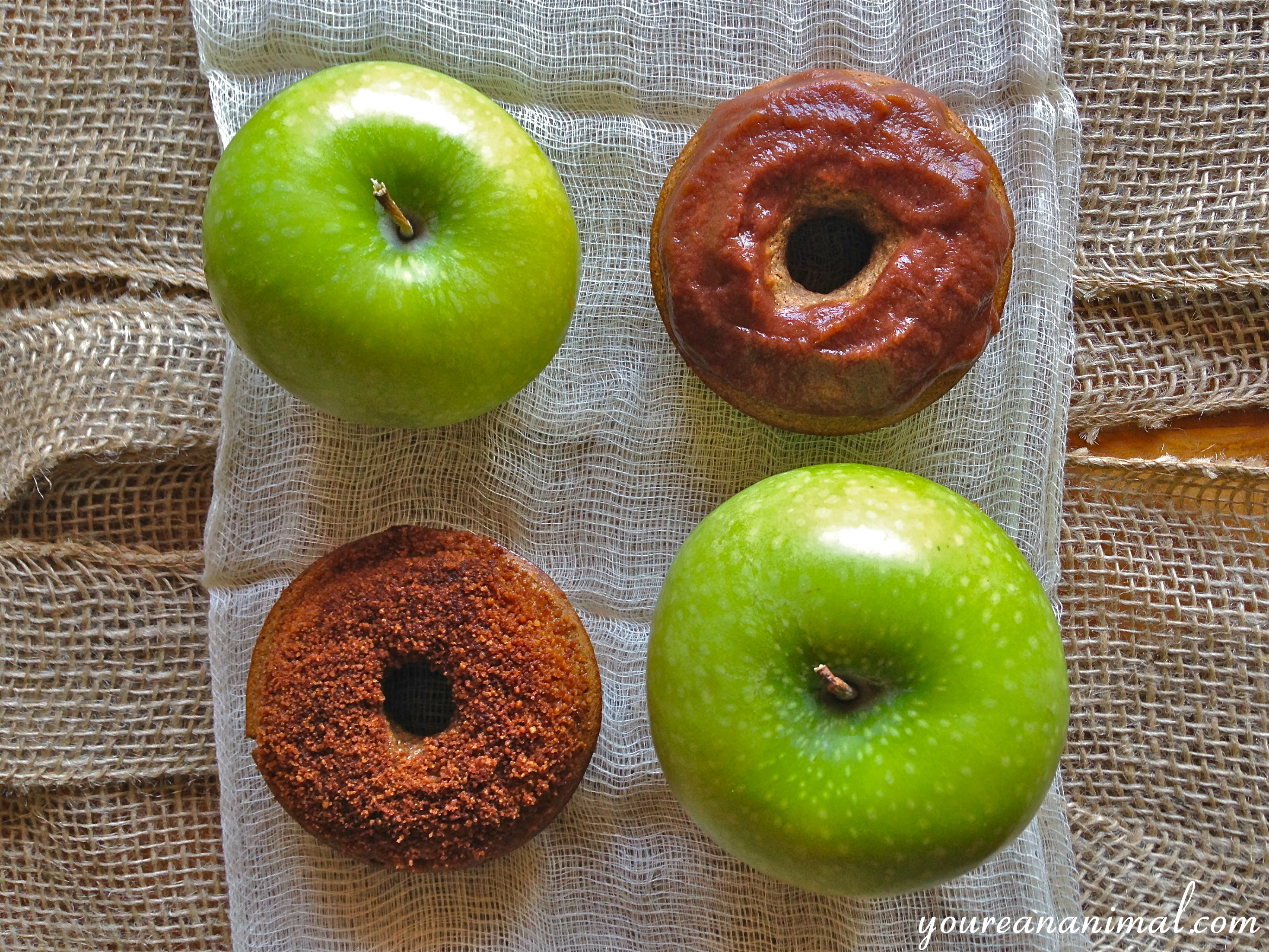 ---
Please note that some of the links in the above post are affiliate links that will take you to an Amazon.com page. If you choose to purchase a product featured in this post using an affiliate link, you will be directly supporting You're An Animal. Thanks!
---
http://nourishwild.com/cms/wp-content/uploads/2014/10/ABdonuts1.jpg
2937
2203
Morgan Carr
http://nourishwild.com/cms/wp-content/uploads/2016/02/Logo-Only-Large-300x212.png
Morgan Carr
2014-10-22 17:38:25
2016-02-27 21:09:50
Apple Butter Donuts (Grain-Free, Nut-Free, White Sugar-Free)