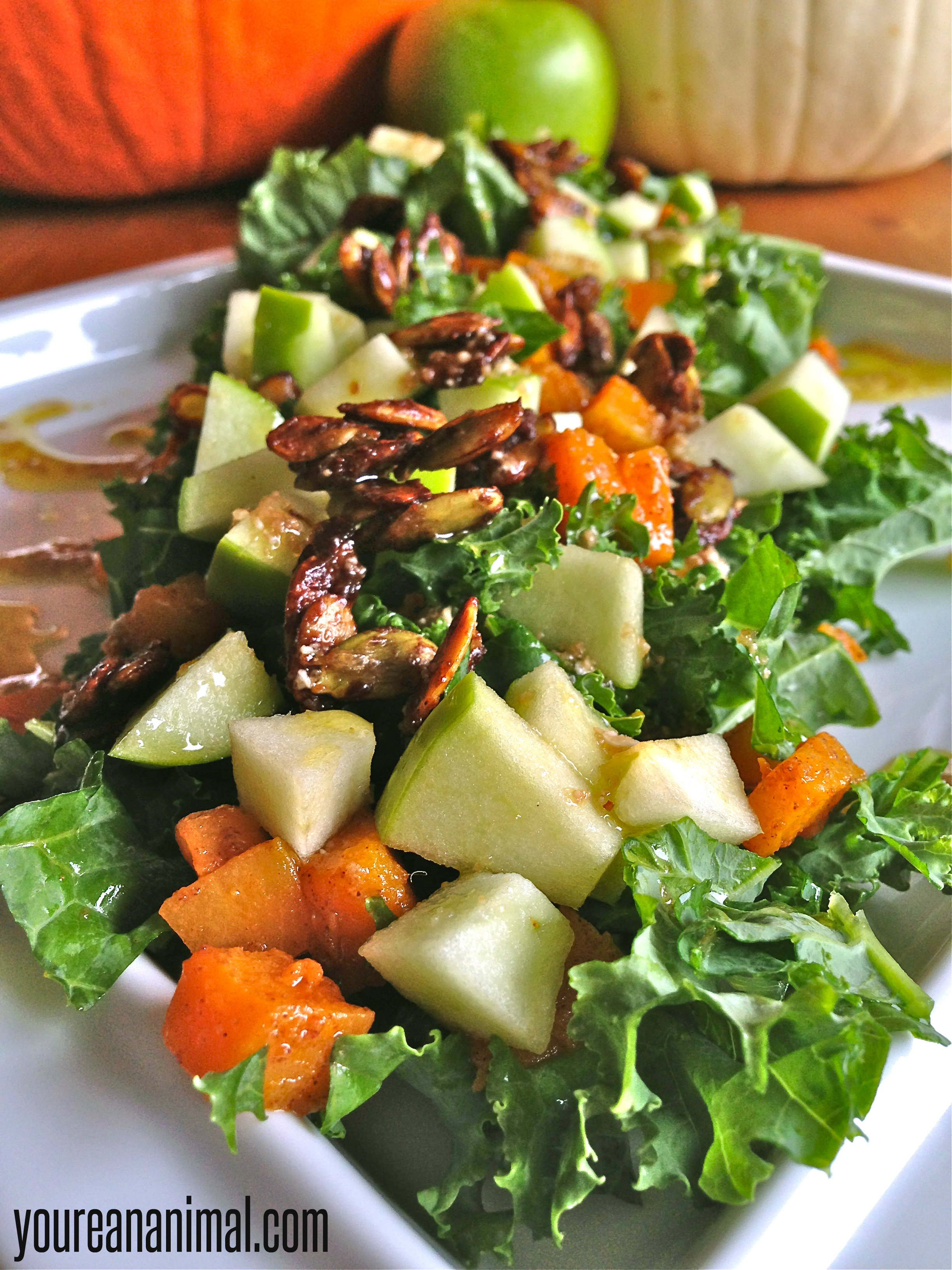 Autumn really is a great foodie season. Getting creative with the seasonal fruits, veggies, squashes, and spices has been really fun so far, and I love having a definite theme. Also, this is an amazing benefit of trying to consciously eat seasonal and local! A couple weekends ago, Andrew and I had dinner at one of our favorite restaurants here in RVA, Stella's. Stella's is a Greek restaurant owned by our friend Katrina, and we are frequent visitors. And by frequent, I mean pretty much all of the wait staff not only recognize us, but also know which appetizer is our favorite must-have. But one thing I love about Stella's is that while I do have my favorite appetizer that I always order, I almost always get a different entree. I know I'm not alone in saying that at most restaurants I find my go-to dish and never venture outside of that comfort zone. But at Stella's, I never know what I'm getting until I hear the specials. They have new specials all the time, and they're always amazing. So I often wait for the server to rattle off those little delicacy options before choosing my dinner. The last time Andrew and I ate at Stella's we tried the salad special… and I loved it so much I made my own version. Stella's version had a kale base, with butternut squash, radishes, and spiced pumpkin seeds. For my version, I swapped the radishes for apples, added my favorite Goat Cheese Balsamic Vinaigrette, and let the autumn lovin' begin.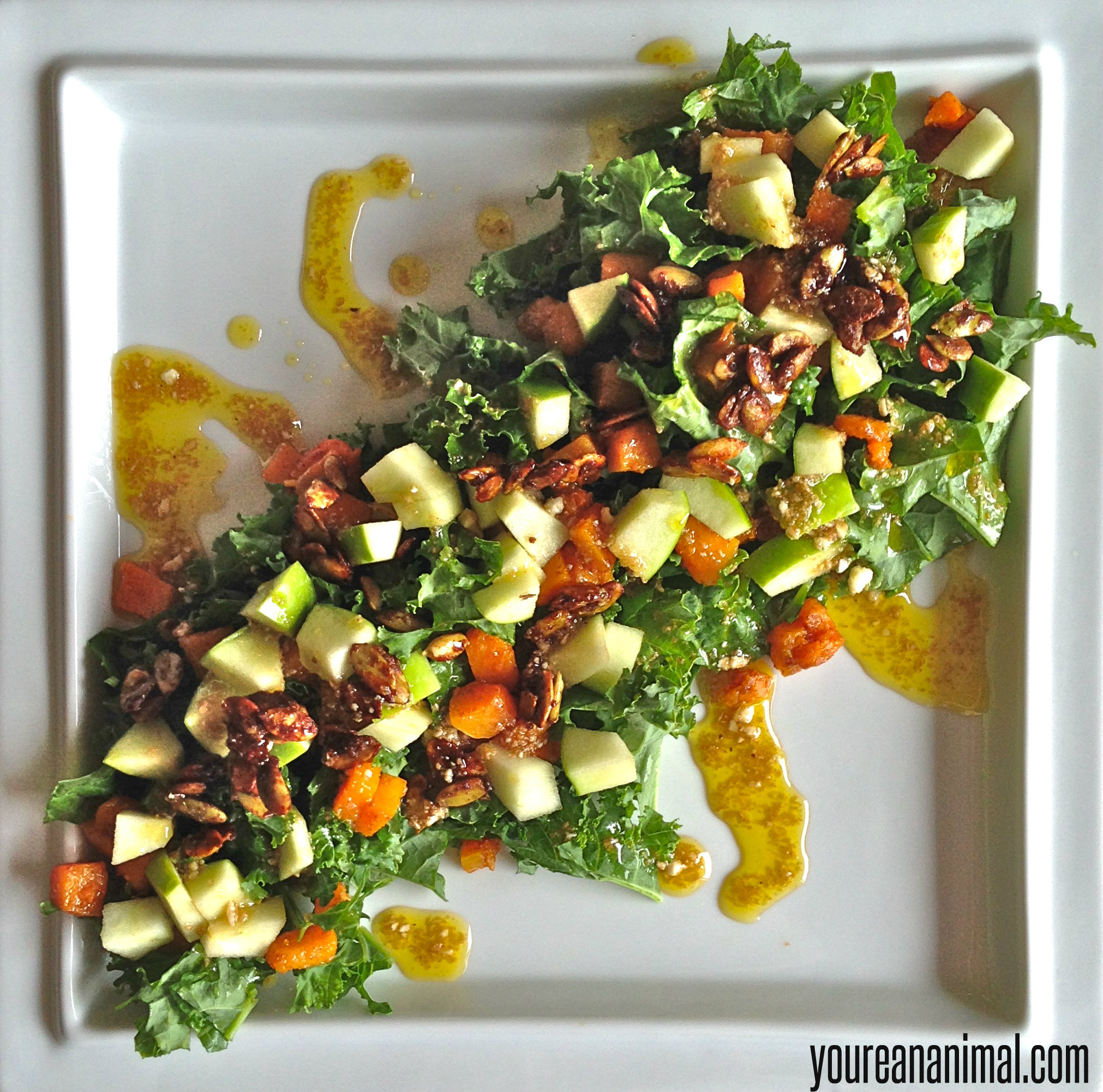 This salad perfectly embodies everything Fall. It's got fresh, crisp apples, creamy butternut squash (oh hellllooooo Vitamin A… win-win-win situation we've got going on here), and spiced pumpkin seeds that are a treat in themselves. Add the perfect blend of tangy and savory with the goat cheese balsamic dressing, and you've got a winner. Hearty kale just pulls that whole thing together for a healthy, mouth watering salad. You can make this a side dish at Thanksgiving (or you know… any other meal of the season), or add some protein (chicken or turkey perhaps?) and it's a meal in itself!
Remember how I said the spiced pumpkin seeds are a treat? Well, they are such a treat that they even get their own side recipe. Lucky little pepitas.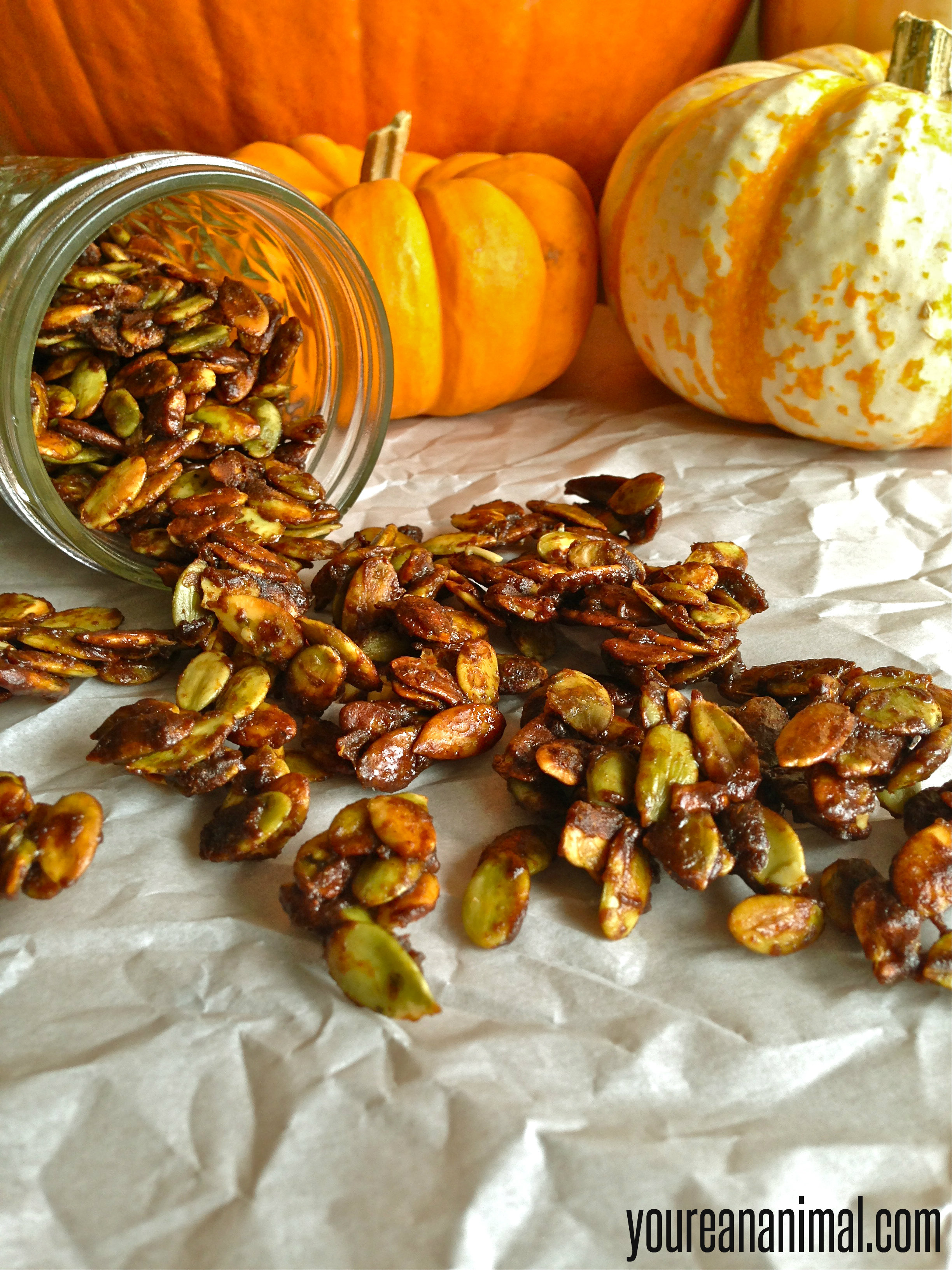 Spiced Pumpkin Seeds (aka Pepitas)
2 cups of Sprouted Pumpkin Seeds
1/3 cup of Coconut Palm Sugar
2 tsp of molasses
1 Tbsp grass-fed butter (I use Kerrygold)
1/2 tsp ground cinnamon
1/4 tsp salt
1/4 tsp paprika
1/4 tsp cumin
cayenne pepper to taste
Lay out a sheet of aluminum foil or parchment paper to transfer the seeds to once done.
Combine the coconut sugar, molasses, cinnamon, salt, paprika, cumin and cayenne in a small bowl. You may need to use your fingers to fully incorporate the molasses.
Place the seeds in a nonstick skillet, and toast them just slightly until they smell nutty and are lightly browned.
Pour the sugar spice mixture over the seeds, and stir to combine.
Add the butter.
Stir the mixture until the sugar and butter are melted, and the seeds are coated.
Quickly transfer the seeds to the foil/parchment and spread them out as much as you can.
Allow them to completely cool, then break up any chunks. Store in cool dry place, or fridge.
These pumpkin seeds are sweet and spicy, and are really what ties together this Autumn salad. They would also be perfect for a topping on pumpkin bread or muffins, or on a pie, or just eaten by themselves! Anywhere you would use spiced pecans, you can use these spiced pumpkin seeds.
The other elements of this recipe are also fantastic alone, which is why this salad is such a winner. The whole is greater than the sum of its parts, and the sum of its parts is already pretty bangin'. The spices from the pumpkin seeds are carried over to the butternut squash, which brings those two elements together. The tart crunch of the apples provides perfect contrast to the creamy sweetness of the squash, and that tartness of the apple is also in perfect harmony with the sour balsamic in the dressing. Seriously… have I sold you yet?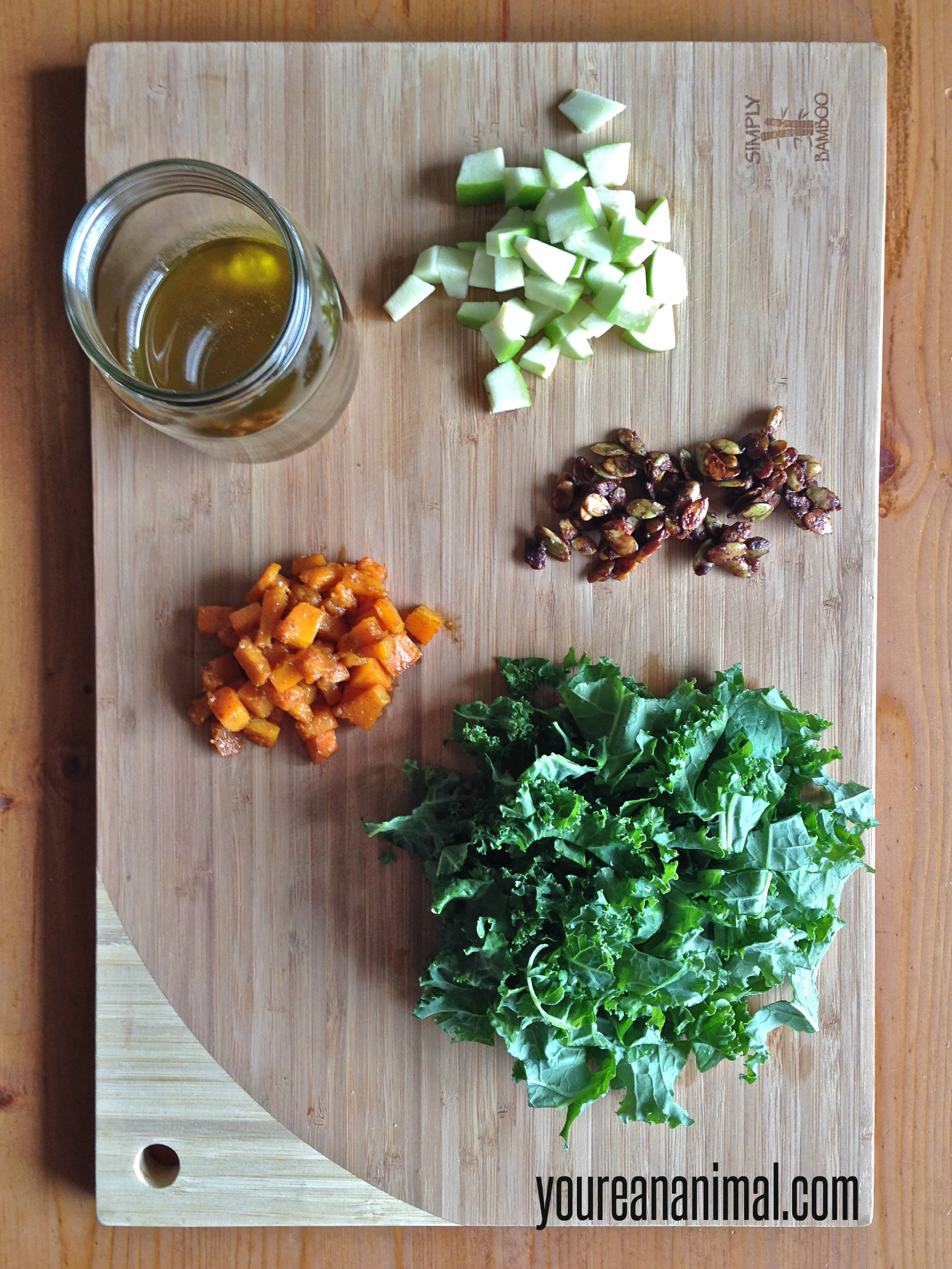 Autumn Salad
3-4 large leaves of kale, de-ribbed and chopped (about 4-5 cups)
1 cup of butternut squash, diced into 1/4 inch pieces
1 Granny Smith apple, diced into 1/4 inch pieces
Spiced pumpkin seeds (see recipe above)
1/4 tsp each cinnamon, salt, cumin, paprika
cayenne to taste
avocado oil or olive oil to saute squash
Goat Cheese Balsamic Vinaigrette (mix all ingredients together in a mixing bowl, or shake in a mason jar)

3 tbsp avocado or olive oil
1 tbsp balsamic vinegar
1/2 tbsp of soft goat cheese
1/2 tsp each of salt, pepper, onion powder, garlic powder, and dried yellow mustard powder
Heat avocado oil/olive oil in a medium skillet over medium heat.
Add diced butternut squash to the heated oil.
Add spices (cinnamon, salt, cumin, paprika and cayenne) to the squash. Stir to coat the squash in the spices.
Saute the squash, stirring occasionally, until the squash is fork tender.
Once the squash is cooked, assemble your salads, evenly distributing the kale, apples, squash and topping the salad with your desired about of spiced pumpkin seeds and balsamic vinaigrette.
This makes either 2 entree-sized salads, or 4 side salads. Enjoy!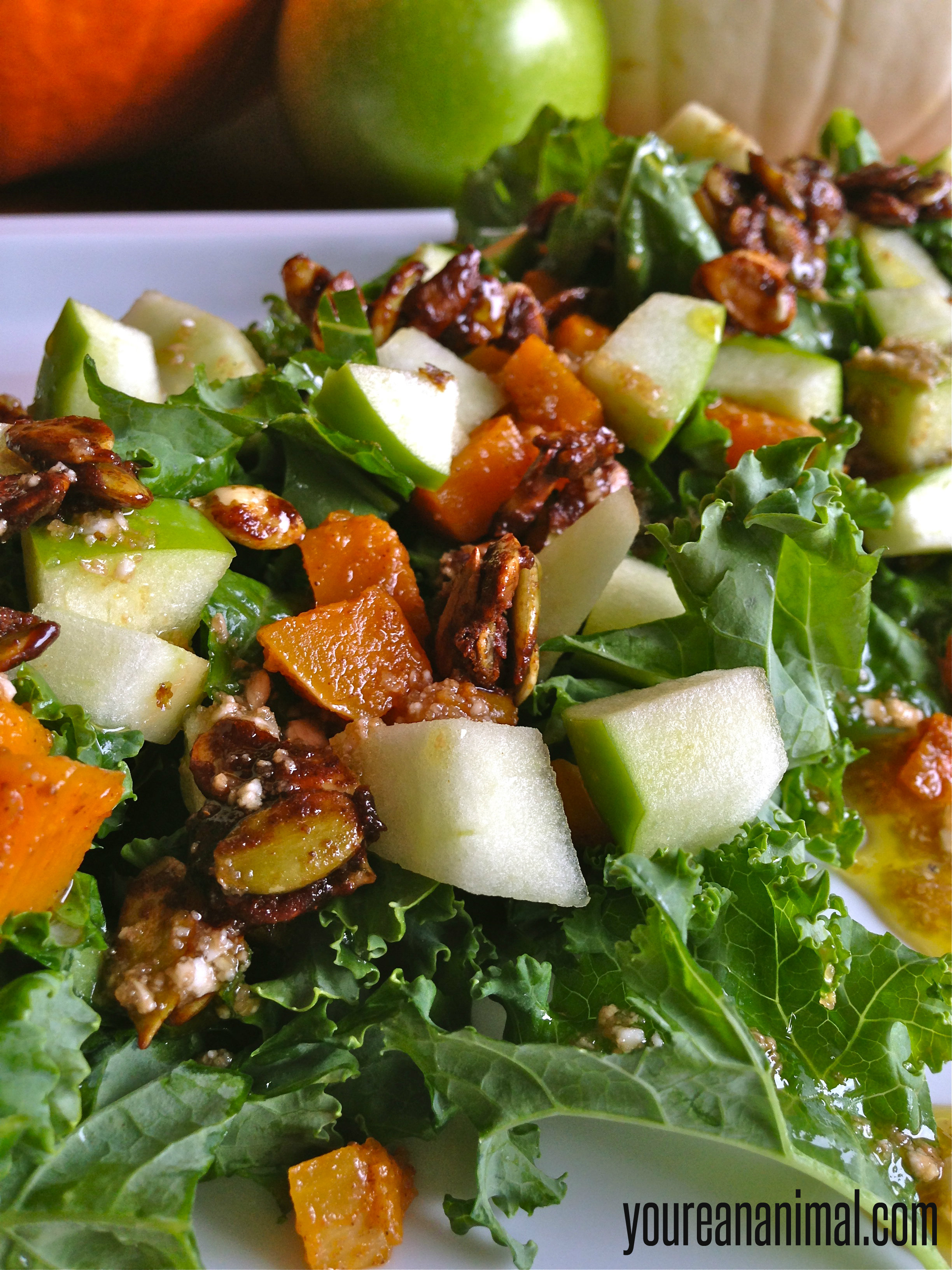 ---
Please note that some of the links in the above post are affiliate links that will take you to an Amazon.com page. If you choose to purchase a product featured in this post using an affiliate link, you will be directly supporting You're An Animal. Thanks!
---
http://nourishwild.com/cms/wp-content/uploads/2014/10/fallsalad15.jpg
3264
2448
Morgan Carr
http://nourishwild.com/cms/wp-content/uploads/2016/02/Logo-Only-Large-300x212.png
Morgan Carr
2014-10-12 18:55:50
2016-02-27 21:03:06
Autumn Salad with Spiced Pumpkin Seeds