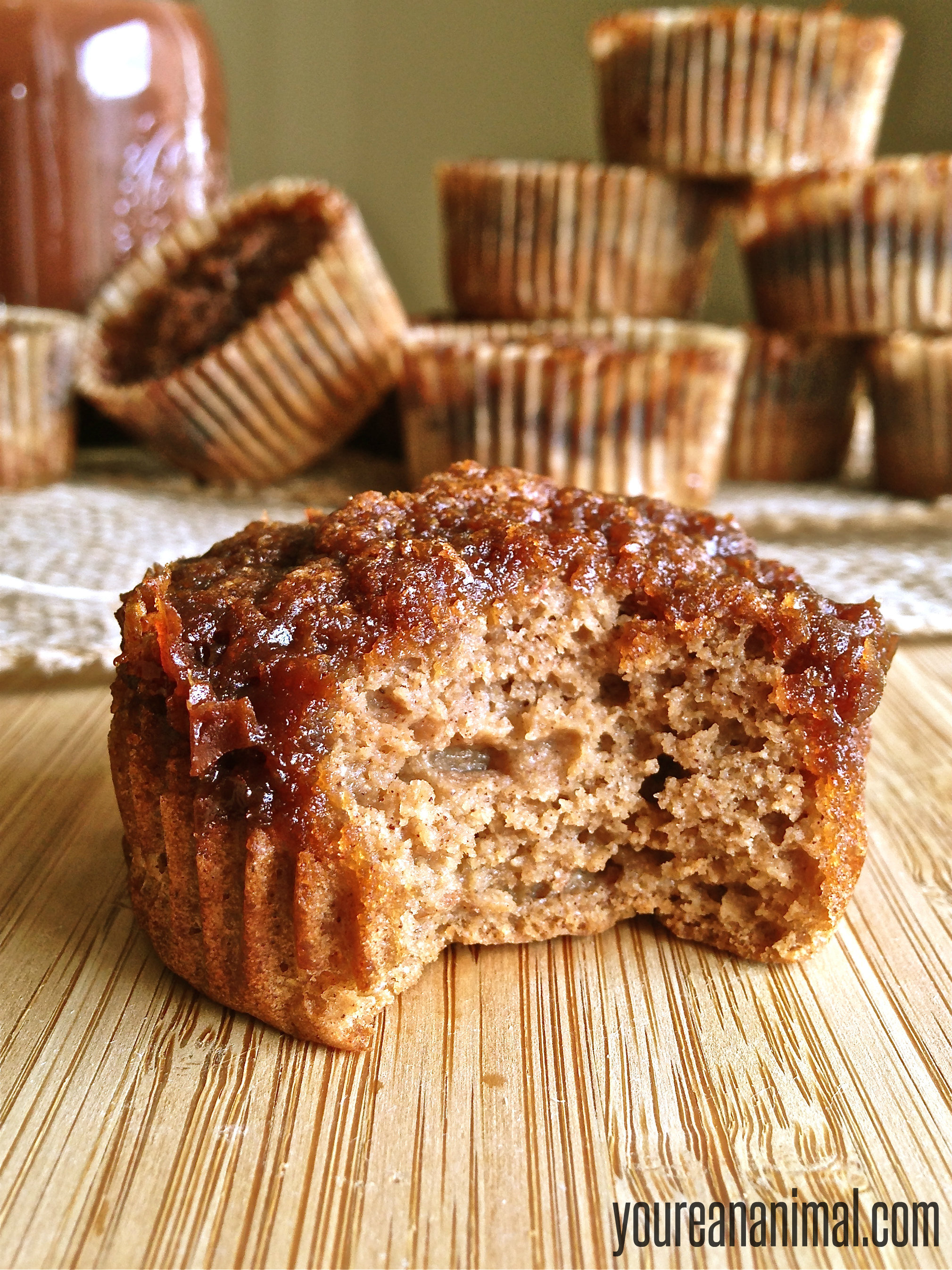 First, let me apologize for being MIA for a while. I'm in the midst of a 20-day work week… aka I haven't had a day off which means no time for recipe fun! But this morning I was determined to get something done before work. And oh, it was a gooood choice. Apple butter (for me) is something that has become as much a staple of fall as pumpkin errythang. I first discovered apple butter while living in Harrisonburg. Every fall, my friend and I would head to a Mennonite auction/market and it was there that my love affair with apple butter began. And until now, I didn't trust any other kind aside from that Mennonite-made goodness. I was most certainly not going to buy it from the store, and I don't have the opportunity to get to the farmers markets around here (one of the downfalls of working the Saturday morning shift). However, since we got a crockpot, I figured I'd try my hand at making me own. Whoa baby, is this stuff easy and delicious! So today, you all are getting a double whammy: Apple Butter recipe AND Apple Butter Muffins recipe! I'm going to start with the Apple Butter.
If you have never had apple butter before, it's essentially a spiced applesauce. But it also tastes like the manifestation of autumn itself. It has almost the exact same spices as a pumpkin spice combo, so just imagine those spices with an apple background rather than a pumpkin background and YUM. You can use apple butter in a lot of ways. I used to just eat it on an english muffin, or mix it in with oatmeal. Now, I'll probably drizzle it over ice cream (maybe even make an apple butter ice cream… hmmm), use it in these delectable muffins, or eat it by the spoonful 🙂 The possibilities are as wide as your imagination! Oh and by the way… it's ridiculously easy to make. I don't even peel the apples, mostly because I think it's a waste of time. And all of the nutrients are in the peels! You end up blending it anyway, so keep those peels people!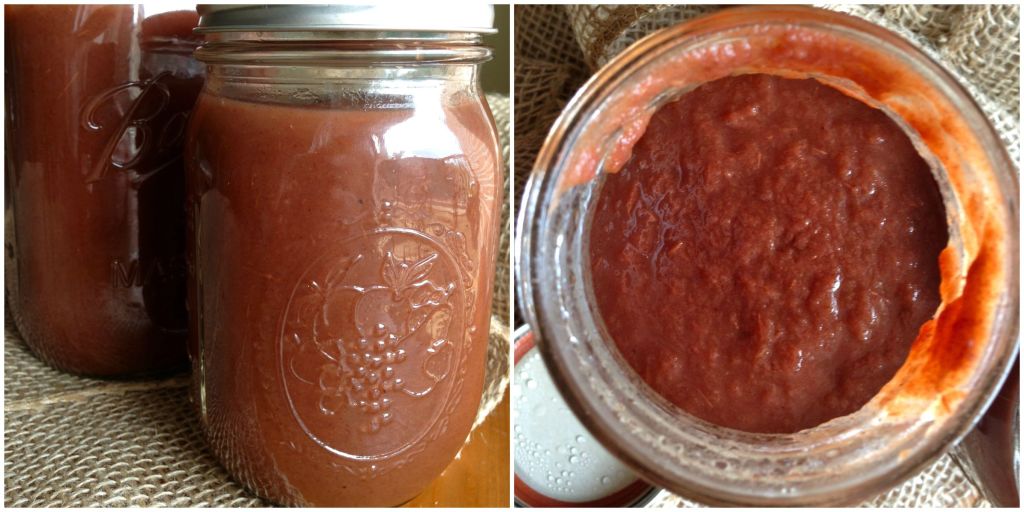 Crockpot Apple Butter
12 (organic) apples (I use Gala, because they're my favorite)
3 tbsp ground cinnamon
rounded 1/2 tsp ground clove
rounded 1/2 tsp ground nutmeg
1/4 cup honey
Core the apples, and chop into 2-3 inch chunks. No need to peel!
Place in the crockpot.
Add the spices and honey, and stir to combine with the apples. Doesn't need to be perfect, just incorporate it so the spices don't dry out/burn sitting on the top.
Cook the mixture on low for 10 hours.
At the end of the 10 hours, use the back of a ladle/spoon to mash the apples.
Spoon the mixture into a blender (you know I love my Ninja!) and blend until smooth.
Store in the fridge, and enjoy!
Makes about 48 oz, depending on the size of your apples.
Okay, now onto the muffins. I love me a good muffin. After switching to a mostly grain-free lifestyle, breakfast pastries and baked goods were definitely the things I missed the most. To me, breakfast wasn't breakfast without some kind of sweet carb. I've learned to move past that, and now usually have one of my Superfood Green Smoothies for breakfast, but every once in a while I like to get that sweet treat. And since it's fall time, I really wanted to do something with my apple butter obsession. And with that, Apple Butter Muffins were born! These muffins are fluffy, moist, and sweet. The apple butter taste is very mild, so if you want a spicier muffin*, you can add about 1 tsp cinnamon, 1/4 tsp clove and 1/4 tsp nutmeg to your muffin batter. Or for lighter flavor, leave out the extra spices. It's up to you! I also added the sweet topping, because I did not add any sugar to the muffin batter. I love a crisp, sweet topping, and it worked perfectly. However, if you don't want the extra sugar, you can certainly leave it out. Or simply drizzle apple butter over the top. Any and all options would be delicious!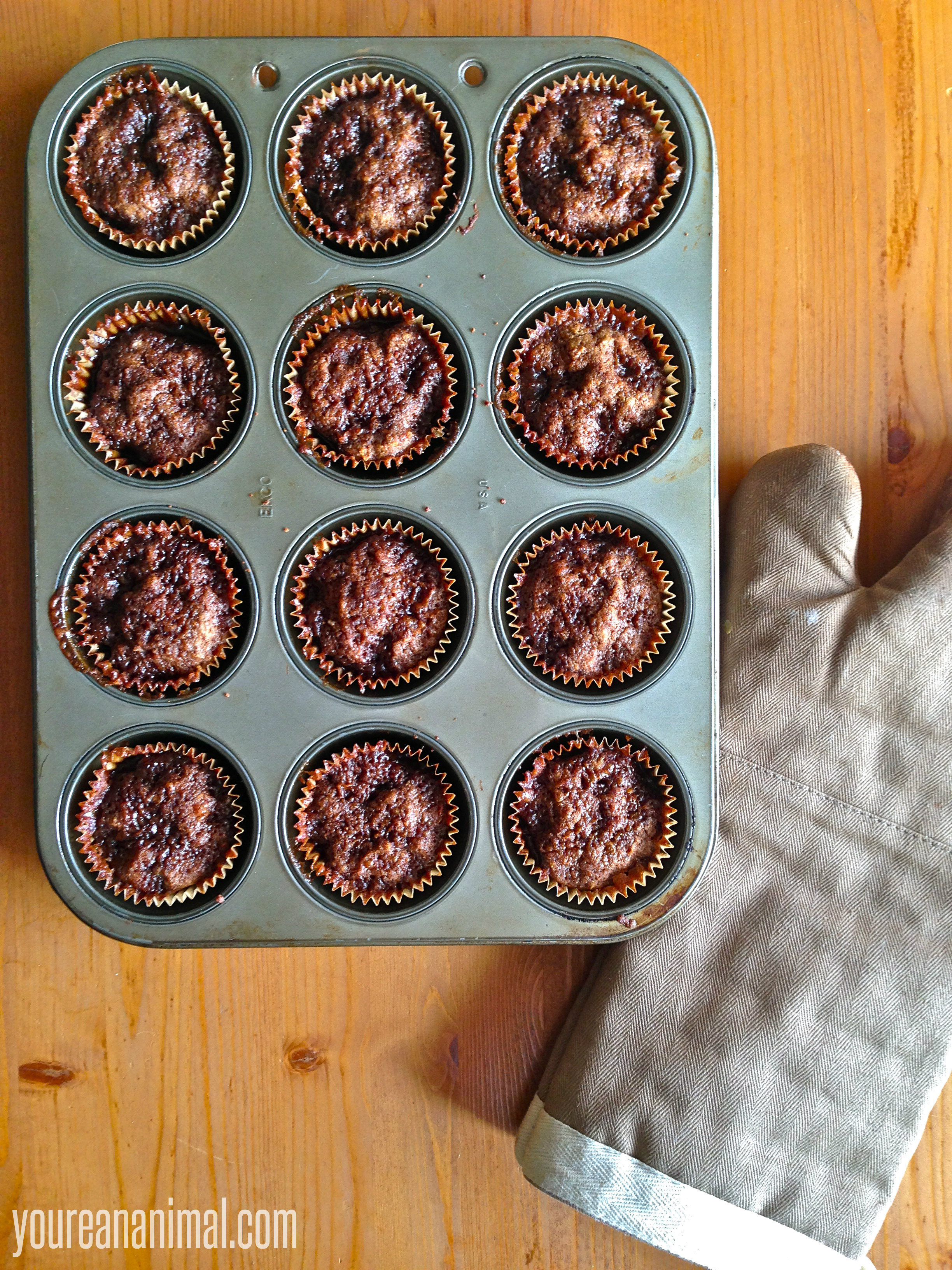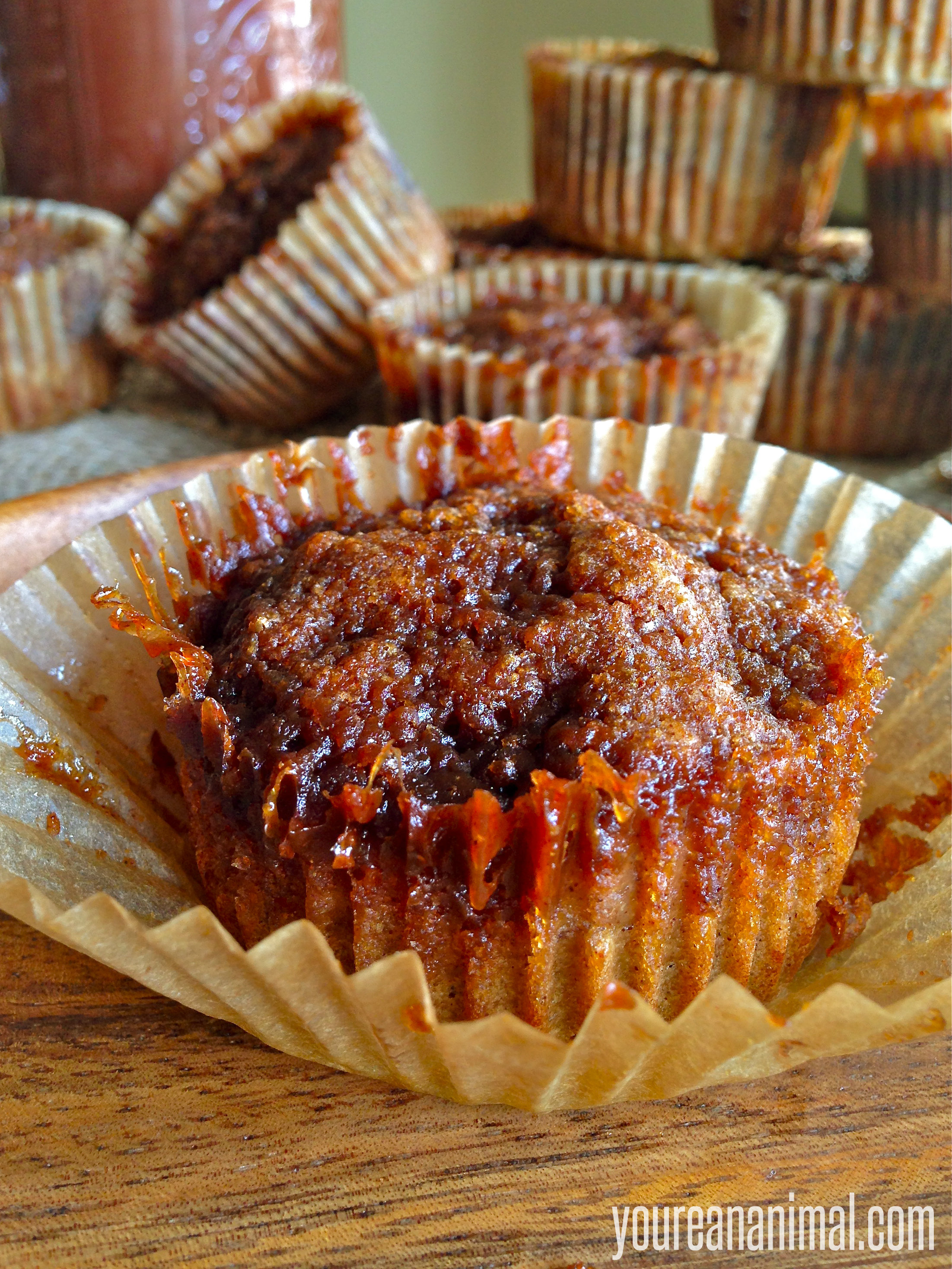 Apple Butter Muffins
1 cup apple butter
4 eggs
1/4 cup + 2 tbsp Coconut Flour
1/4 cup Potato Starch (Unmodified)
2 tbsp Arrowroot Starch Flour
1/2 tsp apple cider vinegar
1/2 tsp baking soda
1/2 tsp baking powder (note that some baking powders do contain corn starch)
optional spices*
Sugar Topping:

2 tbsp grass-fed butter, softened (I use Kerrygold)
3 tbsp potato starch
1/2 cup Coconut Palm Sugar
1 tbsp apple butter
Preheat the oven to 350 degrees F.
Line a muffin tin with muffin papers, or grease the pan liberally.
In a large mixing bowl, combine the 1 cup of apple butter, eggs, and apple cider vinegar.
Sift in the dry ingredients (coconut flour, potato starch, arrowroot, baking soda, baking powder, and optional spices).
Mix the ingredients by hand until smooth. Do not over mix, the batter should be light and loose.
Spoon the batter into your muffin tin, filling each cup about 2/3 full.
In a smaller mixing bowl, use a fork to combine all of your sugar topping ingredients. The mixture should be in the consistency of wet sand.
Evenly distribute the sugar topping over the muffins, pressing the topping into the batter slightly.
Place the muffins in the oven, and bake for 17-19 minutes, or until the muffins have risen and spring back in the center when touched.
Makes 12 regular sized muffins.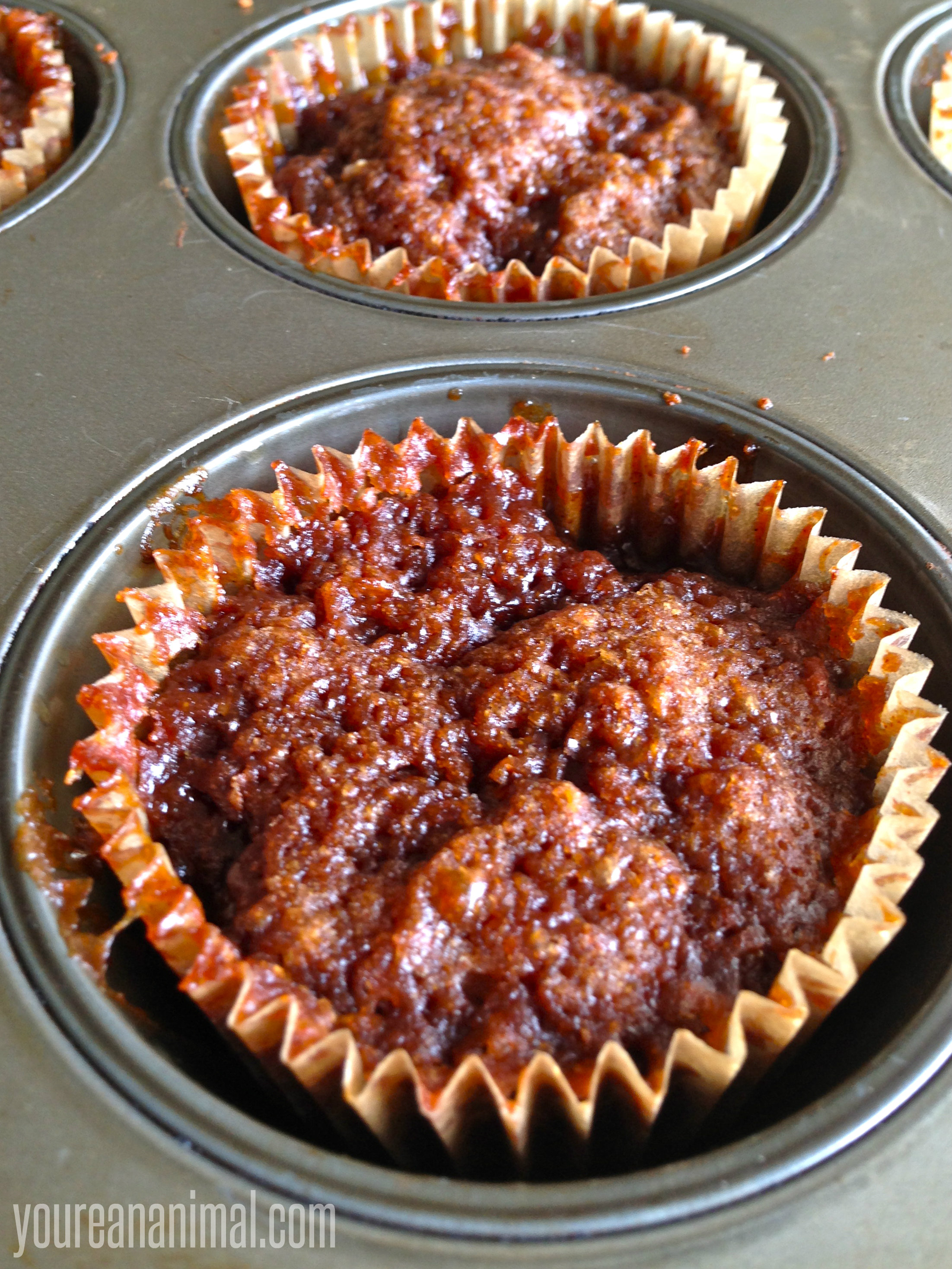 ---
Please note that some of the links in the above post are affiliate links that will take you to an Amazon.com page. If you choose to purchase a product featured in this post using an affiliate link, you will be directly supporting You're An Animal. Thanks!
---
http://nourishwild.com/cms/wp-content/uploads/2014/10/abmuffin20.jpg
2693
2019
Morgan Carr
http://nourishwild.com/cms/wp-content/uploads/2016/02/Logo-Only-Large-300x212.png
Morgan Carr
2014-10-07 11:56:58
2016-02-27 21:10:11
Apple Butter Muffins (Grain-Free, Nut-Free, White Sugar-Free)