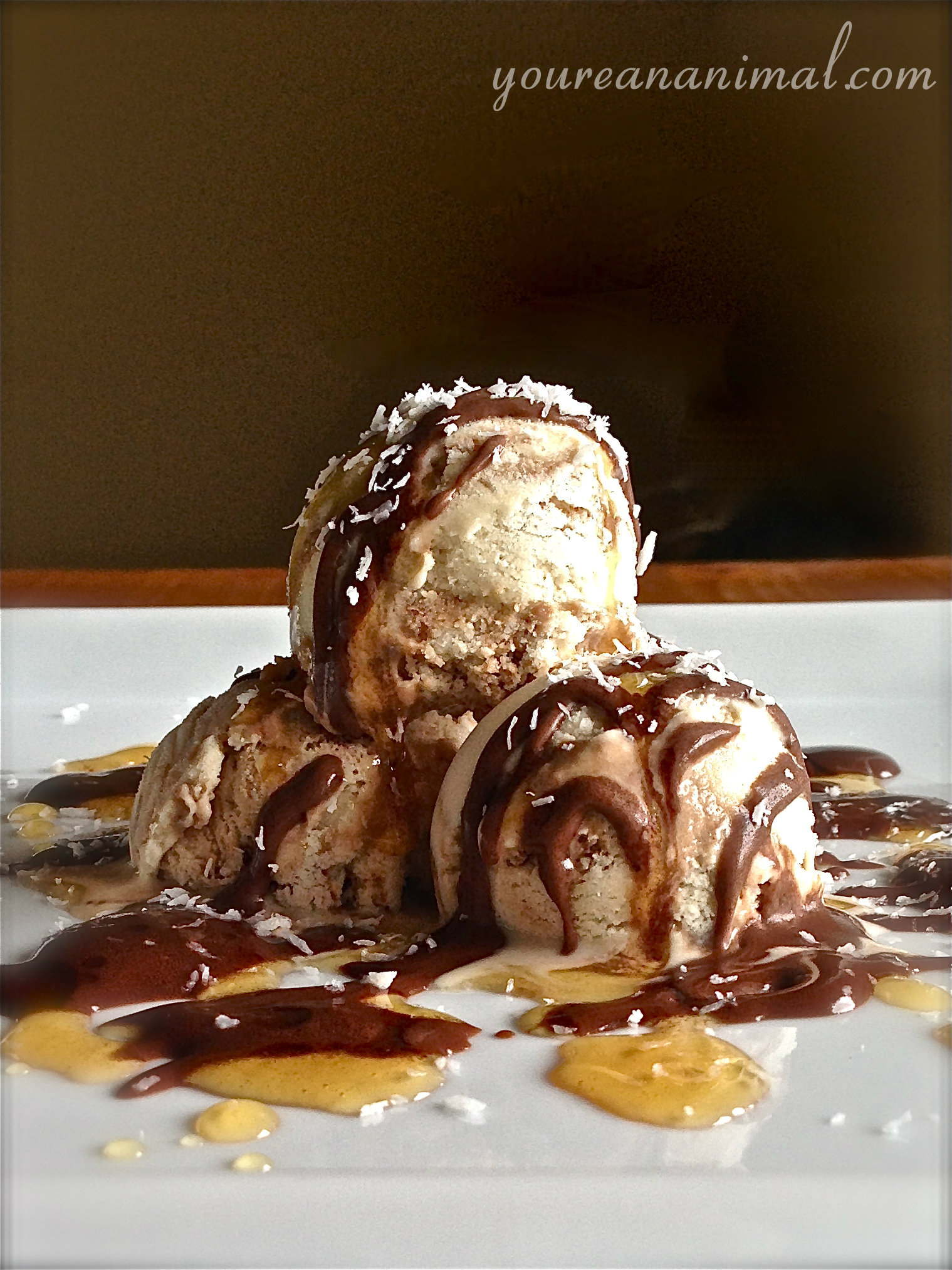 First of all, let me express my excitement about us purchasing an ice cream maker: EEEEHHEEEEEEYEAH! This is the one we got,
and we love it! Ice cream is definitely, for sure, abso-posi-lutely my favorite dessert. I don't know what it is, but I have always been an ice cream addict. Which is kind of odd for a lactose-intolerant girl, but I have found dairy-free heaven. Admittedly, my favorite flavor is mint chocolate chip (which, by the way, I have a recipe for that too… we've made it at least 5 times already. Stay tuned :)). But we just got back from our vacation in Portland, Oregon, and in my post about our trip I talked about Salt & Straw and how we both fell hopelessly in love with their dairy-free ice cream. So as soon as we got back, I started working on an ice cream flavor inspired by their Coconut with Petunia's Salted Caramel Bars flavor. Their ice cream had pieces of a vegan/gluten-free caramel cookie, with ribbons of salted caramel and chocolate ganache. While I haven't had the opportunity to explore the idea of a vegan/gluten-free caramel cookie, I was able to throw together a pretty awesomely delicious (toot toot) dairy-free, white sugar-free coconut ice cream with salted caramel and chocolate ganache swirled in ever so lovingly. And seriously, I can't believe how good this stuff is. This is a situation where the whole is certainly greater than the sum of its parts (in my opinion). The ice cream, caramel, or chocolate each alone is good, but together they are fantastic. While I've never had a Samoa Girl Scout cookie (weird, I know… and I was even a Girl Scout. I have no excuses.) I imagine the flavor profile is the same. In fact, I almost named this "Dairy-Free Samoa Ice Cream," except I think they're called "Caramel Delights" now? All updated and modern… I can't keep up. I can't say enough about this ice cream (or its Salt & Straw inspiration), but I think I'm going to let the pictures speak for themselves…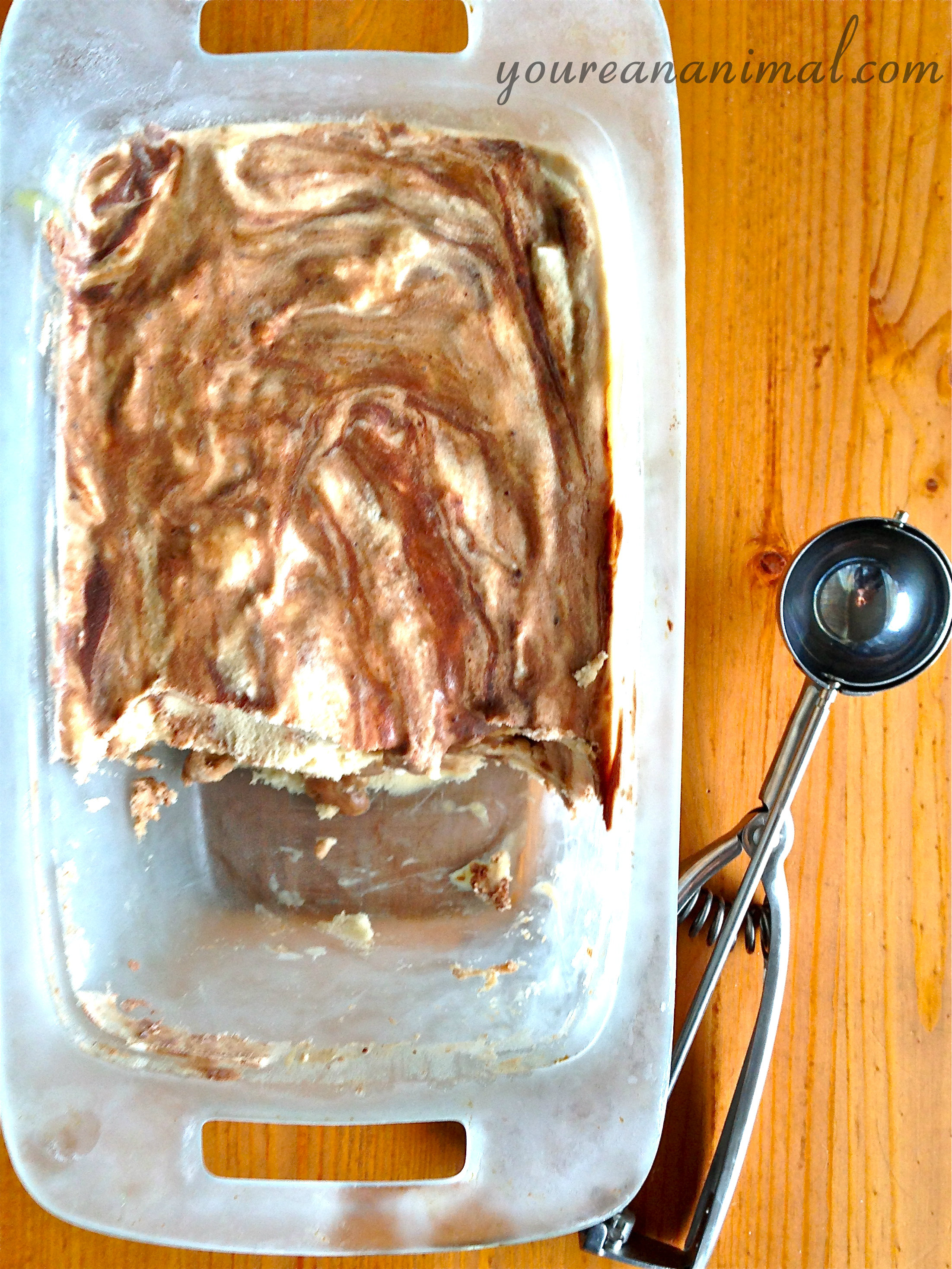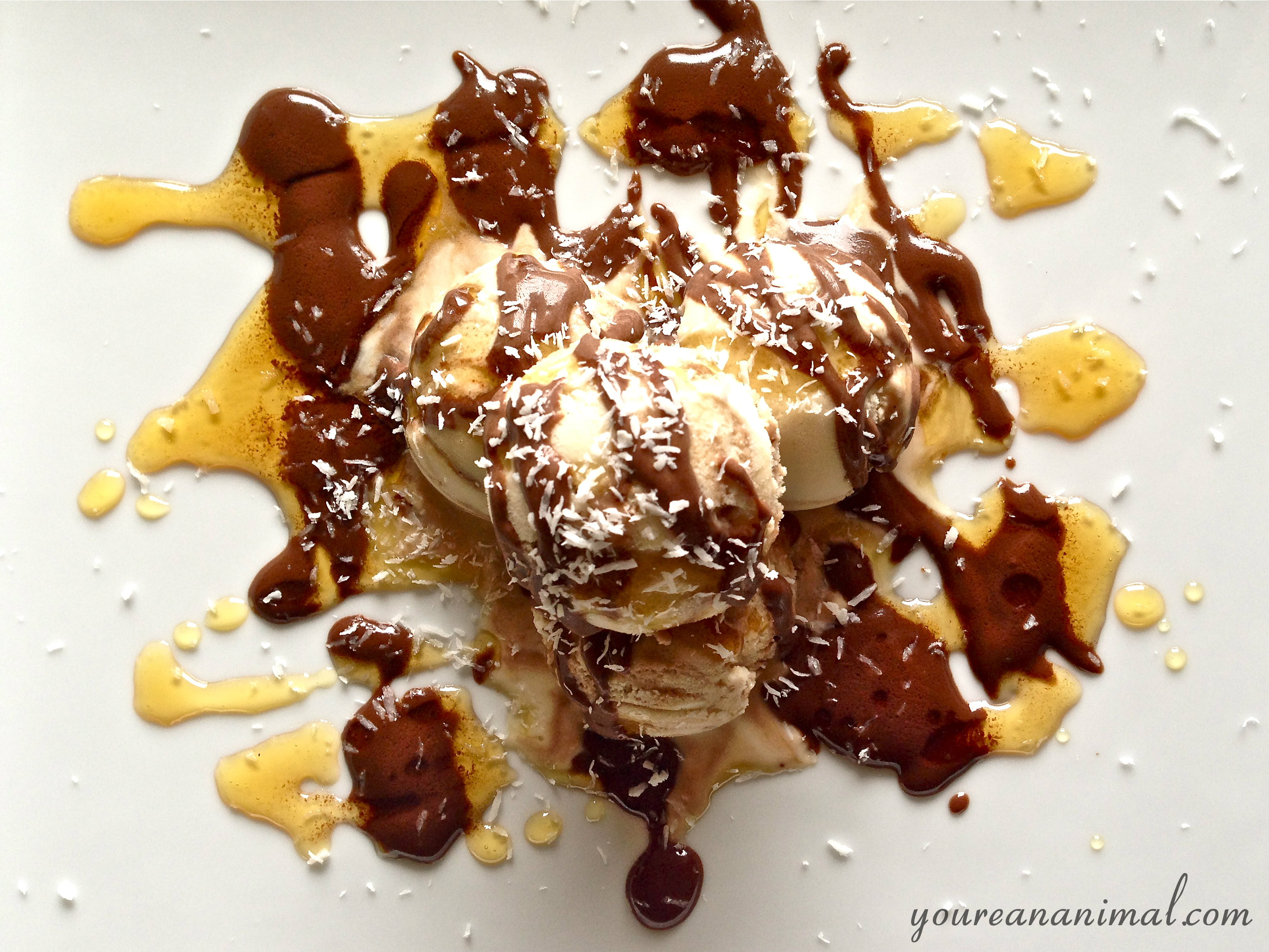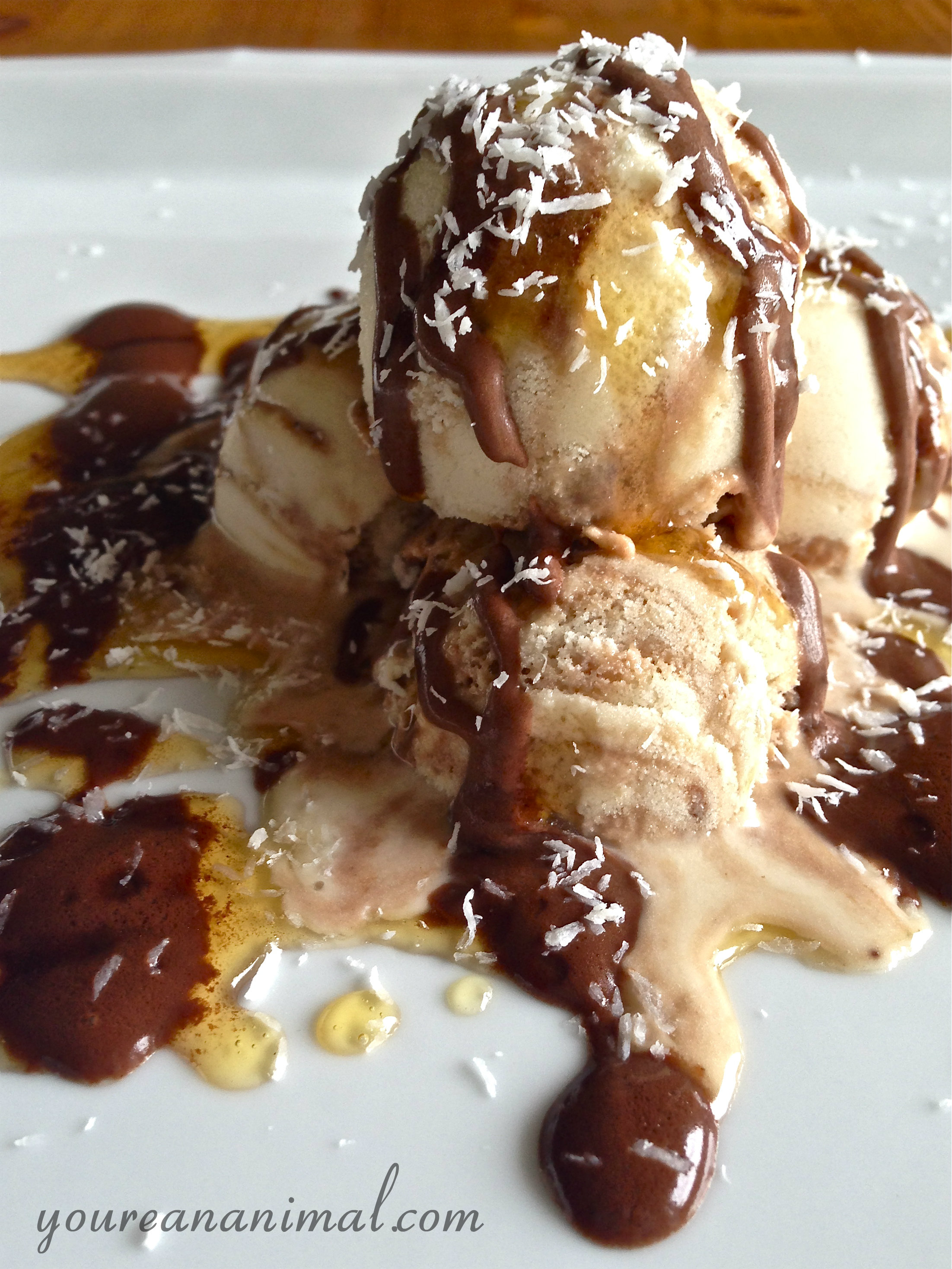 Dairy-Free Coconut Ice Cream with Salted Caramel and Chocolate Ganache Swirl
Start with making the ice cream base. In a medium-sized sauce pan, add 2 cans of the coconut milk, the arrowroot starch (this starch helps keep the ice cream creamy and scoopable, even after being in the freezer), the eggs, 1/4 cup of honey or maple syrup, and 1 Tbsp of vanilla extract. Stir to combine, trying to get as many lumps out as you can, and making sure the eggs are broken up and thoroughly mixed in.
Heat this mixture on low, stirring continuously, until it is warm/hot to the touch, but not boiling (you do not want scrambled egg ice cream).
Once the mixture is warm, put the mixture in the refrigerator (I usually just put the whole pot into the fridge so as to not dirty up another bowl) and allow the mixture to completely cool (at least 2-4 hours).
While your ice cream base is chilling, make your caramel and chocolate ganache.
Start with your caramel sauce. I got this caramel recipe from An Edible Mosaic, so if you have any issues, you can also refer to her post.
In a small/medium saucepan, add 1/2 of a can of coconut milk, 2 Tbsp of honey/maple syrup and 2 Tbsp of coconut palm sugar. Bring this mixture to a boil, then reduce to a simmer, and stir frequently for about 15 minutes, or until the mixture thickens and turns a nice, deep amber brown. Remove the mixture from the heat, and add 1 Tbsp of grass-fed butter (or coconut oil for dairy-free), 1/2 tsp of sea salt, and 1/4 tsp of vanilla extract. Stir to incorporate, then pour your caramel into a separate bowl to allow it to cool.
Next, make your chocolate ganache. Again, in a small/medium sauce pan, add the remaining 1/2 can of coconut milk, 1/4 cup of dark chocolate/chocolate chips, 2 Tbsp of coconut oil (this will help the ganache set up and become firm, but not crunchy, when frozen), and 2 Tbsp of cocoa powder. Heat this mixture over medium/medium-high heat to melt all of the ingredient together, and allow it to thicken. I let mine simmer, stirring constantly, until it was the consistency of a thick, hot fudge sauce. Once thickened, strain the sauce into a separate bowl to eliminate any lumps of cocoa powder, and to allow the sauce to cool.
Once your ice cream base is completely cooled, add your base to your ice cream maker, straining it with a sieve as your pour the mixture in in order to eliminate all lumps of arrowroot and egg, and process according to manufacturer instructions.
Scoop about 1/3 of your ice cream into the container you will be storing your ice cream in, and then drizzle about 1/3 each of your caramel sauce and chocolate ganache over your ice cream. Use a butter knife to swirl/fold the caramel and chocolate into your ice cream. Repeat this process two more times, with the rest of your ice cream, caramel, and chocolate. Allow your ice cream to harden in the freezer, and serve when ready! Or eat it as soft serve right away, if you're like me and can't resist :).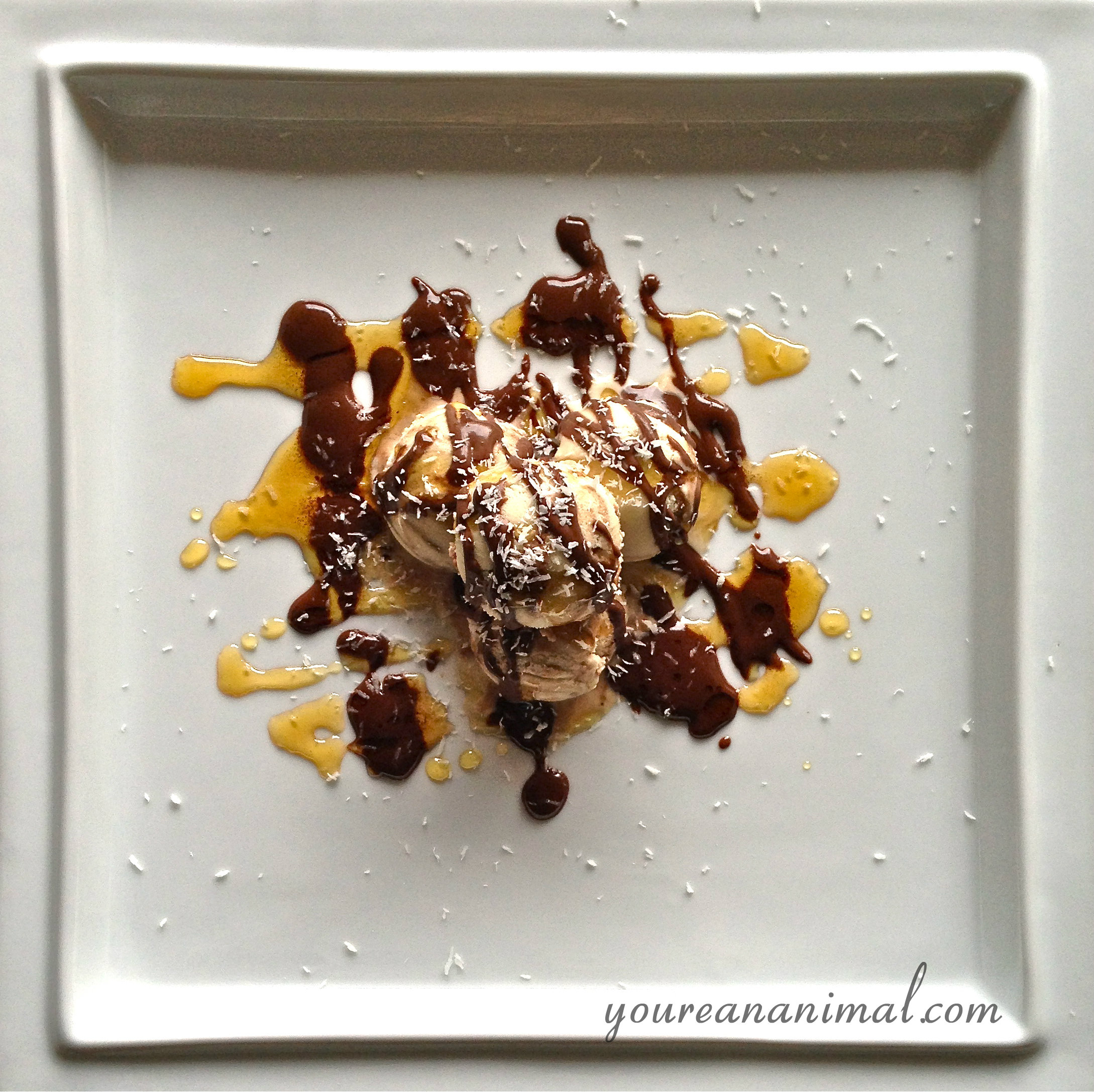 Items featured in this post:


---
Please note that some of the links in the above post are affiliate links that will take you to an Amazon.com page. If you choose to purchase a product featured in this post using an affiliate link, you will be directly supporting You're An Animal. Thanks!
---
http://nourishwild.com/cms/wp-content/uploads/2014/09/CCCicecream8.jpg
2026
1519
Morgan Carr
http://nourishwild.com/cms/wp-content/uploads/2016/02/Logo-Only-Large-300x212.png
Morgan Carr
2014-09-07 14:48:37
2016-02-27 21:24:05
Dairy-Free Coconut Ice Cream with Salted Caramel and Chocolate Ganache Swirl (White Sugar-Free): Inspired by Salt & Straw