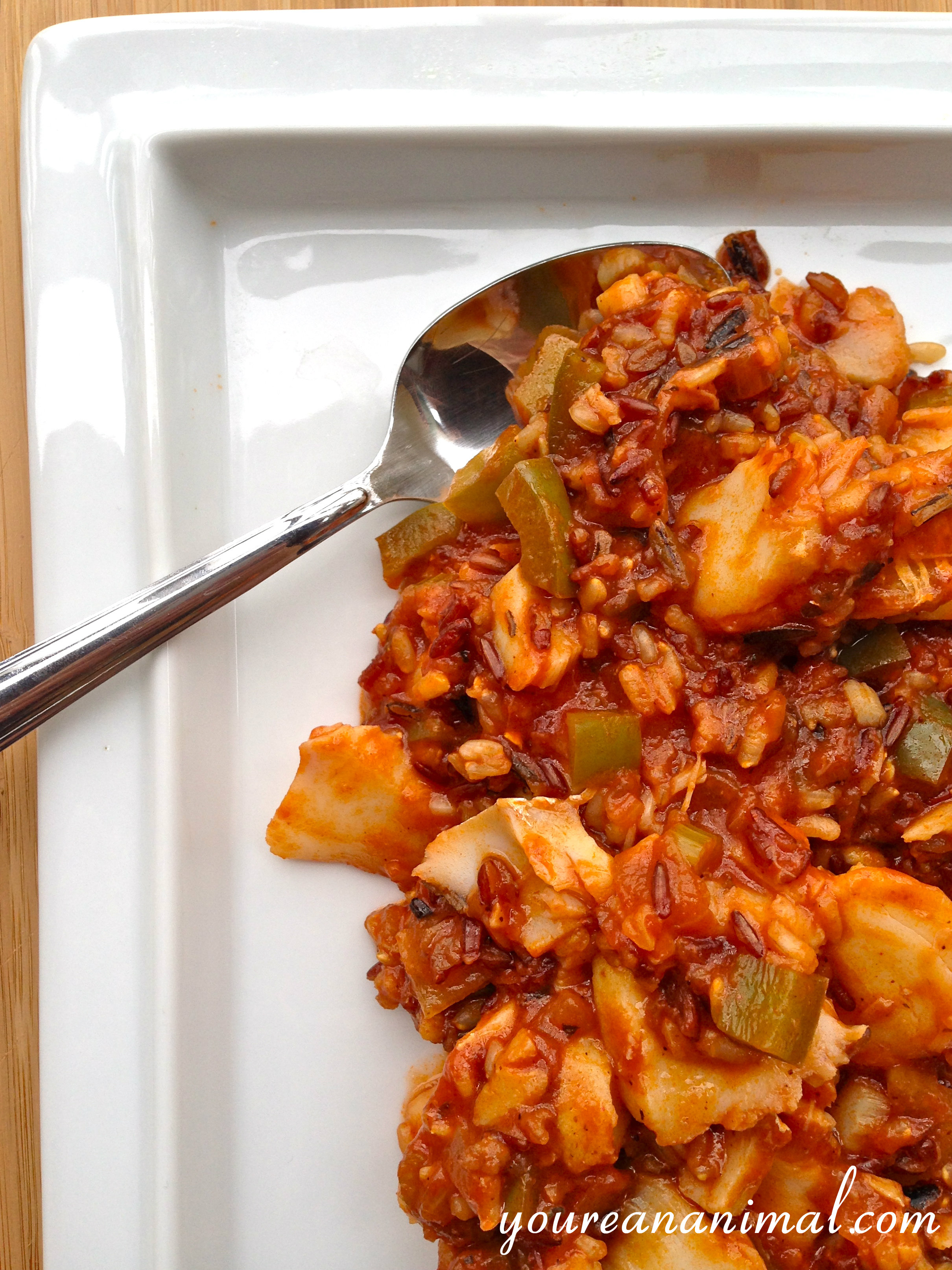 Oh my my. I could eat this for every meal for a week, no joke. This recipe came from our need to stretch our budget a little bit farther, as money has been a little bit tight. So instead of housing $20 worth of cod in one sitting, we decided to draw it out by putting it in this oh-so-yummy-in-my-tummy jambalaya-esque stew. Now hear me out, you Nawlins die-hards. I say jambalaya-esque because I know it is not a tried and true jambalaya recipe, and I am sure there are rules and regulations that I know nothing about when it comes to cooking a traditional jambalaya. But that being said, the flavors and composition are definitely a solid nod to the Louisiana specialty, so I will leave it at that. This stew though is one of those comfort foods that makes you want to curl up on the couch with a big ol' bowl and watch a movie with wine and a blanket. Now if that isn't a cozy thought, I don't know what is. Warm, hearty, filling, and flavorful. Plus it makes a lot of food, so perfect for a family meal or for leftovers! Both Andrew and I get two full meals out of this recipe. And bonus! This is absolutely one of those meals that actually tastes even better the next day. You can easily substitute any protein in this recipe, or add sausage, chicken and shrimp for that more traditional jambalaya mix, but if you're like us and want to get some quality seafood and make it last, I would definitely suggest sticking with the cod!
This whole week was devoted to preparing for a little obstacle race we like to call the Spartan Race. And by "little obstacle race" I mean actually one of the most physically grueling events I have ever put my body through. So in an effort to bulk up a little before the race, we ate way more carbs/grains than usual, including rice in this jambalaya. However, we found a sprouted rice trio (link in recipe below) that we loved with this meal, didn't make our tum-tums ache, and filled us up to the brim, so it turned out well.
So… let's talk about this Spartan Race. For those who have never heard of such a thing, maybe you should keep it that way. Just kidding, kind of. Yesterday we did the Virginia Super Spartan, which is the middle level of their 3 race options in terms of distance. The catch, however, is that this particular race happened to be at Wintergreen, which is a ski resort here in Virginia. And the race took place on the double black diamond mountains. Which means we spent 5 hours hiking/slipping up and down a muddy (it rained) 7.2 miles of mountains, with challenging obstacles strategically placed throughout. We heard several people saying this race was harder than many of the "Beast" level Spartan races, because while those races are longer in distance, they aren't usually on mountain sides. Oh and also NBC filmed it. Which to me says it was "something special." Yeehaw. We made it over the finish line, but just barely. Needless to say, I'm spending most of today on the couch.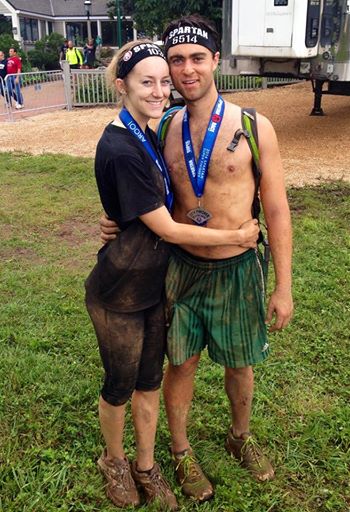 Cod Jambalaya
about 1 lb of wild cod
1 small yellow onion, chopped
1 green pepper, chopped
2 stalks of celery, chopped (make sure the pepper and celery are chopped to approximately the same sized pieces)
1.5 cups of Truroots Organic Accents Sprouted Rice Trio or rice of your choice
8 oz of chicken stock
2 cups of water
16 oz of tomato sauce
approximately 1 tsp each of celery salt, paprika, chili powder, garlic powder and onion powder
approximately 1/2 tsp each of salt, black pepper, and italian seasoning
cayenne pepper to taste (I only use a couple dashes, but I'm not a fan of spicy foods)
Preheat the oven to 400 degrees. Sprinkle the cod with a pinch of the spice mix.
Cook the cod in the oven for approximately 15 minutes, or until the cod has split open. Let rest once cooked.
In a large pot with a lid, saute the onion until soft and translucent.
To the pot, add the water, chicken stock, and rice. Bring the mixture to a boil, then reduce to simmer.
Cover and cook the rice for about half of the designated time on the package (about 15 minutes for the Truroots Sprouted Rice Trio).
Half way through cooking the rice, add the peppers, celery, tomato sauce, and spice mix, and stir to incorporate.
Replace the lid on the pot, and cook the rice mixture for the remaining time based on the package (for the Truroots trio, about 10 minutes).
Turn off the heat, and add the cod, breaking it into large chunks, and folding it in.
Replace the lid of the pot once again, and allow the mixture to steam, without added heat, for another 10 minutes.
Most of the liquid should be absorbed by the rice, but some will remain for a thick, saucy mixture. Once done steaming, stir one last time to fluff the rice and incorporate all of the ingredients. Enjoy!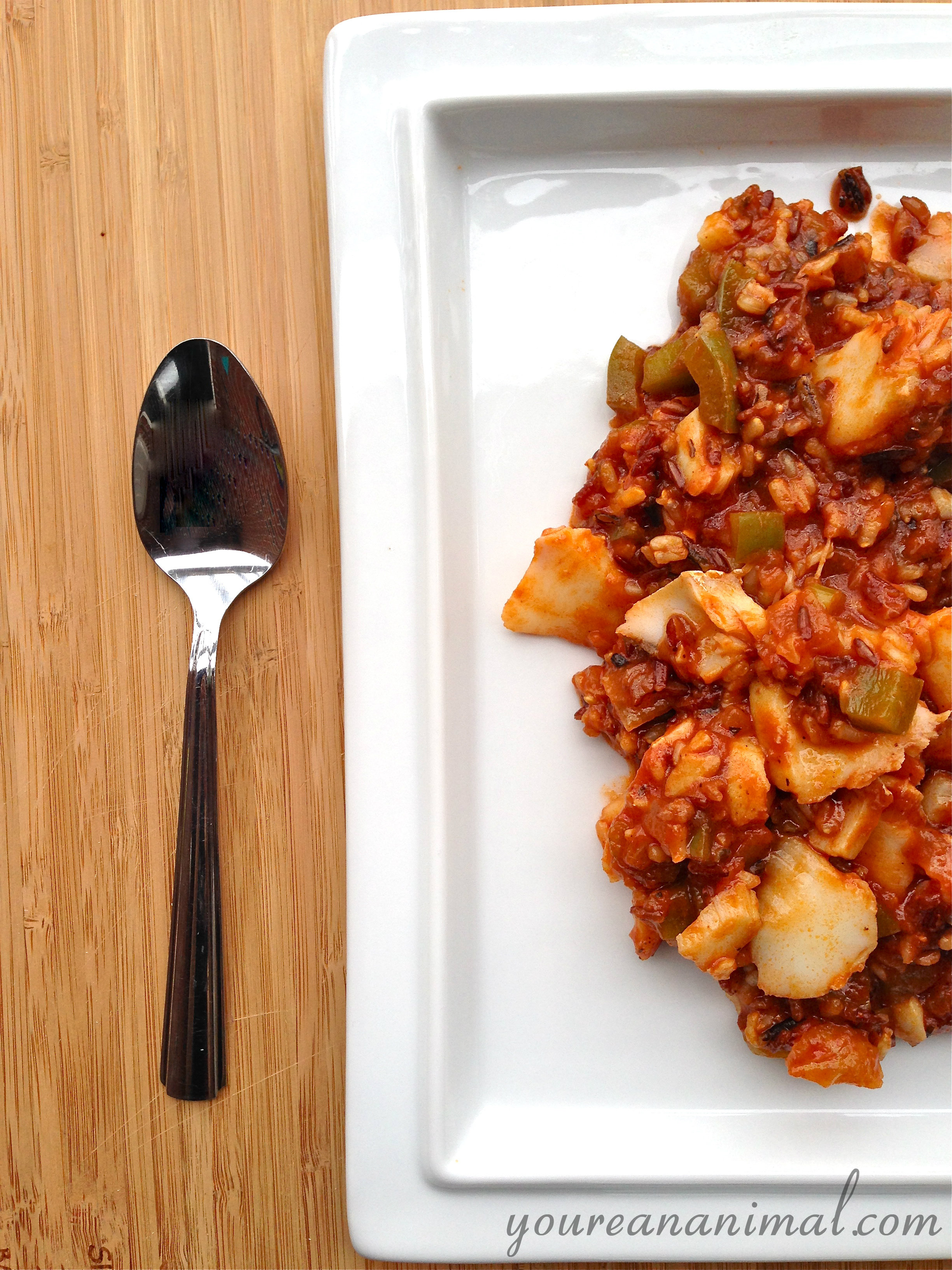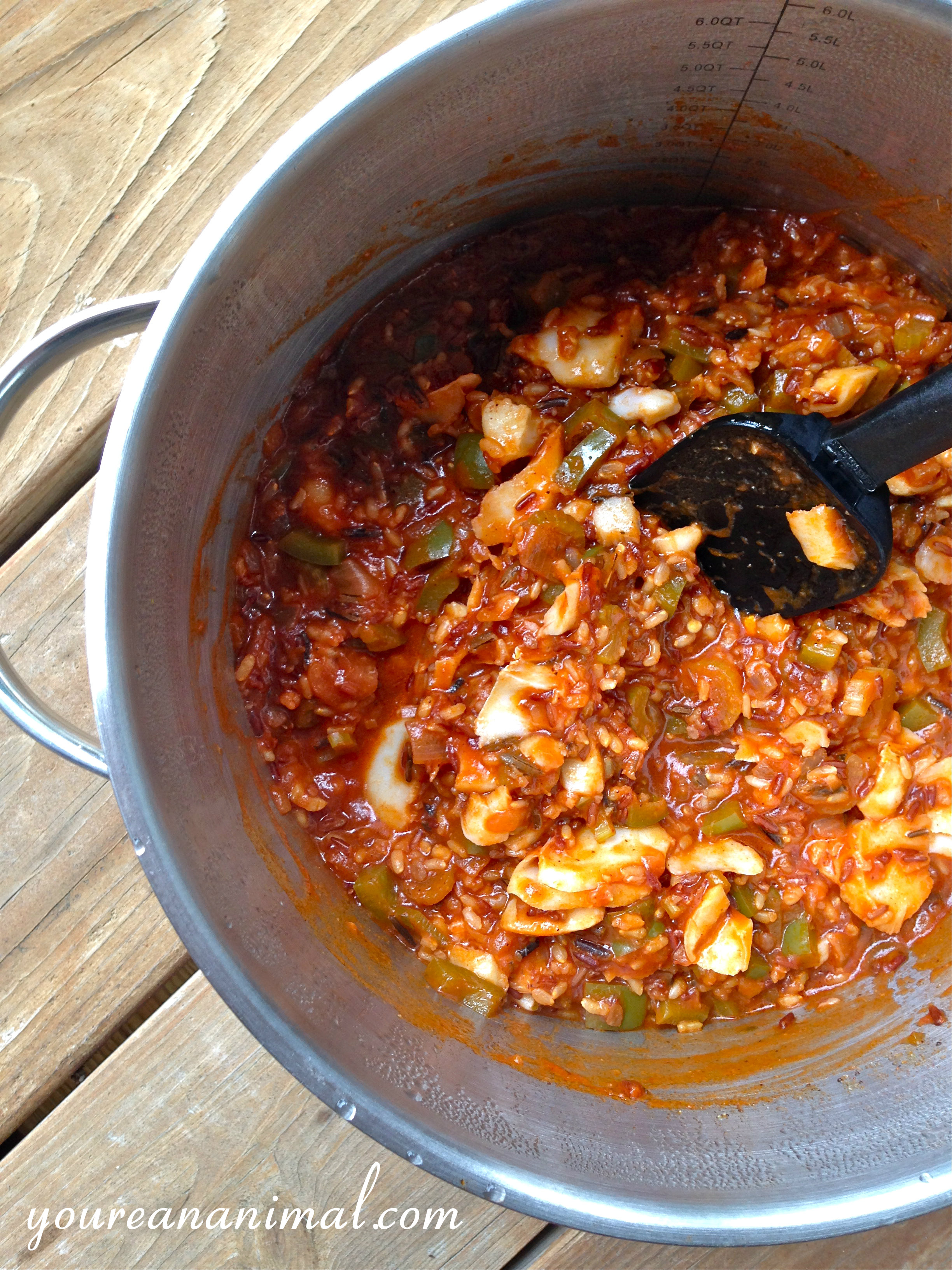 ---
Please note that some of the links in the above post are affiliate links that will take you to an Amazon.com page. If you choose to purchase a product featured in this post using an affiliate link, you will be directly supporting You're An Animal. Thanks!
---
http://nourishwild.com/cms/wp-content/uploads/2014/08/jambalaya1.jpg
3227
2420
Morgan Carr
http://nourishwild.com/cms/wp-content/uploads/2016/02/Logo-Only-Large-300x212.png
Morgan Carr
2014-08-24 15:17:12
2016-02-27 21:04:24
Cod Jambalaya