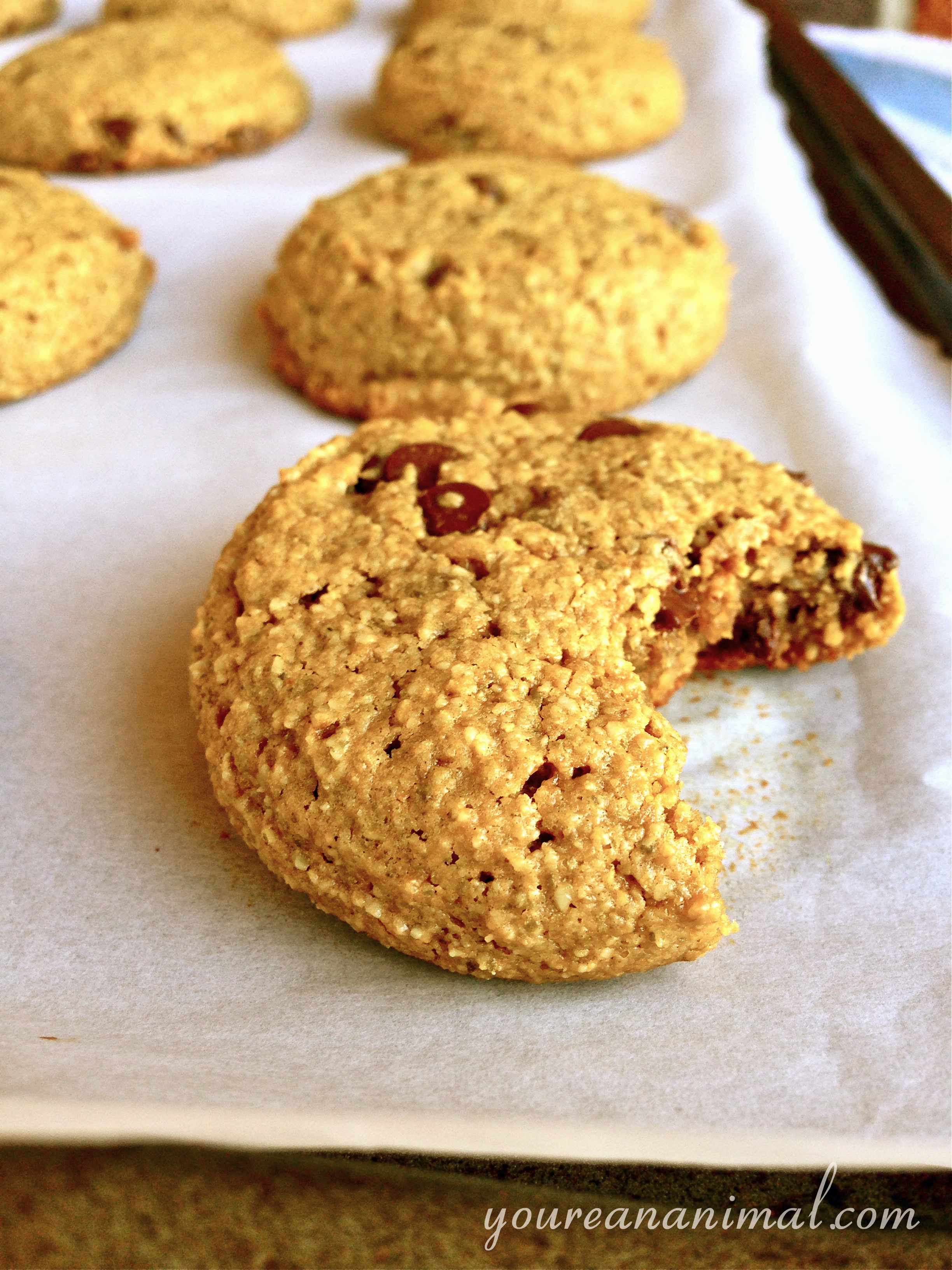 In my opinion, Nestle Toll House chocolate chip cookies are the perfect chocolate chip cookie. Maybe it's my history with tub-fulls of the dough (raw and baked), but to me, that is the ultimate comfort food. But now knowing what goes into making those cookies (particularly the mounds of white sugar and white flour), my decision to break up with the Toll House was inevitable. Oh but how I miss those cookies! So I was on a mission: Create the closest flavor profile that I can, while cleaning up the ingredients. And I'll be honest, I think I've come preeetty darn close. The texture is certainly different, but that's to be expected when you change the flour from a processed, gluteny white flour to a nutrient dense seed meal. But the flavor… yeah it's gooood. That's good with four O's. And the texture is pretty awesome too. Crispy on the outside, soft and chewy on the inside. Butter, vanilla, and my own creation of brown sugar meets all of my criteria for the best minimally-processed chocolate chip cookies around. For the flour, I used a combination of sunflower, pumpkin, and watermelon seeds for a protein-filled, nut-free base. However, you can certainly use almond flour as a replacement. In fact, the first batch I made of these (way too much butter, which is interesting as I was following the Nestle Toll House original recipe for inspiration… goes to show how my taste buds have changed), I used almond flour. Unfortunately, the almonds proved to get the best of me. Apparently I still haven't gotten over my sensitivity, because for the next few days after eating (too many) cookies, my legs had red, itchy spots on them. Wahhh, I really thought a year would be enough time to recover and my body would get over it. Guess not. Back to non-almond flour recipes. Which is actually just fine, as I have grown quite fond of my seed meal anyway. Take that, almonds! I don't need you! Even while using more natural, minimally processed ingredients, these cookies should still be considered a treat rather than a staple. Fructose and saturated fat galore… which I am actually not against by any means, but it should be on the moderation side (as with most things). That being said, every so often you definitely need to indulge and enjoy without going completely overboard (ie. whole tub of Toll House cookie dough), and this is the perfect treat to do so!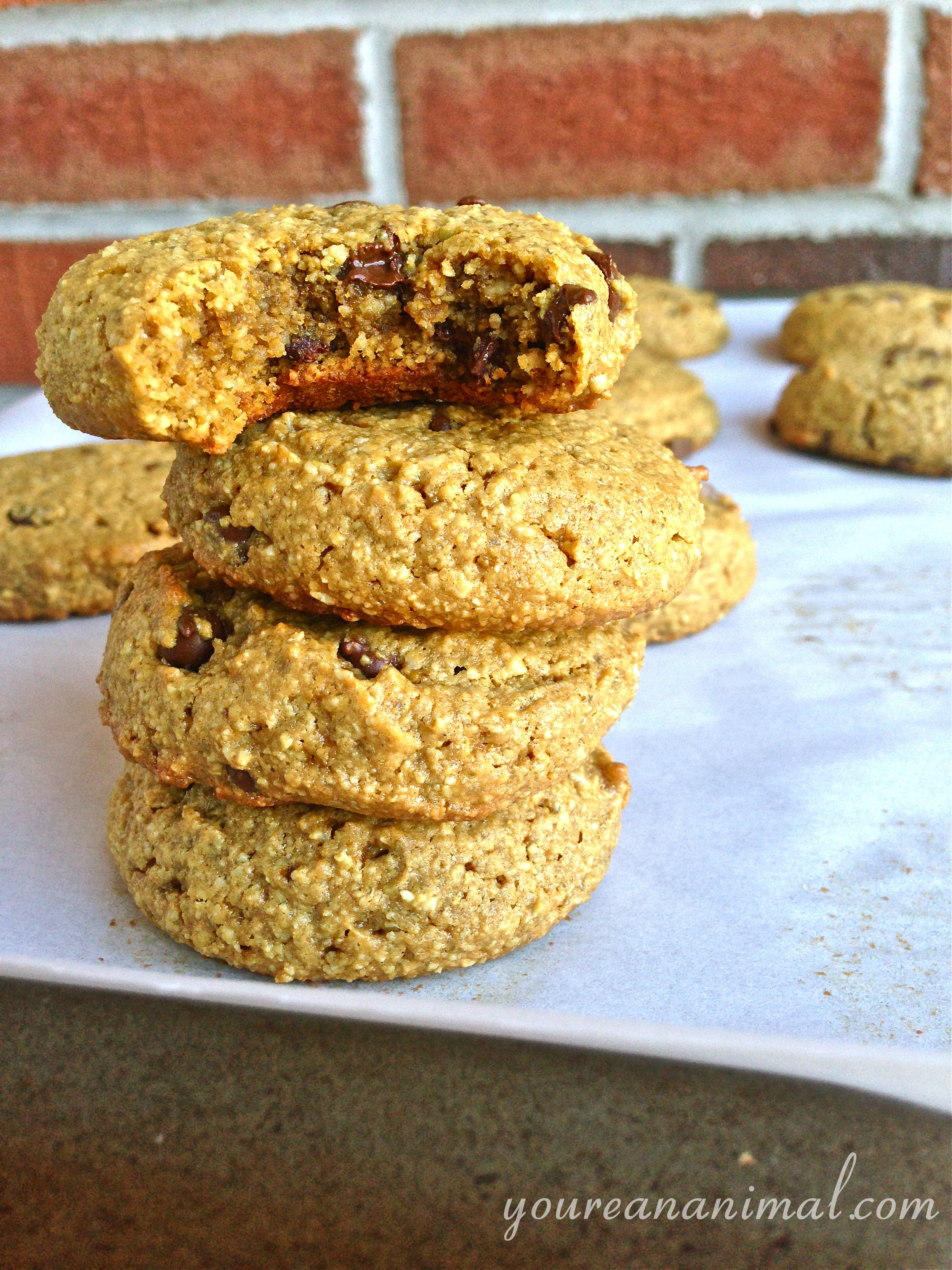 Chocolate Chip Cookies
Preheat the oven to 350 degrees F and line a baking sheet with parchment paper.
Allow the butter to soften, coming to room temperature.
Combine the coconut palm sugar with the molasses in a small bowl to create your "brown sugar." You can use a fork, but I found it most effective just to use my fingers to combine. Combine until the molasses is completely incorporated, and the mixture is the same texture as regular brown sugar. It should be packable, like wet sand.
Once the butter is softened, use a hand mixer to combine the butter, egg and brown sugar until evenly mixed.
Continually mixing with the hand mixer, slowly add in the nut/seed meal and coconut flour. Add the baking powder and vanilla. Continue to mix with the hand mixer until the mixture is completely uniform. The text of the dough will be slightly less solidified than a "regular" cookie dough, but should form balls when rolled in the palms of your hands.
Fold in the chocolate chips.
Chill the dough in the refrigerator for 5-10 minutes, to allow the butter to re-solidify slightly.
Roll the dough into balls. I got about a dozen 1 Tbsp balls from this recipe.
Place each dough ball on the parchment-lined baking sheet, about 1-2 inches apart. Flatten each ball slightly so they are more of a disk shape than a sphere.
Place the baking sheet in the pre-heated oven, and bake for 13-15 minutes, or until the cookies are golden brown and cracked on top.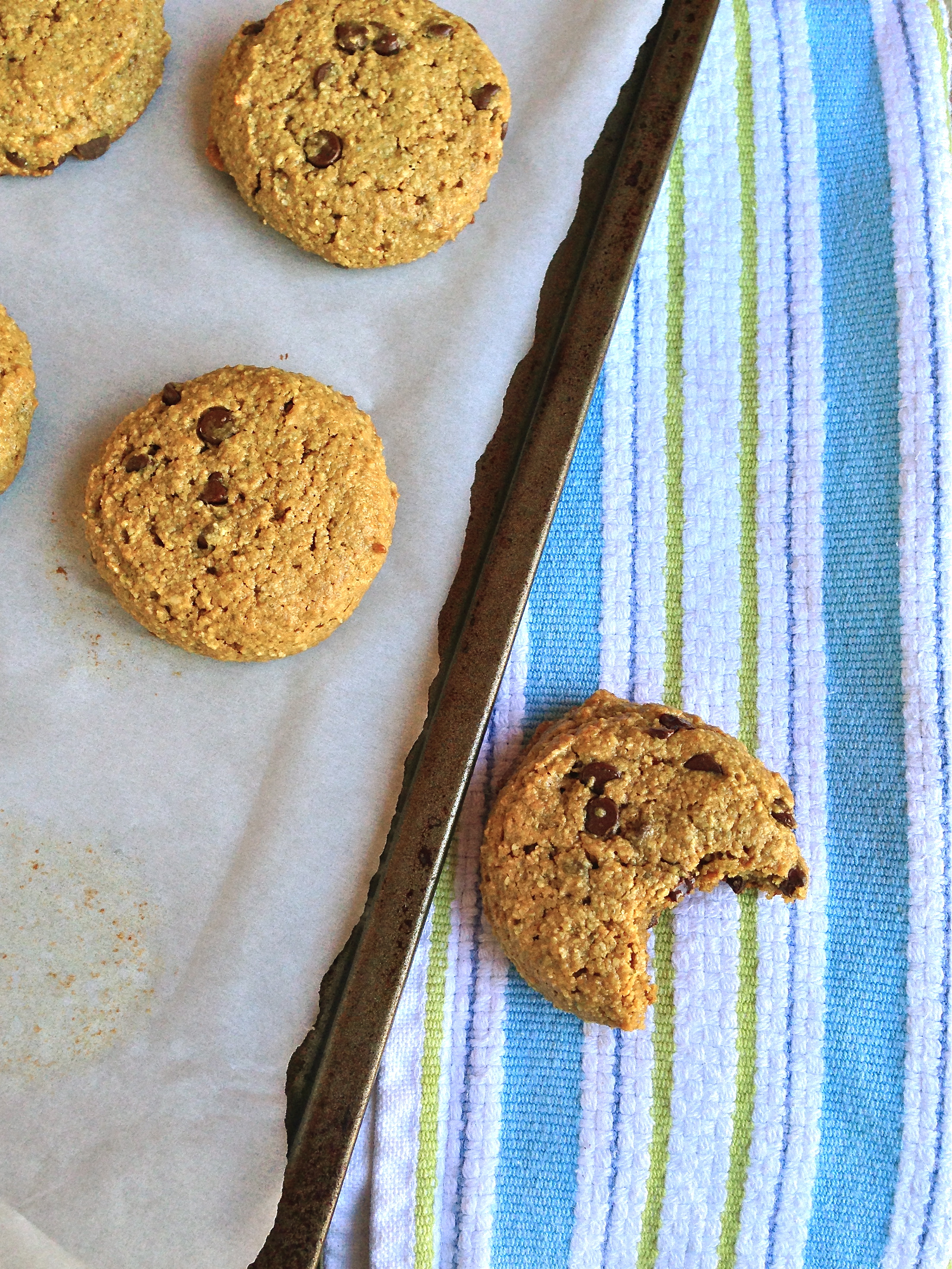 Please note that some of the links in the above post are affiliate links that will take you to an Amazon.com page. If you choose to purchase a product featured in this post using an affiliate link, you will be directly supporting You're An Animal. Thanks!

http://nourishwild.com/cms/wp-content/uploads/2014/08/CCcookie22.jpg
3264
2448
Morgan Carr
http://nourishwild.com/cms/wp-content/uploads/2016/02/Logo-Only-Large-300x212.png
Morgan Carr
2014-08-17 11:00:52
2016-02-27 21:10:53
Classic Chocolate Chip Cookies (Grain-Free, Nut-Free)